The Great Crew Change: 'Honey, How Are We Going to Train All These Kids?'
|
Monday, October 10, 2011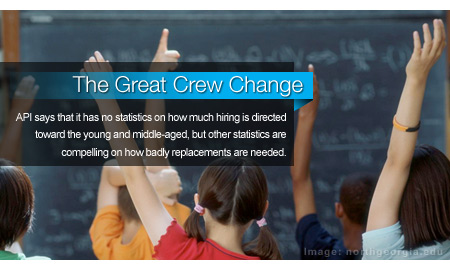 Rigzone Looks Back: The oil and gas industry is currently facing a major demographic shift: the Baby Boom generation is retiring, and nearly 71 percent of the workforce is 50 or older, according to a recent survey by the Independent Petroleum Association of America. As the industry prepares the next generation to take over, companies all over the world are shifting their focus to key recruitment trends to establish a knowledge continuity.
The petroleum industry is amid a tremendous wave of hiring that's occurring in response to the gradual retirement of the so-called "baby boom" generation, which was spawned in the wake of World War II.
Much of the hiring focuses on the very young—both blue collar labor and newly minted petroleum geoscience and engineering grads. Another important trend is on the re-training of mid-career professionals into more labor-tight technical and management positions.
The American Petroleum Institute says that it has no statistics on how much hiring is directed toward the young and middle-aged, but other statistics are compelling on how badly replacements are needed for aging "baby boomers."
For instance, by 2012, the peak (mode) age of petroleum engineers and geoscientists will be 60, versus only 45 in 2000, according to Pete Stark, VP of Industry Relations at IHS, a company focusing on energy, economics and geopolitical risk.
In a survey of technical oil company professionals age 55 and over by the recruiting firm Working Smart, the average intended retirement age was found to be 65, with only 23 percent seeking to work beyond retirement age.
Meanwhile, within a few years, the majority of new technical professionals in the oil and gas industry will have less than five years of experience, increasing the chances of serious, costly mistakes and accidents, according to J. Ford Brett, managing director of PetroSkills, a petroleum training company.
Training Intensifies
Such alarming trends have the industry focused on training programs while skilled, experienced people are still available. One much-discussed resource is the mentoring of younger people by older ones, including already-retired workers who either come back to the industry voluntarily to train – or sometimes, are recruited back specifically as mentors.
One example of a formal mentoring program is ConocoPhillips' Legends effort.

---
O&G Jobs
---
O&G Training
"The program brings back senior project managers from retirement to train younger hires," explained Carsten Alsguth, a professional engineer with ConocoPhillips.
Mentoring also is available through professional organizations, such as the Society for Petroleum Engineers (SPE). For instance, SPE has an online mentoring program, www.spe.org/ementoring. In addition, the group's Gulf Coast Section is considering a new program to match up the Legion of Honor (SPE members for 50+ years) with young professionals in a mentoring program that would swap hard-earned field experience for help from younger members with high-tech products.
Such mentoring programs are no doubt on the rise, although measurement of how much they've increased is difficult. Still, a survey by SPE's Young Professional group, which appeared in a 2006 group magazine called The Way Ahead, found that mentoring was a "common practice" among only 37 percent of survey respondents at the largest companies profiled (more than 3,000 employees), and was not practiced at all by 46 percent of mid-sized companies and 44 percent of small companies in the survey. While the survey is indeed dated now, it shows how badly mentoring needed to grow just within the past five years.
A separate briefing paper on the great crew change by Rigzone, found (among other things) that in addition to mentoring, some companies are stepping up the intensity and duration of in-house training while experienced professionals are still available to train newcomers. One such program is Chevron's Horizons initiative, a formal five-year training program available to recent graduates that provides a curriculum of technical courses and practical experience opportunities led by skilled and experienced professionals as trainers.
Offsite training programs are also experiencing growth. For instance: Boston-based International Human Resources Development Corporation (IHRDC) added several new courses for 2011; PetroSkills' new training center in Katy, TX, is burgeoning with students and SPE has increased the number of short courses offered from roughly two dozen to more than 80.
Some companies, such as ExxonMobil, also are hiring people not for existing jobs, but to be trained for anticipated future openings. One example is Andrew Wolke, 23, a construction engineering technician hired and being trained as a rig supervisor.
When asked if he was concerned about becoming a victim of layoffs in a future downturn of the highly cyclical petroleum industry, Wolke replied confidently, "Absolutely not. I'm not worried at all."
When asked why, Wolke explained, "I'm not even sure they need me now – except to be trained while experienced trainers are still available. They need people my age so badly, it's not even funny." (click here for full story)
Yet indications are that actual on-rig experience of newer hires is limited.
"Something ironic that I see is a number of my students who are being trained as rig supervisors, but have never been on a rig yet," said Dr. Leon Robinson, 84, himself a retired ExxonMobil physicist and renowned drilling expert, now a trainer with Petroskills.
Indeed, adds Petroskills' managing director, Brett.
"The aptitude, you can hire. The knowledge and skills, you have to develop. Solving the problem will require deliberate programs to develop younger talent," Brett said.