Total, Novatek Team Up for Yamal LNG Development
Total S.A.
|
Thursday, October 06, 2011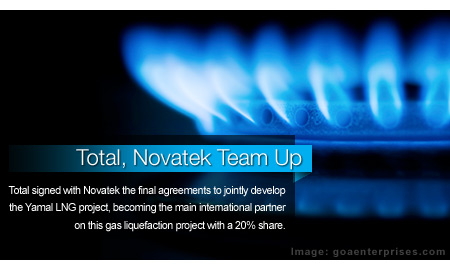 Total signed with Novatek the final agreements to jointly develop the Yamal LNG project, becoming the main international partner on this gas liquefaction project with a 20% share. Novatek intends to keep at least a 51% interest in the project.
"Total is very pleased to be given this opportunity to be pioneers in an untapped region. We will work with Novatek to unlock the Yamal peninsula gas potential using world-class technology and combining the expertise of both companies as we build a Liquefied Natural Gas (LNG) plant in the area," said Yves-Louis Darricarrère, President Total Exploration & Production. "The decision to participate in this LNG project comes as an addition to the acquisition of a significant share of Novatek's capital and confirms Total's long term commitment to Russia."
The relevant Russian authorities authorized this acquisition on August 22, 2011.
The Yamal LNG project will develop the South Tambey field located in the arctic area of the Yamal peninsula. The resources of this condensate and gas field will allow production of more than 15 million tons of LNG per year. With this project, Total will have access to proved and probable (2P) reserves of approximately 800 million barrels of oil equivalent (boe) within the license duration and to a plateau production of about 90,000 boe per day. The project has been declared of national interest by the Russian authorities.
Novatek, the largest independent gas producer in Russia with whom Total created a strategic alliance earlier in 2011, supplies approximately 13% of the domestic market. Its production reached 25.3 billion cubic meters of gas for the first semester of 2011. Novatek's portfolio of resources is made of several giant fields that underlie Novatek's strong potential for growth. Since 2009, Total and Novatek are also jointly developing the Termokarstovoye field.
RELATED COMPANIES