Haut Spearheads Green Drilling Movement
by Barbara Saunders
|
Rigzone Staff
|
Monday, October 03, 2011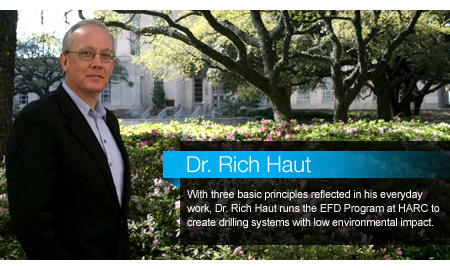 Rich Haut exudes enthusiasm for his work.
That work involves finding grants and participating in research so companies can develop cleaner and "greener" ways to drill for oil and natural gas.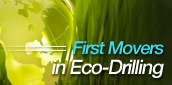 As senior research scientist for the Houston Area Research Council (HARC), Haut runs the Environmentally Friendly Drilling (EFD) Program, an effort that spurs development of low-impact technology to create drilling systems having very low environmental imprint.
Haut recalled, "My mother always told me three things, every day. First, leave your world better than you found it. Second, just take what you need. Third, if you harm someone or something, let's make it right."
Haut said that these three principles are reflected in his everyday work.
About the Program
Working with more than 100 participants in academia, industry, environmental groups, government agencies and government laboratories, some of them providing financial support, the EFD program identifies new technologies and transfers them to areas that need to incorporate new practices to address environmental concerns.
Haut came to HARC via Halliburton Energy Services Group, where he was Deepwater Integrated Technologies Manager. Prior to that, Haut held various management and staff positions in drilling operations with predecessor companies of today's ExxonMobil.
"Tom Williams, Dave Burnett and I formed the Environmentally Friendly Drilling Systems (EFD) team six years ago (2005). Dave, at Texas A&M University, took the lead to obtain the initial funding from the U.S. Department of Energy. Tom took the lead to recruit industry partners and I took the lead to engage various environmental organizations," Haut explained, concerning the origins of the EFD Systems program.
In 2008, Haut took the lead to obtain the next round of funding from the Research Partnership to Secure Energy for America (RPSEA). This funding was awarded in 2009.
"In February 2009, we formed the University/National Laboratory, and in October 2010 we kicked off our European Chapter," Haut said. "In November 2010, we applied for our next round of funding from RPSEA and are currently in contract negotiations for this effort – The EFD Technology Integration Program (EFD-TIP) that will focus on field testing of technologies."
Haut said the group expects to initiate the EFD-TIP in January 2012 along with the Coastal Impacts Technology Program (CITP) that focuses on work force development, water issues and technologies to reduce the environmental tradeoffs associated with oil and gas activities along the Texas Gulf Coast.
European Chapter
"Innovation knows no geographic boundaries," says a fact sheet on the EFD Systems program. Thus, the program includes a European chapter that identifies and applies best practices in Europe, as well as identifies new applications and innovations. Additional chapters around the world are being contemplated.
Next: Success Stories of the EFD Systems Program

Generated by readers, the comments included herein do not reflect the views and opinions of Rigzone. All comments are subject to editorial review. Off-topic, inappropriate or insulting comments will be removed.