Charles Davidson Leads Noble Energy to Top Independent
by Jaime Kammerzell
|
Rigzone Staff
|
Friday, September 30, 2011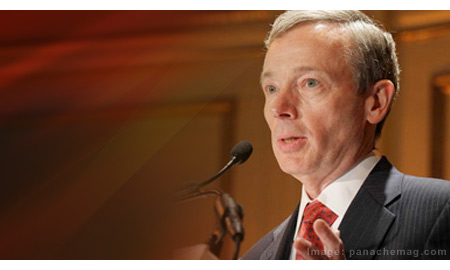 Despite Turkey's objections to drilling offshore Cyprus' southern coast, Noble Energy, with Israeli partner Delek Drilling, commenced drilling in September to explore what experts believe is a gas field at least the size of the Tamar.
Noble Energy CEO Charles Davidson said September 7 at the Barclays CEO Energy Power Conference that a gas find could "change the dynamics... of how gas is marketed in this region," and "are analogous to what we have been drilling and discovered in Israel."
"We and the government have talked and considered about possibilities of an export terminal in the region," Davidson said, according to a transcript of the event. "The key hurdle for further exploration success in this region, whether it is in Cyprus or Israel, is the fact that certainly the gas would need to be designed to move into a global market rather than a local market."
Another hurdle Davidson currently faces is the threat to its drilling schedule. The Hurriyet Daily News has reported that Turkey has sent a Norwegian ship to conduct its own seismic surveys in the area and the country's president has suggested that all oil and natural gas exploration be suspended until a resolution can be agreed on by both parties. Regardless of the outcome, Noble Energy will overcome this potential hiccup with Davidson as its leader.
Davidson Delivers
Davidson is known for his strong leadership style. His business ethics, level-headed approach to problem solving and personal integrity have Noble shareholders, government and industry peers taking notice. In 2011, Davidson ranked as Forbes' 13th highest paid CEO, worth about $33 million and Ernst & Young recognized Davidson as one of its Entrepreneur of the Year winners.
In 2001, Noble Energy hired Davidson as the CEO and tasked him with turning around the underperforming company. Davidson delivered. As of 2010, Noble Energy's shareholder return has increased about 15 percent each year since Davidson took the helm. That's a 300 percent improvement.
Noble's strategic exploration in the last 10 years has led to its growth today. The company is focused on exploring four key areas: onshore US, GOM, West Africa and Eastern Mediterranean.
The DJ basin is the home to Noble's largest onshore field, Wattenberg. The horizontal Niobrara well, is the company's longest well ever drilled in the DJ basin with a 9,100 ft lateral in the Wattenberg field. At the beginning of the year Noble planned to drill 85 horizontal wells here.
Offshore, Noble announced a discovery in May at Santiago located at Mississippi Canyon block 519, which increased Galapagos net production to over 10,000 bpd. Noble is also focusing on Gunflint, located at Mississippi Canyon 948. The field was discovered in October 2008, but Noble plans to spud an appraisal well later this year.
In the Eastern Mediterranean region, Noble is set on drilling Tamar, discussed above, as well as resuming drilling operations at its Leviathan field offshore Israel. In May, Noble ended drilling operations after identifying water flowing to the seafloor from the wellbore. At that time, Noble said in a release that it plans to relocate the drilling rig to a nearby location to resume the appraisal drilling program.
Offshore West Africa, Noble accelerated startup of its Aseng field offshore Equatorial Guinea with first oil expected by year end. Likewise, Noble is looking forward to the Alen field coming online in 2013. The company anticipates oil to flow at a gross rate of 37,500 bopd. Natural gas re-injection is estimated at 380 MMcf/d during gas-recycling. Noble is also planning to continue appraisal work at the Carmen-Diega area off Equatorial Guinea.
Davidson's Rise in Oil & Gas
Davidson knew he wanted to become a chemical engineer at a young age. Thus, he went to Purdue and earned his bachelor's of science degree in chemical engineering in 1972. He then went to the University of Texas in Austin and earned a master's degree in management in 1980.
After earning his bachelor's of science degree in chemical engineering from Purdue in 1972, Davidson pursued a master's degree in management from the University of Texas in Austin.
After graduation, Davidson went to work for the Atlantic Richfield Company (ARCO) as an engineer. For more than 14 years, he held operations and executive positions. In 1994, Davidson helped form Vastar Resources, where he served as chairman, president and CEO before joining Noble Energy in 2001.
Not only is Davidson the CEO of Noble, but he is also a founding member of American's Natural Gas Alliance, serves as the offshore committee chair of the Independent Petroleum Association of America, and a board member of the American Exploration & Production Council, the Gas Technology Institute and the Offshore Energy Center. He is also a member of the National Petroleum Council.
Plans for 2012 and On
Founded by Lloyd Noble in 1932, Noble Energy was one of the first independents to explore in the Gulf of Mexico (GOM). At year-end 2010, Noble held reserves of 1.1 Bboe and assets near $13 billion.
Most recently Noble reported a 2Q 2011 profit of $294 million, or $1.61 a share, up from $204 million or $1.10 a share in 2Q 2010. Adjusted earnings increased to $1.44 from $1.07 a share while revenue climbed 27 percent to $954 million.
In July, Davidson announced that Noble will increase its spending to $3 billion, which is $300 million more than previously announced.
During the 2Q 2011 earnings conference call, Davidson said, "We are accelerating a number of our development projects and we have also made important additions on the exploration side."
Noble will focus on new opportunities in Colorado, West Africa and the Mediterranean Sea. Specifically, the company plans to ramp up drilling and development of natural gas off Israel, Cyprus, Senegal and Guinea-Bissau, and at the Wattenberg field in Colorado.
Looking ahead to 2015, Noble expects to increase production by 10 percent compound annual growth rate (CAGR) to 350 MBoepd, increase reserves to 14 percent CAGR to 1.6 BBoe, increase before-tax cash margins by 28 percent to $43 Boe and have a $1.6 billion free cash flow.

Generated by readers, the comments included herein do not reflect the views and opinions of Rigzone. All comments are subject to editorial review. Off-topic, inappropriate or insulting comments will be removed.