With Hess at the Helm, E&P Shines
by Jaime Kammerzell
|
Rigzone Staff
|
Friday, September 23, 2011
John B. Hess has been CEO of Hess Corporation (formerly Amerada Hess Corp.) since 1995 and has worked for the family business since 1977. According to Forbes, Hess pulls in $10.19 million per year, which includes his $1.5 million annual salary, a bonus of $3.75 million, and $4.94 from other sources.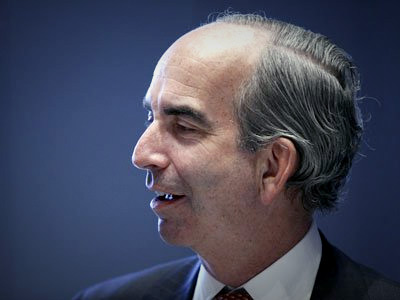 CEO of Hess Corporation (formerly Amerada Hess Corp.)
Born in April 1954, John Hess is the third generation to run the family's integrated oil company. His grandfather, Mores Hess, was a kosher butcher and ran a fuel-delivery business, coal yard and gas station. The business took a hit during the depression, but Leon Hess, Mores' son, was determined to pull the business out of bankruptcy when he took over in 1933.
Leon noticed that utilities and other large consumers of coal preferred to use No. 6 residual fuel oil – a high-viscosity bi-product of refined oil that requires preheating to 220-260 degrees F. He bought a used 1926 secondhand fuel truck to make residential deliveries. By 1938, Leon was so successful that he built a fleet of 12 oil delivery trucks and installed heaters to keep the fuel warm. He also built an oil terminal in Perth Amboy, NJ, before he went off to serve in World War II.
Following the war, Leon focused on the Gulf of Mexico region to grow his company. In 1950, he bought an oil terminal in Houston and in 1958 Hess started exploring for crude oil in Mississippi. Production of crude led Leon to buy pipelines and petroleum reserves and a refinery in Corpus Christi, Texas, in 1963.
Perhaps Leon's most notable project was the Hovensa refinery in St. Croix, Virgin Islands. Hess Oil Virgin Islands Corp. bought the property from Annie de Chabert and started construction in January 1966. The refinery started operations just 10 months later. Today, the refinery is a joint venture between Hess and Petroleos de Venezuela and has a capacity of 500,000 bpd, which puts it in the top 10 refineries in the world.
Just three years later, Leon merged Hess Corp. with Amerada Petroleum to create Amerada Hess in 1969.
Though John pumped gas and joined his father on a number of foreign oil fields in his youth, it wasn't until 1976 that he began working for Amerada Hess as a graduate trainee. While earning his undergraduate degree from Harvard College, John studied in Beirut where he learned to speak Farsi and Arabic. The later he impressively used in 1987 to introduce Mana Said al-Otaiba, Abu Dhabi's oil minister, at an industry event. After he graduated from Harvard with a BA in 1975, he went on to earn his MBA in 1977 from Harvard Business School.
"Exploration and production will be the primary vehicle for future income and growth."
In the mid-1980s, John not only became senior vice president and managed E&P in Canada and the GOM but also married Susan Elizabeth Kessler.
Through the early 1990s, Amerada Hess struggled under the leadership of the aging Leon who was grooming John to be his successor. In 1991, John was earning $700,000 per year (compared to an annual salary of $1,000,000 in 2000 plus bonus and stocks, etc. totaling $8.5 million). Leon, who was 81, finally retired in 1995, leaving John as chairman and CEO of the family business.
With a Harvard education and a tireless work ethic, John tried to step out of his father's shadow, but Leon seemed to be ever-present (he controlled 12.9 percent of Hess stock) until he passed in 1999 at the age of 85.
With John solely responsible for the success of Hess, he decided to shift the company's focus from refining and marketing to exploration and production. Within five years of taking over the company, John reported at the 2000 annual stockholder meeting that operating earnings of $307 million for 1999 were significantly improved over an operating loss of $196 million in 1998. E&P had earnings of $324 million in 1999, compared with a loss of $18 million in 1998. And refining and marketing had earnings of $133 million in 1999, compared to a loss of $18 million in 1998. Overall, 1999 net income was $438 million, compared to a loss of $458 million in 1998.
John attributed the success in part to "the positive steps we have taken over the last five years to reshape our asset base to improve financial performance."
John's shift to focus on E&P paid off. At the 2000 annual stockholder meeting he also noted that, "exploration and production will be the primary vehicle for future income and growth. It currently represents 60 percent of capital employed." E&P is generating superior financial returns and is poised for international growth. However, "refining and marketing is a smaller but more profitable portion of our asset portfolio representing 40 percent of capital employed."
In 2005, under John's leadership, Amerada Hess reported record net income of $1.2 billion, of which E&P earned nearly $1.1 billion and marketing and refining earned $515 million. Remarking on the E&P earnings in the company's 2005 Annual Report, John Hess wrote, "we are building a sustainable and profitable business with excellent visibility of growth in reserves and production."
In May 2006, Amerada Hess Corp. changed its name to Hess Corp. "The 'HESS' brand is firmly established in our marketing and refining operations, readily recognized by our customers and in the communities we operate, and increasingly identified with our global exploration and production activities," John Hess said at the Annual Meeting of Shareholders.
E&P earnings improved even more by 2010, banking $2.7 billion; however marketing and refining lost $231 million. For the year, Hess achieved earnings of $2.1 billion. John is continuing his focus on E&P in 2011 with a total expenditures budget of $5.6 billion, of which "substantially all of our spending will be targeted to exploration and production, with $3.1 billion for production, $1.6 billion for developments and $900 million for exploration."
Generated by readers, the comments included herein do not reflect the views and opinions of Rigzone. All comments are subject to editorial review. Off-topic, inappropriate or insulting comments will be removed.
RELATED COMPANIES