Cyprus To Share Oil Find with Turkey, Pending Peace Deal
by Andrea Mooney
|
Rigzone Staff
|
Thursday, September 22, 2011
In a move to calm tension between Greek Cypriots and Turkish Cypriots over natural energy reserves offshore the island Republic of Cyprus, Cypriot President Demetris Christofias said Thursday at a speech in New York that he wants all island citizens to benefit from any natural gas found off the island's coasts.
Christofias' comments came a day after Turkey dispatched three warships from Istanbul headed for the Aegean Sea in an effort to protect its deepwater interests, and are considered a relaxed stance on the Cypriot government's opinion that Turkish Cypriots would only benefit from any gas discovery after a reunification deal was reached on the island.
"We believe that the possible discovery and extraction of hydrocarbons will be another strong incentive for Greek Cypriots and Turkish Cypriots to reach quickly a fair, workable and viable solution to the Cyprus problem, so in peace, security and prosperity, the two communities can enjoy benefits from the wealth that nature has given to our country," Christofias said in a speech Thursday at the 66th Session of the General Assembly of the United Nations in New York.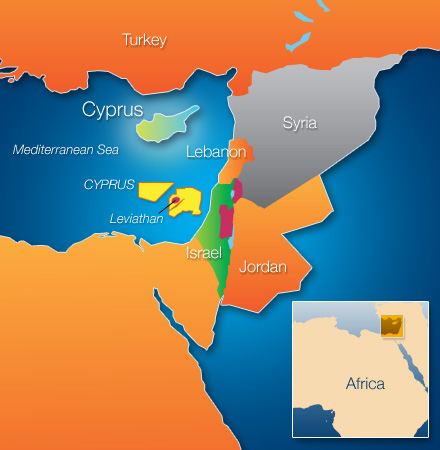 On Wednesday, Turkey signed an agreement with Turkish Cypriots that will pave the way for rival gas and oil exploration offshore the island's northern coast, which could begin within a week. This move came after Greek Cypriots and its U.S. partner Noble Energy commenced drilling for gas offshore Cyprus' southern coast Monday, despite Turkey's opposition.
Turkish Energy Minister Taner Yildiz argued that the start of drilling in Cyprus' Exclusive Economic Zone was a provocation, violating international law and the rights of the breakaway state.
"Of course our steps will be supported by our military air force and navy. This is not a bluff," Turkey's deputy Prime Minister Bulent Arinc said Tuesday, as reported by the Cyprus Mail.
Christofias said the Turkish navy's movement into the EEZ is a challenge and presents a real risk of creating additional complications in the region.
The island of Cyprus was split by war in 1974 after Turkey invaded northern Cyprus following a Greek Cypriot coup d'etat. Members of the Turkish Cypriot community were against re-unifications plans for Greece and Cyprus, and feared Greek-backed military rulers would ignore their rights and move forward with unification plans for Cyprus with Greece. Today, Turkish forces still occupy about 37% of the northern portion of the island. Since then, Turkish officials have accused Greek Cypriots of undermining peace talks, and Greek Cypriots accuse Turkish leaders of dragging their feet.
If a peace deal is reached between the two sides, leaders from both sides will have to determine how the natural resource discoveries and subsequent revenue will be allocated to each side.
For more information on the conflict, visit:
Previous Articles: