Turkey Tense as Noble Begins Offshore Cyprus Drilling
by Andrea Mooney
|
Rigzone Staff
|
Wednesday, September 21, 2011
Disputes over deapsea natural resources off the island of Cyprus continued to unravel Wednesday as Turkish warships set sail toward the island following the start of exploratory drilling in the eastern Mediterrean earlier this week.
The Cihan news agency reported three warships left Istanbul Wednesday headed for the Aegean. Turkey and Cyprus have been at odds since Cyprus announced plans earlier in the summer to begin oil and gas exploration off Cyprus' southern coast. Turkey considers the land disputed territory.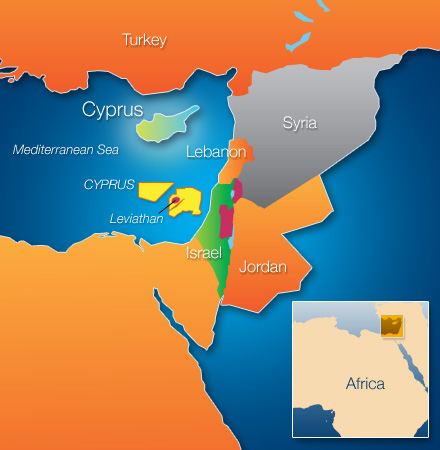 Texas-based Noble Drilling's oil rig Noble Homer Ferrington broke ground Monday and is expected to last several weeks to several months. Noble's drilling is taking place about 5.8 km below sea level in a field designated as Block 12 (also known as Aphrodite). Energy officials expect the block holds up to 10 trillion cubic feet of natural gas.
Turkey threatened to send naval warships to the coastal waters if the Republic of Cyprus did not stop drilling plans. Turkish government officials say Cyprus does not have the rights to drill for natural gas unless the country shares its resources and wealth with the island's Turkish community. Block 12 lays offshore Cyprus' southern coast, avoiding the Turkish-controlled northern coast.
Turkey's escalated issues with Cyprus have also affected its relationship with Israel. The Block 12 license, owned by Noble, Delek and Ratio Oil Exploration, lays north of the Leviathan oil field, which is Israel's largest natural gas find of the last decade. Noble says if gas is found in Block 12, development will be completed by 2014.
For more information on the conflict, visit:
For More Information on the Offshore Rig Fleet:
RigLogix can provide the information that you need about the offshore rig fleet, whether you need utilization and industry trends or detailed reports on future rig contracts. Subscribing to RigLogix will allow you to access dozens of prebuilt reports and build your own custom reports using hundreds of available data columns. For more information about a RigLogix subscription, visit
www.riglogix.com
.