Rig Demand Improving For West Africa
by Trey Cowan
|
Rigzone Staff
|
Friday, September 16, 2011
With much of Libya's production still offline and the North Sea's maturity pointing to a secular production decline trend, developing resources that offer lighter grades of crude has become an imperative across the energy industry. We spotlight the waters off West Africa, where much of the product meets the qualitative demands of European refineries, as one of the primary regions where consensus points to ever-increasing exploration to satisfy the world's appetite for oil.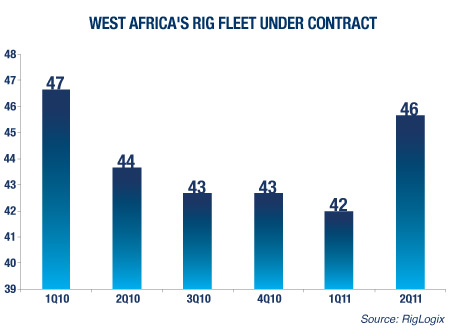 Demand for deepwater rigs should continue to trend favorably over the next two years. During 2010, the number of floaters active in the region averaged 23 rigs. In the most recent month completed, August 2011, 25 deepwater rigs were drilling off the coastline of West Africa or nearly a 10 percent increase over last year. At its current pace, West Africa will likely only trail Brazil for the highest deepwater rig growth of any region tracked by RigLogix during 2011.
One drillship and one semisub was mobilized to the West Africa region during August, bringing the total number of floaters actively marketed in the region up to 34 rigs. This fact explains why utilization during August for floaters (at 74 percent) was 100 basis points below July's level even though one additional floater was under contract during the month. Based on our RigLogix/RigOutlook proprietary forecasts, we are projecting steadily growing floater demand in the upcoming three years.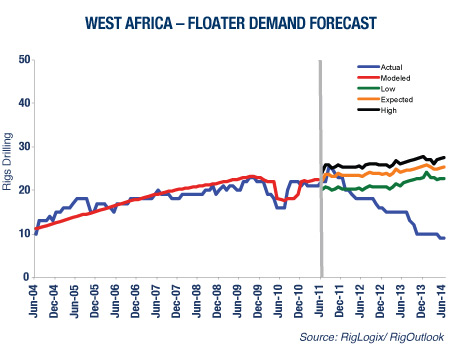 Broken down into the two types of floating rigs (semisubs and drillships), West African utilization for semisubs (19 marketed rigs) is 74 percent, slightly off pace due to near-term vacancy. The drillship fleet, a tad smaller at 15 marketed rigs, has shown improvement with its utilization surging from the mid-60s to the mid-70 percent range.
The jackup fleet is the largest of the three types in the region with 34 rigs marketed. With Addax recently expressing interest for a jackup in the region, there is a near-term opportunity for jackup utilization to expand beyond its current reading of 65 percent. Over the next two years we are forecasting jackup demand in the region to grow by nearly 20 percent.
We would note that the political unrest, that at times tends to flare up in the region, does create some volatility for rig demand. Jackup rigs, which are typically positioned closer to shore than floaters, are the easiest targets for disruption. Piracy and unstable regimes can both wreak havoc on long-term drilling objectives and are instrumental as to why more drilling in the region is not already underway.s
Generated by readers, the comments included herein do not reflect the views and opinions of Rigzone. All comments are subject to editorial review. Off-topic, inappropriate or insulting comments will be removed.
For More Information on the Offshore Rig Fleet:
RigLogix can provide the information that you need about the offshore rig fleet, whether you need utilization and industry trends or detailed reports on future rig contracts. Subscribing to RigLogix will allow you to access dozens of prebuilt reports and build your own custom reports using hundreds of available data columns. For more information about a RigLogix subscription, visit
www.riglogix.com
.