Robust Demand Boosts West Africa O&G Production
by Karen Boman
|
Rigzone Staff
|
Friday, September 16, 2011
West Africa oil and gas production is expected to grow in the near-term as new field development projects come online and producers expand production from existing fields and continue exploration efforts for new reserves.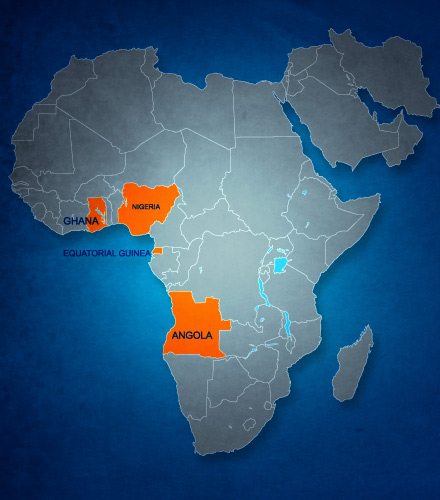 Total Initiates Production from Pazflor Field Near Angola
Total late last month initiated production from the Pazflor field offshore Angola, one of the world's largest deepwater field development projects. Production will ramp up to full production capacity of 220,000 bpd over the coming months. Field development consisted of 112 miles of lines connecting 49 subsea wells, 10,000 metric tons of subsea equipment and the Pazflor floating production, storage and offloading (FPSO) unit.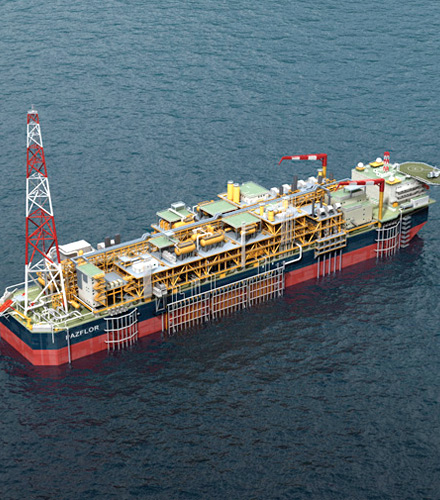 The FPSO, which weighs over 120,000 metric tons and can store up to 1.9 million barrels of oil, is considered the largest FPSO worldwide. Gas is reinjected into the reservoir but can also be exported to the Angola liquefied natural gas plant once the latter becomes operational.
Total also is developing the CLOV project offshore Angola, with oil production expected to begin in 2014. The CLOV project encompasses four oil fields Cravo, Lirio, Orquidea, and Violeta -- in the northwest region of Block 17.
SubseaIQ reported that production from Total's Egina field offshore Nigeria is expected to commence in 2015. Egina is located in the Niger Delta on Block OML 130. After initially planning to develop the field as a subsea tie-back to the Akpo FPSO, Total decided to develop Egina as a standalone development after several promising discoveries were made.
Production from Total's Usan field, also offshore Nigeria, is expected to come on stream next year and reach peak production of 180,000 bpd. The Nigerian National Petroleum Corp. (NNPC), concessionaire of the license, approved the field development in 2008. The field development will consist of 23 production wells and 19 water and gas injection wells tied-back to an FPSO with a storage capacity of 2 MMboe.
Jubilee Production Increasing, Safely Exports 15M Barrels of Oil
Production from the Tullow Oil-operated Jubilee development offshore Ghana, which came online in late 2010, is still growing. Tullow reports that production from Jubilee will ramp up to 105,000 bpd in October, and plateau production of 120,000 bpd is now expected before year-end. Since production began, more than 15 million barrels of oil have been produced and 15 oil cargos have been safely exported.
Plans have progressed in the first half of this year for the Jubilee Phase 1A development, which is expected to consist of eight additional wells and associated infrastructure and will maintain Jubilee plateau production until around 2015. Long-lead items have been ordered and government approval is expected in the coming months, Tullow said in its 2011 half-yearly results. The development plan will be initiated early next year with incremental wells phases as necessary.
Tullow reported that a development plan for Mahogany east has been discussed with the government of Ghana, with additional delineation activities expected in 2012. Further appraisal activity at Teak is planned to begin before year-end.
Noble Sees 60 Percent Rise in Equatorial Guinea Production
Noble Energy expects to increase its oil production offshore Equatorial Guinea production by 60 percent by 2013 due to its Aseng and Alen fields. Noble anticipates combined production from its Aseng and Alen oil projects at 35,750 bpd net to Noble, said Noble Chairman and CEO Charles D. Davidson at the Barclays Capital CEO Energy conference earlier this month.
Noble reported that development of its Aseng oil field on Block 1 offshore Equatorial Guinea is moving forward six months ahead of schedule, with production now expected to come on stream by year-end. Davidson said the Aseng development FPSO will set sail from Singapore this month. Aseng is estimated to have 40 million barrels of net oil resources. Initial production is estimated at 17,000 bpd net to Noble's interest, including cost recovery.
Alen Project Drilling to Ramp Up in Late 2011
First production from the Alen liquefied focused gas-cycling project is scheduled to begin in late 2013 at 18,750 bpd net to Noble's interest. Noble will start drilling late in this year's third quarter. The Alen facilities are designed as a regional hub, and the Aseng FPSO will be utilized for liquids export. Alen is estimated to contain 32 million barrel net oil, condensate resources and 313 Bcf net gas resources.
The company anticipates combined production from its Aseng and Alen oil projects at 35,750 bpd net; Aseng and Alen are low-cost, high-margin projects that will provide key infrastructure to area.
Angola LNG Plant Prepares to Go Online
Angola's first liquefied natural gas plant is expected to begin operations in early 2012. Chevron and Sonangol, along with BP, Total, and Eni are building the plant near Soyo in northern Angola. Gas for the Angola LNG project will come from Total's Block 17, BP's block 18, ExxonMobil's Block 15 and Chevron Blocks 0 through 14. The project will process 1.1 Bcf/d of associated gas and will eventually produce 5.2 million tons per year of LNG plus process up to 125 MMcf/d of gas for the domestic market.
Plans called for the gas initially to be directed to the Gulf LNG regasification facility in Pascagoula, Miss., where partner Sonangol holds a 20 percent share. However, surplus gas supply and lower prices in the U.S. mean that Angolan LNG exports will likely be destined for Asian and European markets where prices are higher.
PSVM Project to Peak at 150K bpd
Production from the BP-operated PSVM project is expected to begin in late 2010/early 2011 and peak at 150,000 bpd in 2012, according to SubseaIQ. The PSVM field development project is based on four discoveries in Block 31 offshore Angola Plutao, Saturno, Venus and Marte. The field development plan encompasses 46 subsea wells, including production and water, and gas injection wells connected to15 manifolds and 106 miles of flowlines and 59 miles of control umbilicals linking the production to a converted floating production, storage and offloading vessel.
For More Information on the Offshore Rig Fleet:
RigLogix can provide the information that you need about the offshore rig fleet, whether you need utilization and industry trends or detailed reports on future rig contracts. Subscribing to RigLogix will allow you to access dozens of prebuilt reports and build your own custom reports using hundreds of available data columns. For more information about a RigLogix subscription, visit
www.riglogix.com
.