Total Kicks Off CLOV Development
by Jaime Kammerzell
|
Rigzone Staff
|
Friday, September 16, 2011
Block 17 offshore Angola is a hotbed of opportunity for operator Total. Aside from Girassol and Dalia, which are currently producing, and Pazflor, which is under development, the CLOV project is underway. First oil is expected in 2014.
The CLOV project encompasses four oil fields - Cravo, Lirio, Orquidea, and Violeta - in the northwest region of Block 17. The Liro field was the fourth discovery on Block 17. It was discovered in September 1998 and is in 1,373 m of water. The well showed good quality oil at a flow rate of 11,000 bpd.
Orquidea was the sixth deepwater discovery on Block 17. The field was discovered in September 1999 with the Orquidea-1 well at a water depth of 1,197 m. Transocean's MG Hulme Jr. semisububmersible drilled the Orquidea-2 appraisal well in October 2006 in 1,165 m of water. The second well confirmed the discovery and expanded the size of the Orquidea field and made the CLOV project commercially viable.
Cravo, the seventh discovery on Block 17, quickly followed the first Orquidea well in October 1999. Cravo is in 1,365 m of water. Flow tests on the Cravo well proved a rate of 12,800 bpd of high quality oil at 34 degrees API.
Violeta was the 11th discovery on Block 17. Transocean's Jim Cunningham drilled the well in January 2001.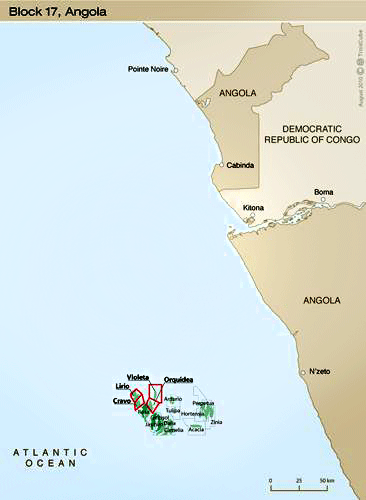 Total's Angolan subsidiary, Total E&P Angola, is the operator of Angolan Block 17 with a 40 percent interest. Partners in the license include Statoil with a 23.33 percent interest, Esso Exploration Angola with a 20 percent interest and BP Exploration Angola with a 16.67 percent interest.
Field Development
Prior to submitting a development plan for approval, Total contracted ARC in May 2007 to carry out safety and risk studies regarding the CLOV Floating, Production, Storage and Offloading vessel (FPSO) to help the operator make key layout and design decisions. The work included fire risk assessment, gas dispersion and explosion analysis, and quantitative risk assessment.
In August 2010, Total announced the start of CLOV development. The FPSO will be about 140 km from Luanda and 40 km northwest of Dalia. The proved and probable reserves are estimated at 500 MMbbl with a daily production rate of about 850,000 bpd. Drilling is expected to commence in 2012.
Total will be using technologies that have been successful at Girassol, Dalia and Pazflor. The development plan calls for 34 subsea wells to be tied back to the CLOV FPSO, which will have a processing capacity of 160,000 bpd and a storage capacity of about 1.8 MMbbl.
Contracts
In 2007, prior to project approval, Total awarded Daewoo Shipbuilding & Marine Engineering a $2.32 billion contract to build the CLOV FPSO. Daewoo completed the Pazflor FPSO in January 2011. The FPSO is the world largest FPSO. The 120,000 dwt vessel, measures 325 m long and 61 m wide and will be able to process 220,000 bpd, or 4.4 MMcm/d of gas, and store up to 1.9 MMbbl of crude oil.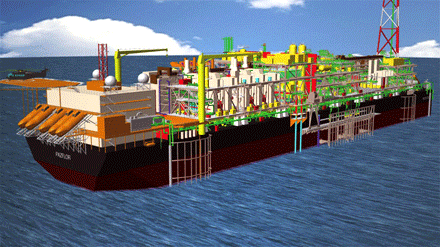 The Pazflor FPSO is the first of its kind to process two very different grades of oil -- one with a 32 to 35 degree API gravity from the Cravo and Lirio fields and the other with a 20 to 30 degree API gravity from the Orquidea and Violeta fields.
Nearly 120,000 tonnes of steel were used in the construction of this vessel and the onboard equipment includes gas turbines rated at a record 120MW, enough to supply a city of some 100,000 inhabitants.
In 2009, Total contracted DOF Subsea, a specialist subsea service company, to provide geotechnical survey services for the CLOV field. The contract is worth around $8 million. DOF used its Geograph vessel and a third party geotechnical spread to carry out the work.
In September 2010, Total awarded FMC Technologies a contract to manufacture and supply subsea production equipment for the CLOV project. The contract is worth about $520 million. FMC is manufacturing 36 subsea trees, wellheads and controls. The company is also supplying eight manifolds, two workover systems and associated tooling and equipment. Deliveries are expected in 1Q 2012.

FMC is also committed to local execution in the region and is fabricating, assembling and testing the 36 wellhead systems and 19 subsea trees in Angola. It is also manufacturing seven complete manifold systems, and conducting equipment testing, offshore installation support, and equipment refurbishment in the region. In addition, FMC recruited and trained additional onshore and offshore personnel, and invested in local facilities.
In October 2010, Total awarded KBR a contract to execute the topsides detailed design. In collaboration with Daewoo Shipbuilding & Marine Eng. Co. Ltd. (DSME), which is the engineering, procurement, installation and construction contractor for the project, KBR will execute the detailed engineering of topsides for the project. The company is designing the facility to process 160,000 bpd of oil, 230 MMscfd million of natural gas and have a storage capacity of 1.8 MMbbl.
Total then awarded GE a $113 million contract in November 2010 to supply gas turbines and compressors. GE Oil & Gas is providing four LM2500+ G4 SAC aeroderivative gas turbines for power generation and five compressors for the FPSO.
This year kicked off with umbilical contracts for Technip's subsidiaries, Angoflex Ltda (owned jointly with Sonangol) and DUCO Ltd. Acergy Angola S.A. and Acergy West Africa S.A.S. awarded the contracts to supply 76 km of dynamic and static production and water injection umbilicals, which will be manufactured at the Angoflex facility in Lobito, Angola. The umbilicals are scheduled for delivery in 2013.
Daewoo Shipbuilding & Marine Engineering Co. (DSME) awarded Fairstar Heavy Transport NV (FAIR) a contract to transport the FPSO components from Angola to Korea for the CLOV FPSO. The contract value is $4.8 million. The open-stern semisubmersible vessel FJORD will perform the transport, scheduled at the end of 2011.
Contracts continued in February 2011 when Aker Solutions signed an agreement with Framo Engineering AS to supply a subsea umbilical and associated equipment for the CLOV development project. The contract value is NOK 80 million. Under the terms of the contract, Aker Solutions will supply a 10.6 km multiphase power and control umbilical that will provide all system functions for the Framo Multiphase Pump Station. Engineering of the umbilical will be managed out of Aker Solutions' facility in Oslo, Norway, and the MPP umbilical will be manufactured at Aker Solutions' facility in Moss, Norway. Final deliveries will be made in 2013.
Converteam was then awarded two contracts in February to supply electric equipment for the CLOV development. GE Oil & Gas chose Converteam for the supply of five complete Variable Speed Drive Systems including induction motors for the main gas compressors of the CLOV FPSO. Converteam was also contracted by Sulzer to deliver two drives and the electric motors for the water injection pumps.
Christian Bozec, Oil & Gas Director at Converteam (France) said, "This project is a premiere as it will be the first FPSO fully equipped with electric variable speed drives for process compressors and water injection pumps. Total power is about 50 MW."
Delivery of the systems will begin in 2012 and the equipment will enter into operation in 2014.
In March 2011 DSME awarded VWS Westgarth a multi-million dollar contract for the design, supply, and delivery of an Ultrafiltration system and a Sulphate Removal Package (SRP) system. The two treatment units, designed for DSME's Floating Production Storage and Offloading vessel FPSO, will be installed in the CLOV fields in January 2012.
VWS Westgarth will install the ultrafiltration and sulphate removal packages on the FPSO topsides to provide the necessary seawater treatment for subsea well injection. According to the company, the ultrafiltration unit, which is the pre-treatment step to the SRP, will have a capacity of 391,288 bpd of water and the sulphate removal package will treat 374,230 bpd of water. The fine filtered seawater (nominally 0.01micrometer) from the ultrafiltration system provides the feed for the sulphate removal package.
Ultrafiltration provides a significant weight/footprint reduction and improved water quality compared with multi-media seawater filtration technology. The SRP removes sulphates and other divalent ions from injection water to enhance oil recovery using Dow Filmtec membranes. The removal of these ions reduces the tendency of barium sulphate and strontium sulphate scale to form in the reservoir, and enhances oil recovery.
In June, Subsea 7 contracted BMT Scientific Marine Services (BMT) to provide riser monitoring systems for two Hybrid Riser Towers (HRT) and one Single Hybrid Riser (SHR) for CLOV. According to Subsea 7, these systems will monitor the integrity of the risers by measuring the buoyancy uplift and bending fatigue, as well as each riser's motions and set-down due to lateral excursions. Each system will include the BMT Subsea Strain Sensor Assembly; subsea data acquisition, motion and depth modules; and a rack-mounted display with BMT's WinMon software for riser monitoring systems. Data transmission will be via a hard-wired link to the FPSO. The system will be designed for 21 years subsea service.
Total in Angola
Total has been present in Angola since 1953 and is committed to increasing local content in its projects. Thus, a significant part of the CLOV development will be carried out in Angola. While Block 17 - with its four development poles - is Total's main asset in Angola, the operator points out that it also operates the ultra-deep offshore Block 32, in which it holds a 30 percent stake. A dozen discoveries have confirmed the block's potential for oil production, and conceptual development studies are underway for a first production area in the central southeastern part of the block.
Total also holds a 13.6 percent stake in the Angola LNG project for the construction of a liquefaction plant near Soyo, designed to monetize the country's natural gas reserves. According to Total, this project will be supplied by the associated gas coming firstly from the fields on Blocks 0, 14, 15, 17 and 18. The plant is under construction with production expected to begin in 2012. Consequently, gas produced on CLOV will contribute to feed this plant.
For More Information on the Offshore Rig Fleet:
RigLogix can provide the information that you need about the offshore rig fleet, whether you need utilization and industry trends or detailed reports on future rig contracts. Subscribing to RigLogix will allow you to access dozens of prebuilt reports and build your own custom reports using hundreds of available data columns. For more information about a RigLogix subscription, visit
www.riglogix.com
.