About to Buck The Trend
by Trey Cowan
|
Rigzone Staff
|
Friday, August 05, 2011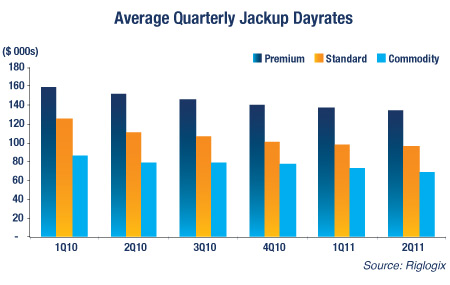 Looking back to the second quarter, the jackup dayrate trend is down 2 percent to $106k/day versus 1Q11 rates. Floaters on the other hand did not experience any change in pricing from one quarter to the next, holding steady at $378k/day.
Commodity jackup dayrates suffered the most, down 5.6 percent to an average of $70k/day during 2Q. Standard jackup rates fell 2.2 percent to 96k/day and premium jackup rigs fell at the slowest pace of 1.6 percent to $135k/day, all on a quarter-over-quarter basis.
While the chart shows an ongoing downward trend, the future actually looks good for jackup rate improvement, based on recent activity. Jackup rates for July improved 1 percent to $107k/day, up $1,000 from June's average of $106k/day. When looking at capabilities and water depths served, premium jackups grew at a faster pace (3 percent to 139k/day) during the month. We continue to hear commentary pointing to a bifurcated marketplace with higher demand for premium rigs relative to standard 300' rigs or commodity rigs that serve in 250' waters or less.
Based on contracts already booked, dayrates for premium jackups are likely to improve 8 percent during the second half of 2011. This compares favorably to 4 percent overall growth in dayrates anticipated for jackups, which translates into an average increase of 5,000/day for jackups during the second half of 2011.
Looking solely at the rig counts, global offshore activity improved during the month of July when compared to June. There are now 543 rigs under contract around the world, up ten from last month (as both floaters and jackups added 5 rigs-a-piece to their respective rolls). The overall fleet size also grew during the month by a net five rigs (3 floaters and 2 jackups) to 756 rigs marketed globally.
Permitting in the Gulf of Mexico Year to Date
In water depths of less than 500 feet, there have been 41 "New Well" permits issued by the BOEMRE year-to-date. "Revised New Well" permits number 64 that have been issued since January 3rd 2011. The average pace for New Well and Revised New Well permit approvals appears to be 15 per month in shallow waters. In water depths of more than 500 feet there have been 12 New Well permits issued by the BOEMRE year-to-date. Since Jan. 3, 52 Revised New Well permits have been issued by the BOEMRE. Thus, the average pace for New Well and Revised New Well permit approvals for deepwater projects is 9 per month.
To put all this into perspective, combine the two averages together and you see that the BOEMRE is averaging 24 approvals per month. This is an anemic pace considering that the inspection staff of the BOEMRE is ~50 individuals and growing. That means at the current staff levels the BOEMRE's inspectors are approving either a "New Well" or "Revised New Well" at a pace of one every two months.
Generated by readers, the comments included herein do not reflect the views and opinions of Rigzone. All comments are subject to editorial review. Off-topic, inappropriate or insulting comments will be removed.