Eco-friendly Independent Challenges Regulators
by Jaime Kammerzell
|
Rigzone Staff
|
Friday, August 05, 2011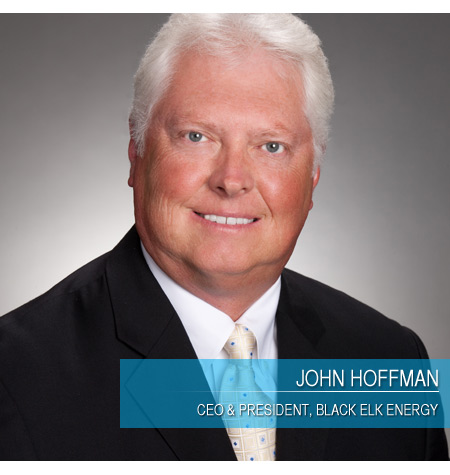 John Hoffman has always had the entrepreneur spirit and more recently the desire to create a more eco-friendly oil company. Thus, he started Black Elk Energy -- an ethical and ecological-minded business -- in October 2007.
After graduating from the University of Missouri Rolla in 1980 with a Bachelor's degree in Engineering with a focus on Mining, he joined Amoco Production Company in West Texas. From there, Amoco sent him to Cairo, Egypt, for nearly 6 years where he managed the Gulf of Suez and Western Desert assets. Back in the U.S., Hoffman built the Amoco Deepwater Strategy for the Gulf of Mexico [GOM] based in New Orleans. When BP bought Amoco in 1999, the New Orleans office closed and Hoffman moved to Houston to finish the commissioning of the Marlin TLP [tension leg platform]. He then managed the Eastern GOM for BP. Prior to starting Black Elk, he worked for Stone Energy in Lafayette, "which helped me understand the role of the independent producer in the oil and gas industry," Hoffman says.
Throughout Hoffman's professional career, he observed Apache buying fields and platforms and applying its own unique exploitation capabilities on these underdeveloped assets. Apache built a multibillion dollar business out of picking up assets that weren't core to the seller. "We are following that model to a certain degree," Hoffman explains. Precision, experience and skill allow Black Elk's team to find unrealized or underestimated value through development drilling, recompletions in existing well bores, or optimized facility managements.
In the last 12 months Black Elk has doubled in size- twice. Currently this successful independent is producing 20,000 boe/d. Not only has the company grown rapidly since 2007, but Black Elk just won an award for the Best Places to Work from Houston Business Journal. "Our employees are empowered similar to Southwest Airlines and we have a relaxed culture that I believe exists at Apple." Every employee is respected for their unique ability, experience, skills, and competencies as individuals and professionals. Understanding the benefit of teamwork and the success that such efforts foster, Hoffman puts his employees first, offering quality health care coverage, flexible schedules and providing a share of the company profits to the members of Black Elk. As Black Elk grows operationally and financially, each employee feels the positive impact. To illustrate the operational and managerial success of the team, Hoffman just won South Regional Entrepreneur of the Year from Ernst and Young while Black Elk's CFO also won CFO of the Year for Best Growth Management.
Hoffman attributes his company's success to his strategy of capitalizing assets that are undervalued by seller. "Black Elk stringently assesses technical information to protect against potential risks as part of our acquisition strategy. Our approach extends the economic life of fields and delivers a greater volume of reserves to the US Energy Market. We pride ourselves in adherence to regulatory compliance and going above and beyond to ensure the safety of our workers and our environment. We have some world class tools in place to alert us if we are out of compliance and are always looking for new and improved ways to keep the Gulf safe," Hoffman says.
As someone who has worked in the offshore environment for the majority of his career and is an avid scuba diver, Hoffman operates his company in an environmentally responsible manner. When Hoffman started Black Elk Energy, his awareness of the tremendous ecosystems that form on platforms over 50 years increased dramatically as he viewed diver video taken during normal regulatory inspections. These ecosystems are home to precious fish and marine life, including some endangered species. Understanding the beauty under the water and impending destruction that faced these marine habitats, Hoffman's passion to make a difference took a new turn. Thus he started the "Save the Blue" initiative to protect and preserve ecosystems in the Gulf of Mexico.
"It's been documented that each platform has 10-30,000 fish and mammals that use the ecosystem as a habitat," Hoffman says. "Is it right that we should destroy these ecosystems, because of outdated regulations that call for the removal of structures and pipelines? The Endangered Species Act of 1973 prohibits me from disturbing or destroying these ecosystems. It further states that if endangered animals and mammals utilize that habitat, it is protected under the law as well. One law says I have to remove the platform, and another says I can't touch it. Therein lays the conflict and the need to make a change."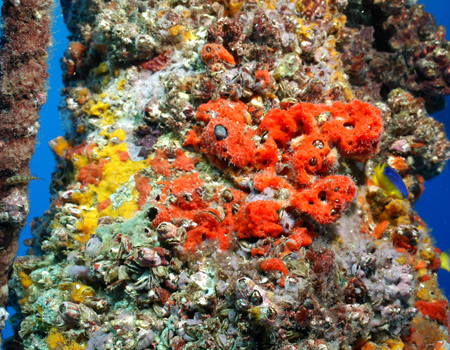 Photo©Toby Armstrong
A vast majority of platforms under the current program will be removed or partially destroyed within the next 10 years and ultimately in next 20 years, very few platforms will be left in Gulf. These structures are scheduled for removal at a pace of 150-200 per year. In comparison, since 1987, the industry has removed an average of 125 platforms per year.
Hoffman is soliciting support from other organizations to impose a logical solution to preserve the ecosystems. "These reef systems are well documented to be more vibrant and more productive than any natural reef system anywhere in the world," Hoffman says. If 10 or 20 years down the road these structures are gone, Hoffman believes commercial fishing in the GOM will radically decrease because there won't be any structures that allow coral to grow. As a result, fish populations will dramatically reduce or perish completely. This impact on the Gulf will affect commercial fishing, recreational fishing, sport diving, tourism, the maritime industry and so many other aspects tied to the Gulf environment. Hoffman wants to protect areas where fish will continue to grow, thereby ensuring the safety and sustainability of the Gulf environment and economy.
"I would say that the GOM is one of few places on earth where the health of the environment is so obviously linked to the community and economy," Hoffman says.
The BOEMRE does have a Rigs-to-Reefs program, but Hoffman says that by cutting the platform and tugging it to another location, we are essentially destroying the bulk of the ecosystem as most of the marine population resides between 10 and 100 feet of water.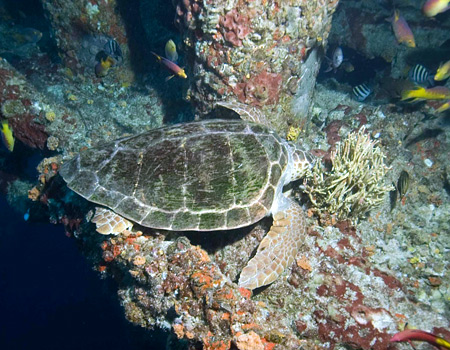 Photo©Toby Armstrong
"My proposal is simple," Hoffman explains. "If the time has come to decommission, plug your wells per requirement, decommission your pipelines per requirement, but do a study of the ecological environment that has attached itself and surrounded itself to that platform and make a decision if it should be destroyed or leave it in place."
To alleviate potential hurricane risk, Hoffman suggests that the top deck be removed and navigation aids be placed on the legs that would still stick out of water. Rather than install floating buoys that can be detached and therefore open the structure up for potential damage from passing vessels, the extended legs and navigational aids help to avoid unnecessary collisions. The operator would maintain the cathodic protection systems, navigation aids, and structural steel above water, but not be required to remove structure where ecosystems thrive.
"Longer term I can see a trust fund set up and the interest from the money held in that trust would more than cover the annual operating cost of keeping the structures in place," Hoffman explains. "We would also maintain wreck and removal insurance to further prepare for any potential incident."
Hoffman has the support of a number of politicians in Washington who are helping him push a Bill to protect the ecosystems through the House and Senate. The Bill is currently being drafted and Hoffman expects the Bill to be ready in September.
Generated by readers, the comments included herein do not reflect the views and opinions of Rigzone. All comments are subject to editorial review. Off-topic, inappropriate or insulting comments will be removed.