Musings: The Innovators in The Oilfield Service Industry Identified
by G. Allen Brooks
|
Parks Paton Hoepfl & Brown
|
Friday, August 05, 2011
A recent issue of Forbes magazine carried an article by three business school professors who have studied the world's most innovative companies for the past eight years, which is the subject of their book, The Innovator's DNA. The professors' efforts were directed to trying to identify those companies that are consistently innovative and to determine the particular skills that set their managers apart from the rest of the corporate world.
The five skills of disruptive innovators that were identified by this effort were summarized in the article and we quote them below.
Questioning allows innovators to challenge the status quo and consider new possibilities;


Observing helps innovators detect small details – in the activities of customers, suppliers and other companies – that suggest new ways of doing things


Networking permits innovators to gain radically different perspectives from individuals with diverse backgrounds


Experimenting prompts innovators to relentlessly try out new experiences, take things apart and test new ideas


Associated thinking – drawing connections among questions, problems or ideas from unrelated fields – is triggered by questioning, observing, networking and experimenting and is the catalyst for creative ideas.
What the professors observed is that there is a significant stock market premium assigned to companies identified as the most innovative companies. The professors worked with the people at HOLT, a subsidiary of Credit Suisse to identify and measure this premium. The innovation premium is the value investors assign to a company's stock market valuation that reflects their belief that the company will launch new offerings and enter new markets that will generate even bigger income streams in the future.
The innovation premium is calculated by projecting a company's income (cash flows in this case) from its existing businesses, plus anticipated growth from those businesses, and looks to the net present value (NPV) of those cash flows. Then the NPV is compared to the company's current market capitalization. Companies that have a current market capitalization greater than the NPV of its cash flows have an innovation premium built in to its valuation. The professors were quick to point out that this valuation method does not correlate with substantial investor returns, so just because a company is one of the best innovators doesn't mean that Wall Street necessarily agrees.
The professors go on to point out that their method of determining the innovation premium contrasts with conventional reports that draw on surveys of corporate managers asking them to name the companies they consider to be the most innovative. The rating method adopted by the professors relies on investors who buy and sell stocks to identify those companies they expect to be innovative today and tomorrow. Within that context, it was interesting to see that the oilfield service industry accounted for six of the top 100 companies.
Included in the group of leading innovative oilfield service companies are the two largest companies in the industry – Schlumberger and Halliburton – and two of the leading drilling equipment companies – FMC Technologies and Cameron International. The remaining two companies among this cadre were foreign companies – China Oilfield Services and Tenaris SA. The first two companies are not surprising since they possess probably the broadest range of drilling and completion products and services and they are known for their R&D efforts to develop new oilfield products. The second pair of companies represents the preeminent developers of new drilling hardware for use both on- and offshore, but they are best known for their offshore equipment. The last companies on the list are somewhat surprising since Tenaris' tubular business is known more as a commodity business than for new technology. China Oilfield Services is also a surprising selection since it provides a range of services offshore China, but they are not particularly innovative. We suspect these latter two companies may be more beneficiaries of investment funds trying to participate in the China and European energy markets through these foreign-based companies than rewarding them for their innovative DNA.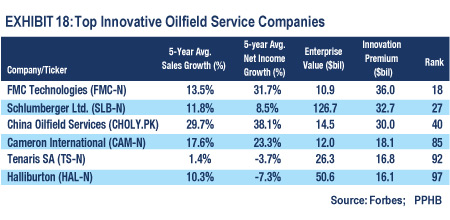 Since companies had to have a market capitalization of $10 billion or greater to be included in the analysis, many of the more dynamic and innovative companies in the oilfield service industry were excluded because they were too small. Despite their exclusion, it is possible to utilize the five key characteristics identified by the professors to look for future innovative winning companies.