Monterey Oil Shale Seen as Next Wave of US E&P Efforts
by Karen Boman
|
Rigzone Staff
|
Friday, August 05, 2011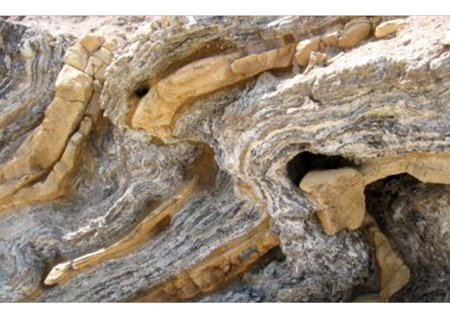 California's Monterey shale oil play could become the next wave of U.S. exploration and production as high oil prices, and the sale of non-core assets by major oil and gas operators, has opened the door for smaller oil and gas companies to pursue the play.
Oil has been produced from the Monterey shale since the early 1900s, but the major oil companies who first explored for oil in California initially focused much of their exploration efforts on the state's heavy oil fields. Drilling wells in the state's heavy oil fields was economic; thus, majors did not have the incentive to explore the deeper Monterey shale with inexpensive oil to develop. The fact that exploration acreage has mostly owned or leased by major oil companies or controlled by government entities meant there was little room for smaller oil and gas companies to enter California.
However, the sale of non-core assets has opened the door for smaller operators to enter the market, and the shift by oil and gas companies towards liquids plays from natural gas due to strong oil prices has prompted companies to pursue emerging oil shale plays.
Early last month, the U.S. Energy Information Administration (EIA) estimated in its report, Review of Emerging Resources: U.S. Shale Gas and Shale Oil Plays, that the Monterey/Santos play in southern California holds 15.4 billion barrels of shale resources; the Bakken and Eagle Ford are the next largest shale oil plays at approximately 3.6 billion barrels and 3.4 billion barrels of oil respectively. The Monterey shale is the primary source rock for the conventional oil reservoirs found in the Santa Maria and San Joaquin basins in southern California.
Besides oil prices and sale of non-core assets by majors, the state government's interest in creating jobs and revenue within California also is helping to create an environment conducive for Monterey shale oil development, said Global Hunter Securities analyst Phil McPherson, adding that the governor has increased funding for the state's Division of Oil, Gas and Geothermal Resources and increased the number of permits issued.
The need to reverse the two decades of declining oil production within the state is driving the need for new oil production to be brought online. Enhanced oil recovery techniques are being used at historic fields such as Kern River and Midway set to maintain production, but with a mature basin, there is only so much that can be done, McPherson said. California, the third largest U.S. oil producing state, produced 555,000 b/d of crude oil in February of this year, EIA reports.
As a result of these factors, McPherson sees significant potential in the Monterey shale, and while drilling results have been mixed to date, McPherson notes that the Barnett shale took 15 years to figure out and the Bakken oil play four to five years before drilling efforts found success. "Companies pursuing the Monterey shale are still learning the science and the lay of the land," McPherson said.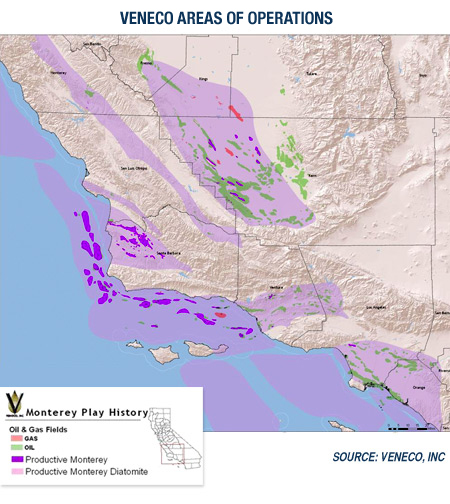 Venoco Inc., which has 14 years experience drilling and producing from the Monterey horizon offshore California with its Sockeye and South Ellwood fields, began leasing Monterey shale formation properties onshore in 2006. Venoco Chairman and CEO Tim Marquez said the EIA's report on the Monterey shale confirms much of what the company has said about the Monterey shale potential.
A massive amount of data is available on the Monterey, which has sourced six of the largest U.S. oil fields, with over 17,000 wells having penetrated the Monterey in Venoco's target basins and over 11,000 of those wells tested or produced from the Monterey. The company also has acquired over 1,100 digital logs, with shale-petrophysical analysis on more than 50 of these wells.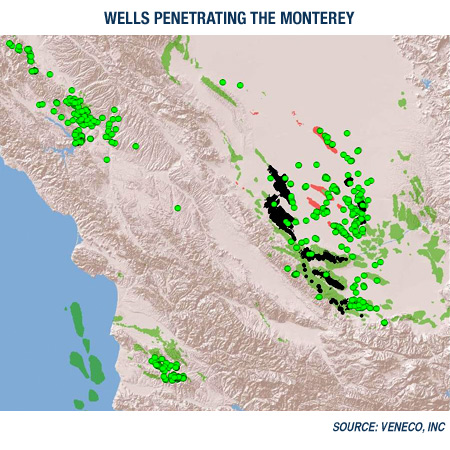 Venoco currently is operating one rig in its Monterey shale play and is working to identify and secure up to four additional rigs by year-end 2011. The increase in rigs would be in anticipation of much greater activity in 2012, when the company currently expects it may run six to eight rigs in the play and spud between 50 and 75 primarily vertical wells, as warranted by drilling and production results. The company anticipates that it will spend $100 million, half of its capital budget, on its Monterey shale assets.
Drilling activity next year would be focused on delineation and development wells in the company's Sevier discovery, in the area covered by the company's 3-D seismic shoot with Occidental Petroleum in the San Joaquin Valley and, after completion of an anticipated 3-D seismic survey, in the Salinas Valley. "We are shoring up our development plans for the Sevier discovery and have been in contact with the agencies to ensure we have a clear path forward to develop this discovery," said Marquez. "We currently expect to drill 30 to 40 wells there next year."
Venoco plans to drill three to four additional delineation wells in its Sevier discovery during the second half of 2011. The company also continues to expand its onshore Monterey acreage position, which includes approximately 304,000 gross and 214,000 net acres across the Santa Maria, Salinas Valley and San Joaquin basins, the latter of which includes the Sevier discovery. Venoco has a number of people searching for acquisition and leasing opportunities to acquire additional acreage interest.
Marquez said Venoco has completed and started testing one zone in its Sevier 1-29 sidetrack well during the second quarter. "Because this is a redrill, we have smaller casing in the well which limits our production volumes and presents a challenge to reducing fluid levels. With this constraint, we are encouraged by the peak 24-hour rate of 61 BOE/d from that initial zone. We have two other zones in this well to test once we're finished testing the initial zone."
Venoco has had to revise some of the initial concepts from its Monterey shale production offshore from the Sockeye field, which has two different zones of Monterey that are shallower and less naturally fractured. The company has concluded that drilling vertical wells is a more economic way to tap the Monterey shale and that comes in contact with more gross intervals of oil, said Mike Edwards, vice president of corporate and investor relations at Venoco. Venoco's wells likely will be produced through acidization, in which acid is sent to recover mud from the natural fractures, rather than hydraulic fracturing.
Venoco's current focus is on its Sevier discovery, but the company also sees potential for horizontal wells in its Santa Maria prospect area. The company has drilled vertical wells with initial production rates of 1,000 b/d, and believes that particular zones of the prospect area hold potential for horizontal wells.
Generated by readers, the comments included herein do not reflect the views and opinions of Rigzone. All comments are subject to editorial review. Off-topic, inappropriate or insulting comments will be removed.