Peter Voser Shakes up Shell
by Jaime Kammerzell
|
Rigzone Staff
|
Friday, July 29, 2011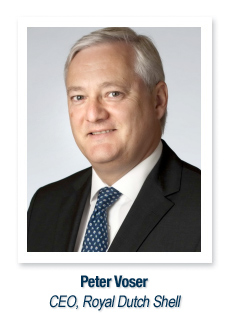 Peter Voser is the CEO of Royal Dutch Shell. He is a no-nonsense leader of one of the supermajors. The secret to his success is a simple, direct strategy that demands focus and accountability from all of Shell's operations. And he's not afraid to eliminate any businesses that aren't performing to his high standards.
Voser became CEO on July 1, 2009. This Swiss-born finance expert graduated from the University of Applied Sciences, Zurich, with a degree in business administration in 1982. He then joined Shell, where he held several finance and business positions in Switzerland, the UK, Argentina, and Chile.
It was in Latin America where Voser fine tuned his leadership skills. He managed a lubricants plant and distribution operations in a time of hyperinflation. Voser was tasked to keep the business running with a small team of staff from whom he demanded a great deal.
In 1997 Voser moved from Chile to London where he became the Group Chief Internal Auditor. He served in that position through 1999 when he was appointed CFO of Shell Europe Oil Products. Voser then became CFO of the Global Oil Products Business and a member of the Oil Products Executive Committee in 2001.
But in 2002, when Shell appointed Judy Boynton to the Chief Financial Officer (CFO) position – a position Voser wanted – Voser left Shell to join the Asea Brown Boveri (ABB) Group of Companies in Switzerland as their CFO. In his new role, Voser was tasked with restructuring and refocusing ABB, which was about to collapse. By 1Q 2004, ABB reported its first quarterly profit in two years.
Meanwhile, Shell underwent a US Securites and Exchange Commission and UK Financial Services Authority investigation of fraud in 2003. The investigators claimed that Shell overstated proven hydrocarbon reserved by 25%. Although Shell cooperated with the investigations, several senior managers resigned from Shell. Boynton was among those who resigned, leaving the CFO position open for Voser to return on July 1, 2004.
Voser also became Managing Director of Shell Transport in July 2004, and served as a member of the Supervisory Board of Aegon N.V. from 2004 until 2006. He was also a member of the Supervisory Board of UBS AG from 2005 to April 2010, and a member of the Swiss Federal Auditor Oversight Authority from 2006 through December 2010.
Since April 2010, Voser has been a director of Catalyst, a non-profit organization that works to build inclusive environments and expand opportunities for women and business. And in March 2011 he was appointed to the Board of Directors of Roche.
Peter is also active in a number of international and bilateral organizations, including the European Round Table of Industrialists and The Business Council.
The new Shell
Prior to Voser's return, he sent the Shell staff a memo stating that he would cut costs, simplify the organization, and change the culture to doers, not debaters. "How we work will change," Voser wrote.
To make Shell a stronger company, Voser wanted to refocus on what it does best, and he believed that strong, visible leaders were a good place to start. He also trimmed 5,000 jobs, most of which were in middle management.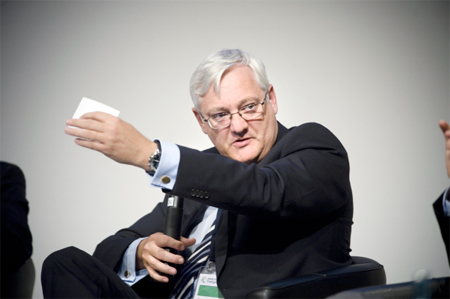 Voser also redirected Shell's investments out of Nigeria, where it had been accused of environmental destruction, and into parts of Asia and the Middle East, as well as the Gulf of Mexico, where Shell restarted its deepwater drilling campaign in April 2011 following the moratorium in 2010.
Voser has been positioning Shell as a natural gas and alternative energy company since he took over in 2004. He has invested more than $15 billion in natural gas in the US alone. In a statement released in May 2011, Voser said Shell will produce more gas than oil in 2012.
Most recently, Voser has reportedly been in talks with Russian Deputy Prime Minister Igor Sechin about the possible joint exploration of Russia's Arctic shelf. BP backed out of a similar partnership after its Russian partners known as AAR blocked the deal. This left the door open for Shell; however the supermajor is denying any interest in the region.
Voser was born in 1958 in Switzerland. He is married to Daniela and they have three children. In his free time he enjoys playing soccer and skiing.
Generated by readers, the comments included herein do not reflect the views and opinions of Rigzone. All comments are subject to editorial review. Off-topic, inappropriate or insulting comments will be removed.
RELATED COMPANIES