Eni Takes Risk; Develops Nikaitchuq Field
by Jaime Kammerzell
|
Rigzone Staff
|
Friday, July 08, 2011
Eni began oil production at the Nikaitchuq field in February 2011. The field is located in the Beaufort Sea off the North Slope of Alaska in 3 meters of water. It is also Eni's first operated Arctic project.
Eni owns 100% interest in the Nikaitchuq field, which is a risk for the operator. The Nikaitchuq field is a marginally economic field with cold viscous crude oil. The reservoirs are about 4,000 ft TVD with long step outs. However, Eni also reaps all the benefits of its hard work. The operator estimates recoverable reserves at 180 MMbbl and expects Nikaitchuq to produce for over 30 years with peak production of 28,000 b/d. Total investment will amount to about $1.45 billion.
Field Development
In January 2004, Kerr-McGee drilled the Nikaitchuq No. 1 vertical well, which tested more than 960 b/d of 38 degree API crude oil from the Sag River Formation. Kerr-McGee then drilled the Nikaitchuq No.2 well 9,000 ft southeast of the No.1 well in March 2004 and successfully extended the accumulation down dip.
Kerr-McGee operated the NW Milne Point field with a 70% interest in 2004. Armstrong Alaska, Inc. held the remaining 30% interest.
Nearly a year later, Kerr-McGee tested the Schrader Bluff reservoir at the Nikaitchuq No. 4 horizontal appraisal well. The well tested at rates of up to 1,200 b/d and the oil tested at 16 to 17 degrees API. Kerr-McGee estimated the discovery to hold 100-200 MMboe.
Eni, which previously bought out Armstrong Alaska's 30% interest, bought out Kerr-McGee's operatorship and 70% interest in the Nikaitchuq field in April 2007.
The development plan called for 71 wells, including oil producers, water injectors, and water source/disposal wells. Eni planned to drill one-third of the wells from shore and the remainder from an artificial island to be constructed about 2.8 mi from shore in Phase 2 of the field's development.
Field development started Jan. 25, 2008. Though the operator slowed drilling and development operations in March 2009, all wells should be completed by 2014.
Eni is drilling the Nikaitchuq wells horizontally through thin layers of oil-bearing rocks. They are at 4,000 ft VD and have a horizontal reach of up to 20,000 ft. The produced oil is viscous and thick. So to speed the flow, Eni injects water from the Ivishak formation and produced water. The Ivishak water is about 195 degrees, which when mixed with the crude (about 87 degrees) will help it move through the subsea pipeline to the processing facility quicker.
Eni contracted an offshore rig for the offshore drilling pad in 3Q 2010. The offshore wells require electric submersible pumps, which are housed on the drilling pad.
Eni designed the onshore processing plant at Oliktok Point to handle sand and water as well as crude. Two process modules built in Louisiana weigh about 4,000 tons each. They will work with 22 smaller module units, built in Alaska, to treat up to 40,000 b/d of heavy crude with sand and up to 120,000 b/d of water.
A 3.8-mile-long under seabed pipeline bundle, which is the heaviest bundle ever installed in the Arctic, connects the offshore facility to the onshore facilities. Eni contracted INTECSEA to perform the Pre-FEED, FEED, detail design and construction support on the subsea flowlines. The flow line and utility bundle connect to the onshore facility at Oliktok Point. The pipleline bundle was installed in 2008 and includes an outgoing pipe that takes water to the drilling pad, a diesel line, and cables. Hot water flows out to the drilling pad through a concrete-coated pipe.
Production flowline bundle included:
3 phase PIP production flow line 18-inch x 14-inch
12-inch water injection Flow line (2-inch insulation/1-inch concrete)
6-inch spare Flow line (single wall)
4-inch x 2-inch PIP diesel line
Fiber optic cable with bundle
Separate fiber optic and power cable bundle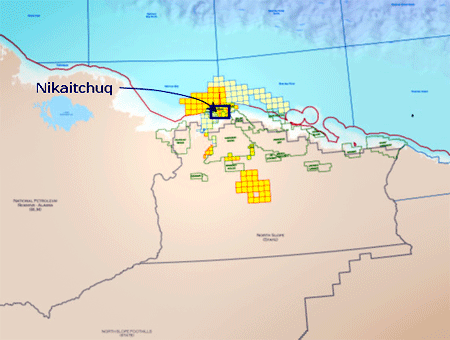 Nikaitchuq Field
Alaskan Future
In 2008, Eni won 18 exploration leases in northern offshore Alaska in Lease Sale 193.
The blocks are in the Chukchi Sea, in 30 to 50 m of water. According to the company, this area possesses a high exploration potential recognized by several oil majors who competed for the blocks. Eni jointly owns 14 of the leases with Statoil-Hydro and wholly owns four of the leases. These leases position Eni as a major player in Alaska.
Generated by readers, the comments included herein do not reflect the views and opinions of Rigzone. All comments are subject to editorial review. Off-topic, inappropriate or insulting comments will be removed.
RELATED COMPANIES