Operators Seek to Tap Australia Shale O&G Potential
by Karen Boman
|
Rigzone Staff
|
Monday, July 04, 2011
While development of Australia's conventional and unconventional natural gas resources via liquefied natural gas projects has garnered much attention in recent years, oil and gas companies are also pursuing Australia's shale oil and gas resources.
Geoscience Australia reports that Australia has unconventional and currently non-producing shale oil resources of 131,600 petajoules, or 22,390 million barrels, "which could potentially contribute to future oil supply if economic and environmental challenges can be overcome."
The majority of Australia's shale oil resources of commercial interest are located in Queensland, near Gladstone and Mackay, where thick Cenozoic lacustrine oil shale deposits (lamosite) of commercial interest are predominantly in a series of narrow and deep extensional basins. Oil shale deposits of varying quality also occur in New South Wales, Tasmania, and Western Australia in sedimentary sequences of Permian, Cretaceous and Cenozoic age.
According to the U.S Energy Information Administration report released in April, World Shale Gas Resources; An Initial Assessment, Australia also has significant shale gas potential in four basins. These basins include the Cooper Basin, Australia's main onshore gas-producing basin; the Maryborough Basin in coastal Queensland; the Perth Basin and the Canning Basin, both in Western Australia.
Unconventional gas resources could be commercialized first in the Cooper Basin, although its Permian-age shales have a non-marine (lacustrine) depositional origin and the gas has elevated carbon dioxide concentrations. The Maryborough Basin contains Cretaceous-age marine shales that are over-pressured and appear gas saturated, while the Perth Basin has prospective marine shale targets of Triassic and Permian age. The Canning Basin has deep, Ordovician-age marine shale that is roughly correlative with the Bakken, Michigan and Baltic basins.
AWE Updates Perth Basin Activity
Australian Worldwide Exploration (AWE) Ltd. reports that the initial log and core review for the Arrowsmith-2 well, located in EP 413 in the Perth Basin, indicates that a 1,509 foot section of the Kockatea shale has been intersected overlying a 820-foot section of Carynginia formation. Beneath the Carynginia, a 330-meter section of Irwin River Coal Measures and a 72-foot section of High Cliff sandstone have been intersected. Elevated gas readings while drilling have been observed throughout the target section and these will be further analyzed as part of the post-drilling evaluation, AWE reported. The Carynginia and Irwin River shale sequences have been conventionally cored as previously announced.
Fracture stimulation work by Halliburton is planned for the September quarter, with up to five zones in three shales being targeted, AWE reported in a June presentation at the UBS conference. Arrowsmith-2 is located southeast of the original Arrowsmith-1 well, which flowed gas on test from the middle Carynginia shale interval. AWE estimates between 13 Tcf and 20 Tcf of gas in place in the middle Carynginia shale play.
AWE is pursuing three elements in its Perth Basin gas strategy: shale gas through the hydraulic stimulation of the Woodada Deep-1 and Arrowsmith-2 wells; tight gas through the hydraulic stimulation of the Senecio-2 well; and conventional gas in the Redback area. The company said it has made significant progress on all three fronts this year.
For the Woodada Deep-1 well, AWE plans for stage 1 and stage 2 fracs to evaluate the main Carynginia shale play and for the stage 3 frac to evaluate the tight Woodada carbonate section and Upper Carynginia shale. Woodada Deep-1 is located 15.5 miles from the Arrowsmith-2 well. AWE will re-enter the Senecio-2 well in the September quarter for fracture stimulation; the well previously tested from the Dongara/Wagina reservoir at over 2.5 MMcf/d, but gas proved tight. AWE said Senecio could add up to 100 Bcf of gross recoverable gas.
The company operates the southern portion of the Perth Basin acreage with working interests ranging from 33 percent to 100 percent. The company will accelerate activity from mid-year, and reports seeing premium gas pricing in the Western Australia market, with a strong and growing demand profile for gas. The Perth Basin oil and gas fields are located near Dongara approximately 223 miles north of Perth.
Falcon Pursuing Beetaloo Basin Shale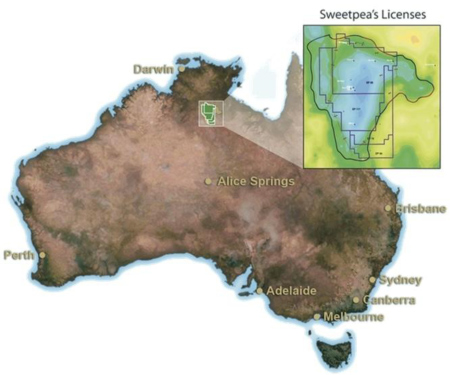 Source: Falcon Oil & Gas
Falcon Oil and Gas subsidiary Falcon Australia owns four exploration permits in in the Beetaloo Basin in Australia's Northern Territory, which cover 7 million acres and are estimated to hold 64 Tcf of gas and 17 billion barrels of oil in multiple conventional and unconventional targets. Eleven wells previously were drilled by Pacific Oil and Gas, a unit of mining company Rio Tinto, all with pervasive oil and gas shows.
Hess Corp., Falcon's joint venture partner in the area, will start acquiring this year between 3,000 and 4,000 km of 2D seismic data. The joint venture covers EP 76, EP 98 and EP 117, excluding approximately 100,000 acres of EP98 around Shenandoah-1 and EP99. Hess will drill and evaluate five wells.
Falcon will test in this year's third quarter the Shenandoah-1 well's Lower Kyalla unconventional wet shale gas, the Moroak sandstone for wet gas, and the Velkerri unconventional for dry shale gas. Falcon drilled the Shenandoah-1 well in 2009 during the dry season, but the 100-year flooding that took place in 2010 prevented Falcon from bringing equipment on site and testing the well.
Beach Sees Positive Results in Cooper Basin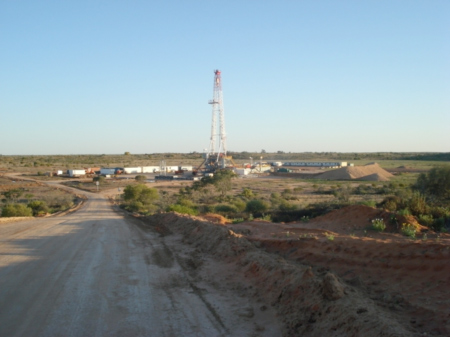 Source: Beach Energy
Beach Energy estimates that PEL-218 in the Cooper Basin has potential shale gas in place between 40 Tcf and 80 Tcf, and reports that target zones in its Encounter-1 and Holdfast-1 wells were in line or thicker than anticipated at between 984 feet and 1,312 feet, and gas saturated with no water through the target zone. The wells confirm the deep Basin gas potential of the play, and lack of water in these zones will assist with fracture stimulation. The Eromanga aquifers also lie well above the target shale zone and isolated behind two strings of casing.
While it has been determined that horizontal wells will be optimal for production, Beach has commenced flow stimulation of the vertical Holdfast-1 well. The clean up flow of Holdfast-1 will take place in early July and is expected to be followed soon after by initial flow results. Flow testing is expected to continue for approximately three miles, while information gather from the shale wells will likely result in a resource booking in early August.
For each of the seven fracture stimulation stages, technical experimentation was undertaken by using different methods and combinations of perforation techniques, proppant, and fluid viscosity, to help determine which techniques are best suited to the pilot program planned for early 2012. Beach noted that the Cooper Basin shale gas play is a lacustrine play, with similar litho-geochem properties to North American marine shale plays.
Fracture stimulation of the Encounter-1 well will take place in the December quarter, pending the availability of crew and necessary equipment.
Generated by readers, the comments included herein do not reflect the views and opinions of Rigzone. All comments are subject to editorial review. Off-topic, inappropriate or insulting comments will be removed.