The Great Crew Change: Bridging the Generation Gap in Effective Ways
by Barbara Saunders
|
Rigzone Staff
|
Monday, July 04, 2011
Editor's Note: The Great Crew Change refers to the rapid shift in oil industry demographics triggered by mass retirements of Baby Boomers, resulting in a shortage of experienced technical talent. This series addresses some novel actions that are being taken by individuals, companies and non-profits to ease this transition.
The live possum did not attend the drilling basics class on this particular day.
Yes, that reads "live possum," or opossum. For non-US readers, an opossum is a small, Western Hemisphere marsupial known for its habit of pretending that it is already dead to avoid being killed.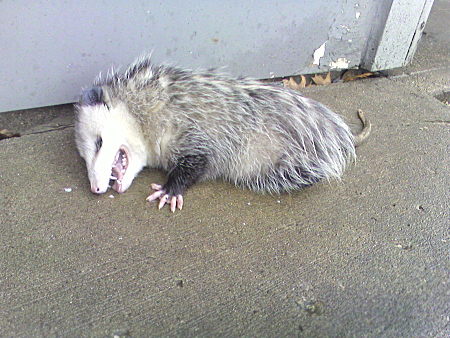 A live possum, shown here "playing possum" (or pretending to be dead to avoid getting killed) is sometimes used to illustrate the term "possum belly" (the back tank on a shale shaker) in a unique class on oil and natural gas drilling basics taught by retired physicist Dr. Leon Robinson. Source: Wikipedia
Live possums trapped (humanely) his own backyard – when the possums cooperate, that is – are part of the unique teaching tools that retired ExxonMobil physicist Dr. Leon Robinson, a.k.a. "Doc Leon," employs to illustrate the points he is making to students in his week-long course, "Basics in Drilling," at the PetroSkills facility in Katy, Texas. To be fair, Robinson mostly sticks to the material in the voluminous course book, but he peppers in learning experiences with definite impact.
A live possum, for instance, is used to illustrate the drilling term "possum belly" (the back tank on a shale shaker,) partially for the benefit of students who might be unfamiliar with the animal.
"I like to make the course memorable," said Robinson, 84, adding that the practice of trapping live possums sometimes offends the most "politically correct" students. "One walked out and refused to take the rest of the class," he observed, adding that he actually takes the animals from a more congested suburban area to the more open lands around Katy, where he releases them into a better habitat.
Other Teaching Tools
Indeed, Robinson's advanced age – juxtaposed with his high energy, offbeat sense of humor, unmistakable passion for mentoring younger people, and his very distinctive teaching tools – pack a memorable wallop.

Whether or not possums oblige that particular day, Robinson tosses in (at his own expense) a luxurious rented "party bus" to transport students to and from the Ocean Star, a jackup rig turned into an offshore drilling museum in Galveston, Texas, for an intense four-hour lecture and tour.
Then, there's the "Drilled Solids are EVIL" lecture, featuring devil, skeleton and other eye-grabbing graphics to drill home the point that drilled solids break drill bits, causing them to be lost in the hole, raise costs sky-high, and cause "sleepless nights." To underscore how Robinson's quirky style does not dilute substance, the lecture's core was extracted from an actual technical paper that he delivered to the American Association of Drilling Engineers (AADE) in 2006.
Drilled solids are EVIL!
Source: Dr. Leon Robinson, originally part of a technical paper presented to the American Association of Drilling Engineers (AADE) titled: "Economic Consequences of Solids Control," AADE-06-DF-HO-10.
Drilling Pioneer
Robinson led a particularly distinguished career as a research physicist at ExxonMobil and its predecessor companies, Exxon, Esso, and Humble Oil, where he started in 1953, retiring in 1992. Among his many accomplishments, Robinson earned 34 patents in oilfield physics and was presented with an award in 2008 from the Society for Petroleum Engineers (SPE) as one of a handful of ground-breaking pioneers in 20th century drilling.
Doc Leon enjoys sharing his years of experience and teaching the basics of drilling to young professionals just starting out in the oil industry. "It's a way I feel I can give back some of the satisfaction and fulfillment I've gotten from this profession," he commented.
Beyond 'Geek-Speak'
Robinson is adamant about using plain English and developing interest in the petroleum industry in everyone he can.
"I really want to make this material meaningful to both technical and non-technical audiences," Robinson stated. "I have every kind of student in there, from administrative assistants with high school diplomas to people with advanced technical degrees, from beginners to more experienced people. I want to charge everybody up with enthusiasm for the industry, but also imbue them with the importance of responsible practices."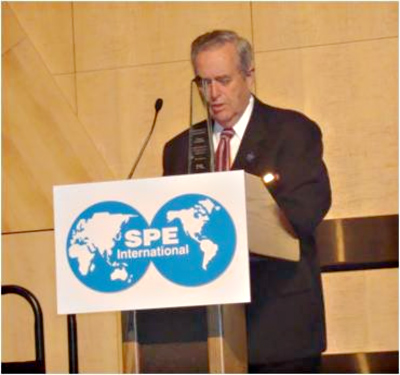 Dr. Leon Robinson accepting "Pioneers in Drilling" award from the Society of Petroleum Engineers (SPE) in 2008.
Varied Class Makeup
This session of his class covered pressure issues in depth (pun intended), with a good number of key equations included. Yet one non-engineer in the class, Jessica Shelton, 21, said: "I understand everything he's saying." Shelton, a former paralegal, has been in the industry for one year as a training manager.
In fact, career-changers were evenly matched with recent college graduates in the class – a microcosm of what's happening in the industry today. One "seasoned" member of the class, Duwayne Sanders, 45, is an electrical engineer who's been a recruiting manager for ExxonMobil and now wants to become an environmental specialist. "I want to change my career path," Sanders said.
Just embarking on his oil and gas industry career path was Sean McDermott, 23, a recent supply chain specialist graduate who decided to be a rig supervisor, instead. "It's very educational," McDermott said of the course.
Also fresh out of college was Andrew Wolke, 23, a construction engineering technician hired six months ago as a rig supervisor trainee by ExxonMobil. Asked if he was concerned about becoming a victim of layoffs in the next industry downturn Wolke replied confidently: "Absolutely not. I'm not worried at all." When asked why, Wolke explained: "I'm not even sure they need me now – except to be trained while experienced trainers are still available. They need people my age so badly, it's not even funny."