BP Gets Two-for-One Deal off Norway
by Jaime Kammerzell
|
Rigzone Staff
|
Friday, June 24, 2011
BP is combining two separate fields to develop its Skarv and Idun project in the northern Norwegian Sea. The project, which is due to come online in 3Q 2011, is being developed in 350 to 450 m (1,148 to 1,476 ft) of water, between the Norne and Heidrun fields in Production Licenses 212, 262, and 159. The fields contain hydrocarbons at three reservoir levels. BP and its partners estimate total recoverable reserves to be 16.8 MMcm of oil and condensate and 48.3 Bcm of rich gas.
BP serves as the operator with 24% interest, along with partners Statoil with 36%, E.On Ruhrgas Norge AS with 28%, and PGNiG Norway AS with 12%.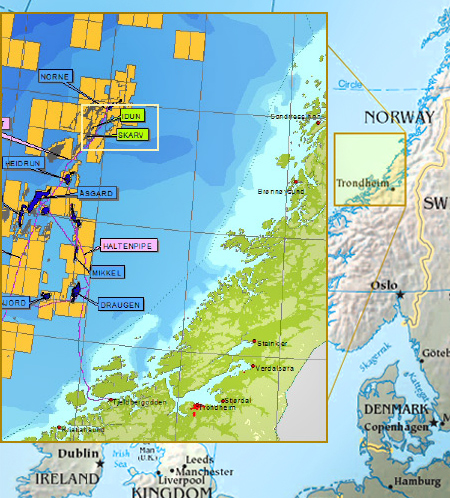 Skarv
Amoco, shortly before merging with BP, made an impressive hydrocarbon find in the Donnatello field on Dec. 24, 1997. The Donnatello field, which would later be renamed Skarv, is in 250 to 450 m of water on Norwegian Blocks 6507/5, 6507/6, 6507/3 and 6507/2.
The Maersk Jutlander semisubmersible drilled the well on behalf of Amoco to 4,224 m TD in the early Jurassic formation. Following the discovery, Amoco suspended the well. In 2002, BP contracted the West Alpha semisubmersible to drill the Skarv 6507/5-5 appraisal well, which reached 3,950 m TD and confirmed the 1997 find.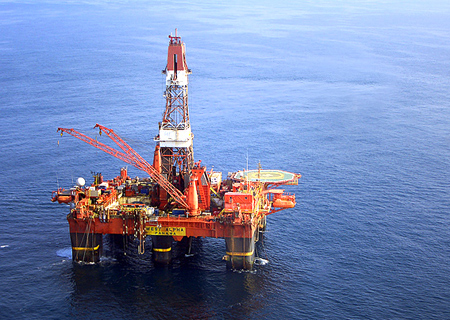 West Alpha
The field's recoverable resources are made up of 80% gas and 20% liquids. Oil will be produced using pressure support from gas injection, and gas will be produced by depletion.
Idun
Statoil discovered the Idun gas field in 1999. Idun is in PL 159, blocks 6507/3-3 in 350 to 450 m of water. The Byford Dolphin semisubmersible drilled the well to 3,830 m and found gas in the Jurassic sandstones. Statoil confirmed the gas discovery with two appraisal wells drilled at 6507/3-3Q and 6507/3-3B to 4,275 m. Statoil then plugged and abandoned the appraisal wells on March 25, 1999.
Field Development Plan
It took nearly 10 years for BP to submit a field development plan to jointly develop the fields. In June 2007, BP proposed a $5 billion plan for development and operation of the Skarv and Idun oil and gas fields to Norwegian authorities. The fields contain hydrocarbons at three reservoir levels with a combined estimate of 106 MMbbl, and 48 Bcm (170 Bcf) of natural gas.
According to the development plan, BP plans for oil production capacity to be 85,000 b/d and gas output at 15 MMscm/d. BP also said that it has identified additional resources in the area, which can be linked back to the Skarv/Idun production facilities at a later date.
BP's concept studies concluded that the best development solution was an FPSO [floating production, storage and offloading] vessel with subsea equipment tie backs. According to the operator, power from shore was considered, but at that time it was not technically feasible in combination with an FPSO.
Thus, BP and its partners are developing the fields with the Skarv FPSO, 16 subsea wells, and an 80 km (50 mile) gas export pipeline connected to the Aasgard Transport System. Shuttle tankers will collect oil from the 875,000 bbl vessel every 10 days.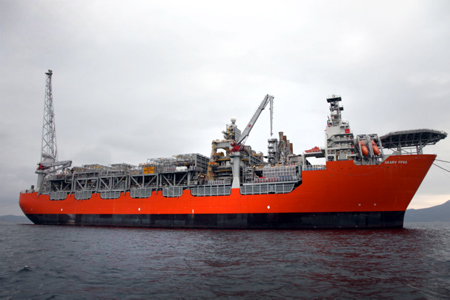 Skarv FPSO
FPSO
The Skarv FPSO is the biggest vessel ever built for deployment on the Norwegian Continental Shelf.
BP contracted Aker Solutions in November 2005 to perform the project's front-end engineering design (FEED) and detail engineering, procurement, and construction management assistance (EPcma). Aker Solutions also carried out the design (FEED) of the hull, based on its Tentech 975 design, and living quarters.
Samsung Heavy Industry in South Korea carried out the fabrication and installation of the hull and topside.
"Skarv is located at a water depth of 370 m. This is a typical place of operation for an FPSO," said Arne Bjørlo, project director for the Skarv project. "Such vessels are also well suited to a combined oil and gas field, like this one. An FPSO provides the necessary deck space for gas processing facilities, while at the same time allowing for storage of oil."
According to Aker Solutions, the Skarv development includes a number of innovations on previous concepts. "The modules used on the topside are bigger than usual, stretching across the entire width of the deck. This gives us a more effective building process, because each module can be finished separately with a lot less hook-up on assembly," says Bjørlo.
In March 2011, Fairmount Marine tugs, Fairmount Sherpa and Fairmount Summit, delivered the Skarv FPSO to the port in Stord, Norway. The trip took 92 days to tow the FPSO 15,300 nautical miles from Samsung Heavy shipyard in Okpo, South Korea. The Skarv FPSO was installed in April 2011 and the risers and templates will be connected in July 2011.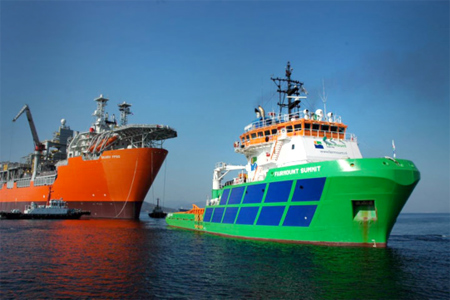 The Fairmount Summit tugged the Skarv FPSO from the Samsung Heavy shipyard in Okpo, South Korea, to the port of Stord, Norway.
The FPSO has a production capacity of 85 MMb/d and 670 MMcf/d (19 MMcm/d) and is 292 m long, 50.6 m wide and has a towing draught of 12.2 m with a deadweight of 128.000 tons. According to Pat McHugh, Skarv project director, the hull's structure and turret, along with the 15 mooring lines anchored to the seabed, were designed to resist three combined eventualities: a total loss of FPSO power, loss of use of positioning thrusters, and 100-year storm conditions, when the hull is not in its optimal position with respect to the prevailing weather conditions.
Contracts
BP began awarding contracts for the project even before it submitted a development plan in June 2007. In March 2006, BP awarded Kongsberg Maritime a contract for the integrated control systems for safety and automation to the FPSO. The initial contract required Kongsberg to conduct a FEED study with BP and Aker Kvaerner looking at the safety and automation systems. The results were part of the materials submitted for final approval by the Norwegian authorities in early 2007.
That same month, BP signed a letter of intent with Offshore Rig Services ASA for use of the OffRig Pioneer semisubmersible to drill on the Skarv/Idun fields. The contract was subject to approval of the PDO, and was valued between $250 and $500 million, depending on the length of the program, extensions, and options.
BP also awarded Bluewater a FEED study for the Turret Mooring System on the FPSO in 2006. Once the project was approved, Bluewater was awarded an engineering, procurement, and construction (EPC) contract for the Turret Mooring System.
After the Norwegian Authorities approved BP's development plan, the operator awarded VetcoGray a contract to supply subsea production system for the Skarv/Idun field. The $265 million contract includes engineering, construction and testing of 17 wellheads and tree systems and five subsea templates with integrated manifolds, as well as work-over, tie-in, and control systems. VetcoGray also supplied five years of service for the installation, with the option to renew the contract every five years.
In March 2008, VetcoGray then awarded ClampOn a contact for the supply of ClampOn DSP-06 Subsea Particle Monitors and ClampOn DSP Pig Subsea Detectors.
In 4Q 2007, BP awarded Subsea 7 two contracts -- flowline installation and general subsea construction works -- valued at $125 million and $140 million, respectively.
Subsea 7 engineered, fabricated and installed 42 km of single flowlines, which consist of 35 km 12" x 10" diameter clad production flowlines and 7 km 10 inch diameter carbon steel gas injection flowlines. Subsea 7 attached a Direct Electrical Heating (DEH) cable to the 13 km Idun flowline, which is a part of the 35 km production flowlines.
The general construction contract included survey activities, installation of subsea structures, control umbilicals, tie-in and pre-commissioning of all flowlines, risers, control umbilicals, and the gas export pipeline. Subsea 7 also took care of the tie-in spools and protection systems. The Seven Seas vessel carried out most of the work over the course of 300 days.
In December 2007, BP contracted SBM Offshore for the turnkey supply of an internal turret. SBM says the bogie-wheel type design turret is the world's largest turret in terms of mooring loads.
BP awarded the direct electrical heating (DEH) system for the Skarv subsea production pipeline in February 2009 to Nexans, which supplied all cables and dedicated subsea equipment for the DEH system. Nexans installed a 12 in. diameter production pipeline from one of the production wells at the field to the FPSO at Skarv. The distance between the well and vessel was about 13 km. At low production and shut down, a DEH-system will be used to prevent blockage of the pipe.
In 4Q 2009, BP started drilling 11 production wells using the Borgland Dolphin. The contract was extended in June 2010 to continue drilling through late April 2011. BP then arranged for the Polar Pioneer to continue drilling production wells on the Skarv field from April 2011 to May 2013.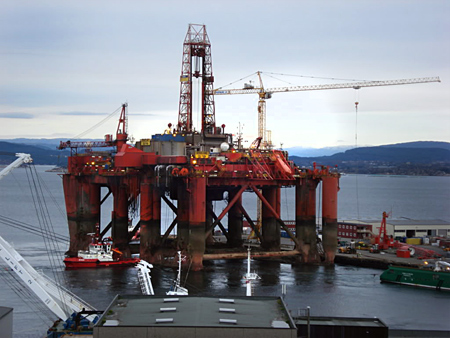 Borgland Dolphin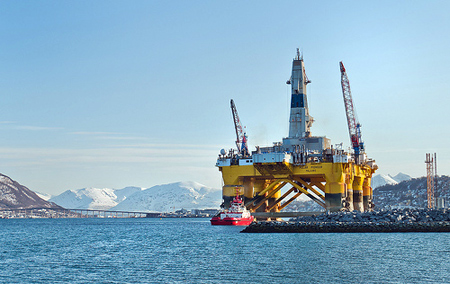 Transocean's Polar Pioneer
Generated by readers, the comments included herein do not reflect the views and opinions of Rigzone. All comments are subject to editorial review. Off-topic, inappropriate or insulting comments will be removed.
RELATED COMPANIES
For More Information on the Offshore Rig Fleet:
RigLogix can provide the information that you need about the offshore rig fleet, whether you need utilization and industry trends or detailed reports on future rig contracts. Subscribing to RigLogix will allow you to access dozens of prebuilt reports and build your own custom reports using hundreds of available data columns. For more information about a RigLogix subscription, visit
www.riglogix.com
.