The Well Completions Bottleneck
by Trey Cowan
|
Rigzone Staff
|
Wednesday, June 22, 2011
At the height of the 2008 commodity price surge for both oil and natural gas, the inventory of wells drilled but not completed was also tracking above the norm at over 2,000 wells. A primary factor contributing to this backlog was contractual as operators drilled in order to hold their leases in some instances. Additionally, in some regions a shortage of labor and equipment was exacerbating the situation.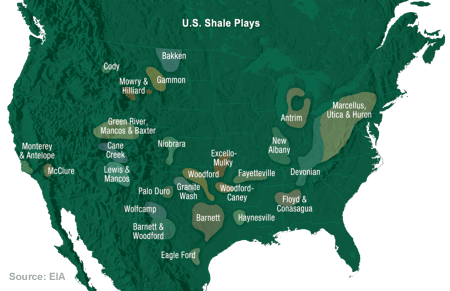 But as the rig count proceeded to drop at an unprecedented rate during the later half of 2008, the industry was then able to work through the backlog over the ensuing months. An unintended consequence was that, as operators worked through their excessive inventories of uncompleted wells, natural gas production climbed while the natural gas rig count fell dramatically. The saying "History never repeats but it sure does rhyme," applies well to this scenario. But this time around the trends point to U.S. oil instead of natural gas experiencing production increases when the rig count eventually slows.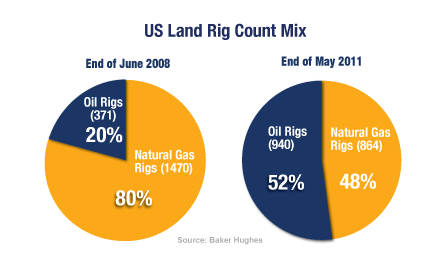 According to Halliburton, the number of uncompleted wells in the United States was approaching 3,500 wells at the end of 1Q11. Given that the type of drilling underway has changed dramatically over the last four years (with horizontal drilling now comprising a significant portion of the mix) and the high rig count in general, we anticipate that the backlog for completions will continue to grow (as long as drilling continues to be undertaken at a faster pace than capital expansion by oilfield service providers). The relevance of this situation is even greater when you consider that the service intensity necessary to complete wells has doubled what it was on average two years ago.
As of the most recent count there were approximately 1,800 land rigs drilling in the lower 48 states for oil and gas. If you assume that each frac crew can complete six wells in the average time it takes to drill one well, then the equilibrium point for the number of frac crews in the lower-48 would be the number of horizontal and directional rigs drilling in US divided by 6.
Recent estimates peg the total horse power (hp) across North America available for stimulating wells at approximately 9 to 10 million. If you consider that between 25k to 40k hp is needed to stimulate each horizontal shale well, then that places the total number of frac crews covering North America somewhere in the neighborhood of 300 crews. Backing out a healthy figure for what are likely Canadian crews implies that there are at least 200 fracing crews available to complete wells in the US. Thus, as long as the unconventional count is over 1,200 rigs, then we would anticipate that the backlog for completions would continue to grow.
Currently there are approximately 1,300 rigs drilling unconventionally. This would suggest that the current back log will continue to grow by 100 uncompleted wells per month. At this pace the backlog could top 4,000 wells before the start of calendar 2012. What is different about this build up compared to 2008 is that the composition of wells favors oil, condenstates, and NGLs. If you assume that the composition mirrors the rig mix, then over half the uncompleted wells will eventually produce oil.
During 2009 there were over 363,000 wells that produced nearly 1.7 billion barrels of crude in the lower 48 states. That equates to about about 12 barrels per day per well. However, you have to remember that over 2/3 of the existing oil wells are producing at marginal rates. So, using a higher average production of 200 bpd per uncompleted oil well would imply 400,000 barrels per day of production (~2,000 uncompleted oil wells x 200 bpd) untapped at the end of 2011. To put this in perspective, 400,000 bpd of oil would raise current U.S. production of 5.6 million bpd by 7 percent.
The implications of these trends points to a continude rise in prices for fracturing services and supplies. Current estimates place the amount of water used to fracture a well at 4,000,000 million gallons. Proppants (sand or ceramic) used hold the fissures open weigh approximately 5,000,000 lbs. per well. Usage of both is likely to continue rising considering that both the number of frac stages and the lateral lengths drilled are increasing. While there are several items going down the well during the hydraulic fracturing process, the largest component of the mix is definitely water.
We mentioned that the service intensity has increased over the past two to three years. Bilateral wells, zipper-fracs, and longer laterals with more stages/production zones are all contributing to the increased requirements for both equipment and materials.
Keeping this growth in mind, we have provided an estimate of the largest pressure pumping providers across North America in 2011. Halliburton leads the oil services industry possessing one-fifth of all North American pressure pumping horsepower. And even though the industry is speckled with a multitude of small operators, we note that Spears estimates that nine firms control approximately 80% of the North American market. The smallest of the top nine is Patterson-UTI, which increased its pressure pumping capacity with the purchase of Key Energy's well stimulation business last year.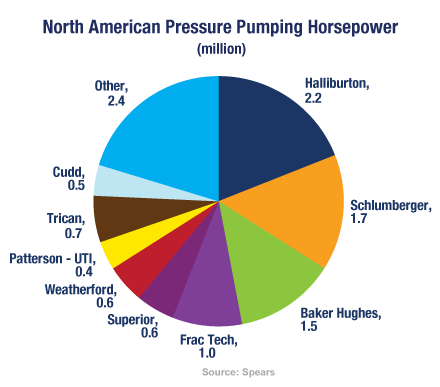 From a piping modification or pump upgrade engineering project to helping manage a multi-billion dollar international development.

Click Here To Learn More
Special Reports Sponsored By Novetus
Upcoming Topics
Generated by readers, the comments included herein do not reflect the views and opinions of Rigzone. All comments are subject to editorial review. Off-topic, inappropriate or insulting comments will be removed.