Horizontal Drilling Boosts Apache's Permian Production
by Karen Boman
|
Rigzone Staff
|
Wednesday, June 22, 2011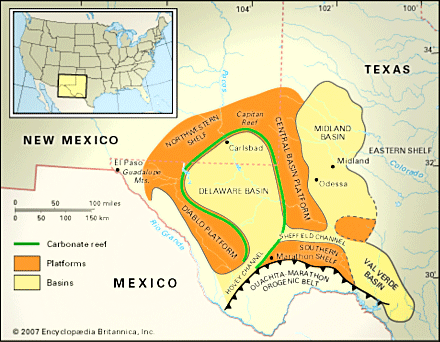 Permian Basin
Apache Corp. is applying the horizontal drilling technology that created the U.S. shale gas boom to increase production in its Permian Basin operations.
Rising oil prices and increased U.S. gas supply has prompted producers to switch from gas to oil-focused drilling. Growing interest in oil drilling, coupled with the search for low-cost, low-risk oil resources, has sparked renewed interest in the Permian Basin, where oil and gas exploration and production dates back to the 1920s.
"We're in a period now where technology has opened up unconventional reservoirs and made them economic to produce," said John Christmann, Apache's vice president of Permian Basin operations. "That same technology can work in conventional areas where it's tighter or there's lower permeability."
This technology has played a critical role in the horizontal redevelopment of Apache's Central Basin Platform waterfloods. Apache has successfully tested five fields of the 30 operative properties in the North Basin and Central Basin platforms, which has been producing for years and is considered the "bread and butter" of the Permian Basin.
In the Grayburg reservoir at the North McElroy unit, which has produced oil for over 60 years and is Apache's oldest field in the region, the company has drilled 10 horizontal wells. The unit had been developed on five acre spacing and had an oil cut of 1.5 percent in recent years.
"For all practical purposes, the field is a water field where 170,000 b/d of water can be moved," said Christmann. "What's impressive about this is to be able to go in between wells on five-acre spacing and bring on wells at 10 to 20, 30 percent oil cut. We've got 10 wells on, we've got 60 that we see easily." The initial oil production rate on wells here is 200 b/d to 300 b/d, and the production rate at the field has returned to levels seen in the early 2000s.
In 2010, Apache conducted horizontal drilling at its TXL South Unit, targeting the upper Clearfork, the Tubb, and the lower Clearfork laterals, each over 5,000 feet. Apache landed at these depths ranging from 5,800 feet to 6,300 feet, and is seeing initial production from wells in the 200 b/d to 500 b/d range. "More importantly, you could see with the production spike there in 2010, we've taken this deal back to production rates that we haven't seen since the late 1990s," Christmann said.
At the Deadwood field, the "crown jewel" of Apache's Mariner transaction in the Permian, Apache has completed the first test on the horizontal Cline unconventional shale play. Apache has 11 rigs operating on 11,000 foot wells targeting the unconventional Wolfcamp and Cline targets, as well as the conventional Strawn and Fussleman targets. Apache will drill over 150 wells here this year, and estimates a drilling inventory of 1,000 additional wells.
The Permian Basin contains a mix of conventional resources, such as the Devonian and Clear Ford, and unconventional shale plays such as the Spraberry, a combination of the Wolfberry and Wolfcamp. Three or four years ago, companies began to realize they could stimulate both kinds of reservoirs and commingle production to reach commercial levels, Christmann said.
Christmann believes that horizontal drilling here will allow for development of secondary horizontal reserves with water flooding; additional upsides include stacked horizontal targets providing multiple opportunities and pad drilling that will keep costs down.
"I don't know of any other company out there that's really focusing the technology from the shale plays on the existing water floods," Christmann said. "And this is our base business. So you're going to see us continually to work these properties."
The company last July established a new ventures group targeting the Abo horizontal play, and emerging shale plays such as Bone Springs and Wolfcamp. The company has spud the second horizontal well on the Abo horizontal play in New Mexico. Apache also will spud the first horizontal well this year targeting the Wolfcamp horizontal play on 7,500 acres of leased/optioned land in West Texas and will drill three wells here over the next year.
Additionally, the company is excited about having exposure to the Bone Springs plays, and has identified several targets in the Bone Spring/Wolfcamp horizontal play. Apache is working to firm up new acreage through joint ventures, farm-ins and leasing, Christmann said at an investors meeting in May.
Apache had been acquiring Permian Basin assets for several years, but significantly increased its critical mass in the Permian Basin with its Mariner Energy merger and acquisition of Permian properties from BP. Apache now has 3 million acres in the Permian, with 84 MBoe/d of production; 68 percent of that production is comprised of oil and natural gas liquids. The company has 24 rigs running in the Permian Basin, up from five in 2010, and will drill more than 550 wells this year. Apache has over 7,500 drilling locations in its inventory at this time.
The company now has a regional office in Midland with 175 employees, and will increase the number of field employees from 298 to 430 and the number of full-time dedicated fracking crews from three to six by mid-year. Apache said it will need to increase gas processing and natural gas liquids takeaway capacity.
Midland Feels Boom; Could Lizard Stop It?
Christmann notes that the length of time for a drilling permit to be approved for New Mexico, where a significant amount of acreage is managed by the Bureau of Land Management, has stretched for four months to as six months and as long as nine. While this is due in part to more permits being proposed, there is a perception by the industry that BLM is short on resources and not in a hurry to move things along.
The surge in exploration and production activity has driven up service costs, and office space, housing and workers are becoming difficult to find as oil and gas companies snap up all three in the Midland area. Operators are also finding it necessary to add basic infrastructure for operations such as pipelines as exploration and production efforts expand, one source said.
Drilling activity in the Permian Basin could be threatened by the addition of the dune sage brush lizard to the endangered species list. Sen. John Cornyn, R-Texas, filed an amendment to the Economic Development Administration reauthorization bill that would exempt the lizard from the Endangered Species Act. Industry leaders are concerned that the listing could shut down much oil activity in the eight Permian Basin counties that are considered the lizard's home, according to the Midland Reporter-Telegram.

From a piping modification or pump upgrade engineering project to helping manage a multi-billion dollar international development.

Click Here To Learn More
Special Reports Sponsored By Novetus
Upcoming Topics
Generated by readers, the comments included herein do not reflect the views and opinions of Rigzone. All comments are subject to editorial review. Off-topic, inappropriate or insulting comments will be removed.
RELATED COMPANIES