Costs for Drilling The Eagle Ford
by Trey Cowan
|
Rigzone Staff
|
Monday, June 20, 2011
While there have been instances when wells were drilled in as little as 15 days, a reasonable expectation for the time required to drill a well in the Eagle Ford is around one month. Based on a survey of operators in the region, drilling & completion cost per well are ranging from $5.5 to $9.5 million. The wide variation for drilling costs is dependant on such factors as the well's targeted depth, lateral lengths, number of laterals, and the number of frac stages deployed. Below we have provided a summarized estimate of both drilling and completion costs in the region.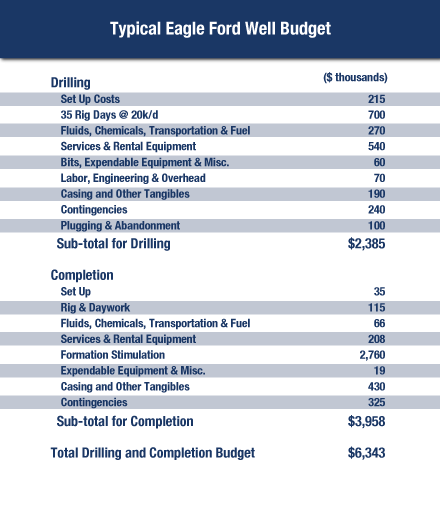 Currently, operators are implementing between 15 to 20 frac stages per well drilled in order to optimize reservoir recovery. This higher number of frac stages undertaken (relative to practices one year ago) is placing a slight bottleneck on completions and is fostering an environment for price escalation. Based on this environment, adding a 10% to 15% premium to our price estimates above (from early 2011 observations) may be more indicative of what operators will spend this summer to drill & complete an Eagle Ford well.
A majority of wells being drilled in the Eagle Ford are targeting depths between 9,000 to 16,000 feet, with horizontal laterals ranging from 5,000 to 7,000 feet. Currently, target depths for E&P firms drilling for oil are greatest in Live Oak County at 13,250 feet versus an average target depth of 11,550 feet across all counties drilling for oil.
For natural gas, the target depths are largest in Karnes County at an average of 16,200 feet versus the overall drilling average in the Eagle Ford of 12,800 feet. In aggregate, across all Eagle Ford counties, the targeted average depth for drilling either oil or natural gas is 12,200 feet.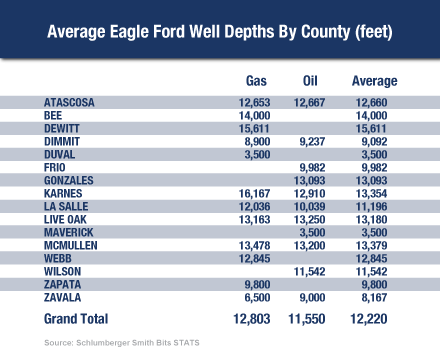 Increased production rates via innovative technologies were recently documented by Petrohawk. In 12 wells where the HiWay fracturing technique (provided by Schlumberger) was compared to nine other wells (fractured using a Hybrid design), Petrohawk found significant flow improvements in the HiWay wells. Specifically, the HiWay wells have 32% higher flow rates and 42% higher pressure after 90 days of production. All the wells were choked similarly (18/64") and all were from the same field (Hawkville). For 2011, Petrohawk estimates each well at its Hawkville field will cost approximately $7.5 million, assuming laterals span 5,500 feet.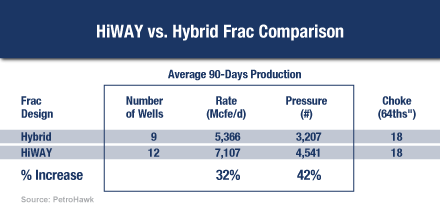 According to Schlumberger Smith Bits STATS, the U.S. land rig count has grown by 228 rigs or 16% over the past year to 1650 rigs. Growth from Texas alone accounted for nearly 80% of this increase as the Lone Star count improved by 181 rigs or 33% year-over-year to 736 rigs. Furthermore, rapid expansion in the Eagle Ford was the source of over half of Texas' growth during the last twelve months.
The rig count in this region more than doubled to 174 rigs; a 94 rig increase from activity levels one year ago when 80 rigs were drilling in the 17 main counties encompassing the play. As of last week, the Eagle Ford rig count has advanced 20 rigs or 13% versus the March 11, 2011 count (the last time we wrote about the region). This current upward trend contrasts the overall land rig count in the U.S. that has fallen 3% since March 11th, 2011.
Observations of the Maverick Basin's stratigraphic column place the Eagle Ford Shale packed between the Anacacho Limestone/Austin Chalk (above) and the Buda Limestone (below) at more than 2 miles below the Earth's surface. The 17 primary counties that span the Eagle Ford in Texas form a swath from the border with Mexico stretching in a Northeastern triangle to the outskirts of San Antonio.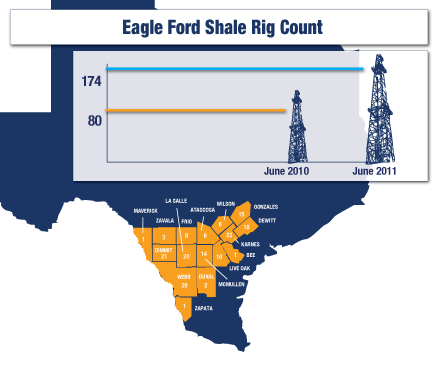 We have provided a table with ten of the leading land holders. These ten companies control 3.1 million acres across the Eagle Ford Shale in South Texas. A newer entrant into the region, Marathon, only recently spudded its first well in the region. However, with its $3.5 billion acquisition of Hilcorp's assets in the formation, Marathon has jumped several notches in size rankings and will likely be one of the leading players for several year's to come. Currently, EOG is the largest producer in the Eagle Ford and is also the largest land holder with nearly 550,000 acres. To date EOG has had a 100% success rate with wells drilled in the region.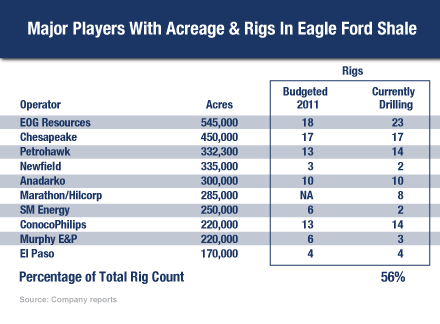 From a piping modification or pump upgrade engineering project to helping manage a multi-billion dollar international development.

Click Here To Learn More
Special Reports Sponsored By Novetus
Upcoming Topics
Generated by readers, the comments included herein do not reflect the views and opinions of Rigzone. All comments are subject to editorial review. Off-topic, inappropriate or insulting comments will be removed.