Shell to Set Record with Prelude Floating LNG Structure
by Karen Boman
|
Rigzone Staff
|
Friday, June 10, 2011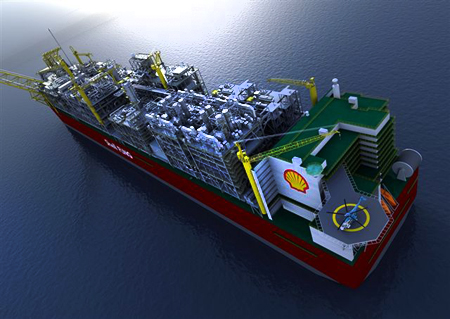 Shell's Prelude Floating LNG
Shell's Prelude floating liquefied natural gas (FLNG) facility, which will be deployed in the Browse Basin offshore Northwest Australia, will be the largest floating structure ever built. At 1,601 feet long, the facility will be the length of approx. 10 Olympic swimming pools, and at 600,000 tonnes, weigh six times of that of the largest aircraft carrier.
It will include 260,000 tonnes of steel, about five times more than was used to build the Sydney Harbor Bridge. The facility also will produce enough offtake to supply 90 percent of Hong Kong's energy needs.
While Shell will achieve a technological breakthrough with the facility, the forecast increase in energy demand due to the growing global population and emerging economies of countries such as China, as well as the need to reduce global greenhouse gas emissions, is driving Shell's FLNG development.
"We really do envision the next few years to be a golden age of gas," said Neil Gilmour, Shell' general manager for floating LNG, at a meeting in Houston this week. Gilmour was referencing the recent report by the International Energy Agency (IEA) that natural gas would play a greater role in the global energy mix. IEA estimates that global use of gas will rise by more than 50 percent from 2010 levels and account for more than a quarter of global energy demand by 2035.
The ability to quickly construct and deploy LNG facilities that could be utilized on multiple fields will become critical as global energy demand rises. To meet this need, Shell sought to create Prelude as a FLNG facility as a design template that could be standardized. Gilmour said he anticipates that Shell will be able to deploy its vessel design more quickly and efficiently in time as it carries out more projects.
Shell's board last month made the final investment decision for the project, but the project's development has been underway for some time. The initial investment in the design phase, which included around 650 workers and generated 1.6 million project man hours and nearly 3,000 engineering drawings, was critical for Shell to ensure the vessel's integrity and design, Gilmour said, noting that, "since this is going to be cloned, we wanted to get the fundamentals right."
Production of liquids will depend upon the specifics of each gas reserve, and the upstream design will be project specific. Shell's design is aimed at fields containing between 2 to 3 Tcf of gas or larger, but is standardized to maximize redeployment opportunities with fields as small as 1.5 to 2.0 Tcf considered feasible. Fields larger than 3 Tcf also can be developed using multiple FLNG facilities.
The structure, which will be used to produce the Prelude and Concerto fields, has been designed to withstand metocean conditions of up to a Category 5 cyclone and waves up to 65 feet high, meaning that the vessel will not need to be moved or disconnected. The vessel will be towed to the site, located approximately 124 miles offshore in once construction is complete, and is fitted with steam-driven generators to create electrical power on board the facility. Gas-driven generators may be used in the future, but Shell determined that steam-driven would be the most efficient at this time.
The facility, which will be located over the Prelude field, will produce 3.6 million tones per annum (mtpa) of LNG, 1.3 mtpa of condensate and .4 mtpa of LPG, which will be offloaded every six to seven days. The facility will have storage capacity of 220,000 cubic meters of LNG, 90,000 cubic meters of LPG, and 126,000 cubic meters of condensate, with a double row membrane for LNG/LPG storage. Prelude and Concerto are estimated to hold 3 Tcf of gas.
The concept will have a wide enough design envelop to accommodate gas with varying carbon dioxide (CO2) content to allow the processing of a range of different feed gas compositions without the need to redesign significant parts of the topsides. The gas in fields that could be tied back to Prelude, which lie within a 62 mile radius of the structure's site, have a CO2 content of between seven and eight percent, Gilmour said. Gilmour anticipates the hull will have a 50 year life span; after the first 25 years, the hull will be dry docked for refurbishment before being redeployed another 25 years.
Construction will take place at Geoje Island shipyards in South Korea, one of the few places in the world with a dry dock big enough to construct a facility of this size. Seven thousand workers, including 250 from Shell, will work on the dry dock construction phase, which is expected to last six months. One limiting factor in FLNG size will be the number of dry dock facilities available for construction of larger vessels such as Geoje Island, meaning that more emphasis will be placed upon making more efficient use of space for adding equipment on board, Gilmour said.
Besides Australia, Gilmour sees opportunity for floating LNG projects offshore East Africa, Indonesia, New Zealand, Brazil, Venezuela, West Africa and the Mediterranean Sea. Gilmour said that a floating LNG facility could be the solution for areas with territorial disputes or that would require a bilateral agreement on a field development plan, and a more acceptable option than pipelines.
Utilizing the Prelude FLNG design on the Sunrise FLNG facility in the Timor Sea will be even easier than for Prelude because Sunrise is bigger and has gas containing lower levels of carbon dioxide. "The fact that we got the Sunrise LNG project is a big tick in the box for Shell," Gilmour said.
Generated by readers, the comments included herein do not reflect the views and opinions of Rigzone. All comments are subject to editorial review. Off-topic, inappropriate or insulting comments will be removed.
RELATED COMPANIES