Weathering The Storm: Above-Normal Hurricane Season Predicted
by Jaime Kammerzell
|
Rigzone Staff
|
Friday, May 27, 2011
Though hurricane predictions vary depending on the source, four forecasts for the 2011 hurricane season, which runs from June 1 through November 30, agree that there will be an above normal number of hurricanes in the Atlantic this year.
According to an April 2011 report from Colorado State University, there will be 16 named storms, with nine hurricanes, of which five will be major (Category 3-5). However, AccuWeather.com meteorologist Paul Pastelok believes that there will be 15 named tropical storms this season, with eight hurricanes, three of which will be major. Likewise, Weather Service International predicts 15 named storms with eight hurricanes, but forecasts that four of the hurricanes will be major. The National Oceanic and Atmospheric Administration (NOAA) just released its prediction on May 19th. According to the NOAA, the US will see 12 to 18 named storms, with six to ten hurricanes, of which three to six will be major.
Comparatively, based on historical data, the average number of named storms per year is 9.6, with an average of 5.9 hurricanes, of which 2.3 are major.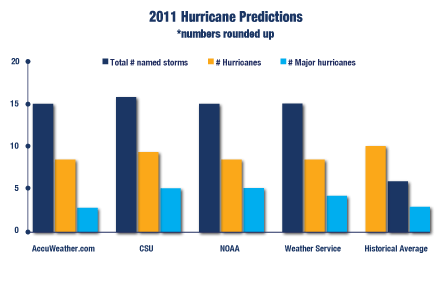 Looking at the 2010 season, the Atlantic produced 19 named storms, with 12 hurricanes, five of which were major. Though 2010 was the third most active season recorded, there was little impact on the US coast thanks to "a persistent western Atlantic trough that essentially protected the US East Coast from any direct hits," WSI Chief Meteorologist Dr. Todd Crawford said.
Similarly, 2009 saw no hurricane activity reach US land. In fact, no major hurricane has made US landfall in the last five years.
Although 2008 did see third costliest Atlantic hurricane make landfall in Galveston, TX. Hurricane Ike was a Category 2 storm that hit Sept. 13, 2008. Only Hurricane Andrew in 1992 and Hurricane Katrina in 2005 surpassed it.
Forecasters warn that our good fortune will not last. Major hurricanes are overdue to make US landfall. Federal Emergency Management Agency Administrator Craig Fugate urges residents who live along the US coast from Maine to Texas to prepare a disaster plan in May.
The Colorado State University forecast team acknowledges that it is impossible to correctly predict the number of storms and hurricanes; however, they "issue these forecasts to satisfy the curiosity of the general public and to bring attention to the hurricane problem."
Rigs in the GOM
Hurricane forecasters are quick to point out that they only predict the number of named storms, not the path of the storm or where it will make landfall. Depending on the hurricanes paths, 97 rigs working in the Gulf of Mexico from June 1 through Nov. 30, 2011 could be in harm's way.
Fifty-one jackups, 29 semisubmersibles, and 17 drillships will be working for 36 different operators in the GOM. Chevron leads the pack with 15 contracts, followed by Shell with nine, BP with eight, and Shell and Arena with seven each.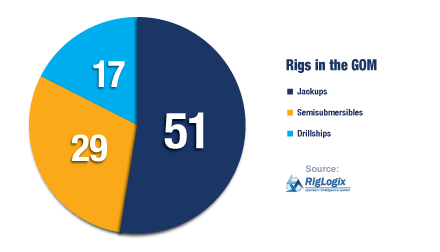 Hercules Offshore has 29 jackups contracted to work in the GOM this hurricane season. Coming in a distant second, ENSCO has 10 jackups and Rowan has nine. Other jackup managers include Diamond Offshore, Nabors Drilling, and Spartan Offshore Drilling with one each.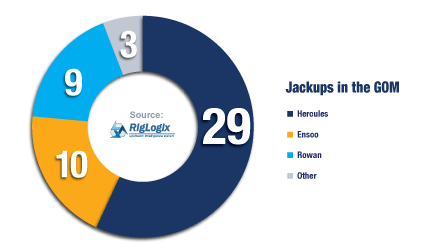 Noble and Transocean each have seven semisubmersibles contracted to work in the GOM this summer. ENSCO and Diamond closely follow with six and five, respectively. And Seadrill rounds out the semisubmersible fleet with two rigs.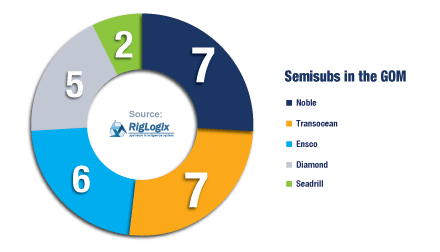 Transocean has 11 drillships contracted to work throughout hurricane season. Its Deepwater Pathfinder has the highest dayrate (in the mid-$600s) of any other rig in the GOM during this timeframe. Pride will have five rigs and Noble will have one rig.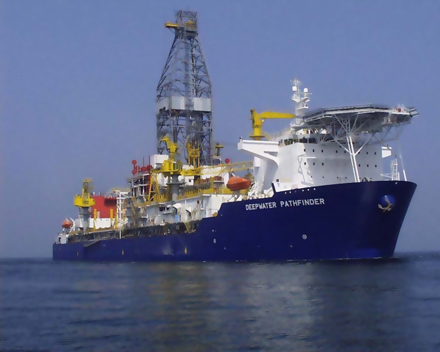 Deepwater Pathfinder
The rig managers and operators working in the Gulf this hurricane season have many years of experience under the unstable weather conditions in the GOM from June through November. Stronger mooring lines, GPS systems, and increased design and safety measures implemented over the last several years have added another level of security to their operations. In addition, the crews are well trained to secure wells far in advance of advancing hurricanes, move rigs out of the way until storms pass, and evacuate if necessary.
Generated by readers, the comments included herein do not reflect the views and opinions of Rigzone. All comments are subject to editorial review. Off-topic, inappropriate or insulting comments will be removed.