Eagle Ford Production Could Overtake Barnett, Haynesville
by Karen Boman
|
Rigzone Staff
|
Thursday, May 19, 2011
The liquids rich Eagle Ford shale play in southwest Texas may overtake the Barnett and Haynesville shale gas plays in Texas and Louisiana in terms of production, potentially becoming the largest producing shale play in Texas and the entire U.S., according to a recent report by London-based Evaluate Energy.
The Eagle Ford is currently dwarfed by its neighbors in terms of production, with the Barnett producing 877,000 BOE/d, the Haynesville producing 708,000 BOE/d and Eagle Ford producing 66,000 BOE/d in the fourth quarter of 2010. However, a recent surge in new wells suggests this all about the change, with horizontal drilling for both oil and gas in the Eagle Ford growing rapidly.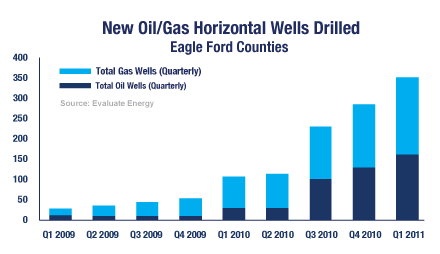 Drilling activity in the 22 Texas counties that Eagle Ford formation encompasses has been growing dramatically for the past year, and at the end of first quarter 2011, the area had the most new wells being drilled in Texas. In comparison, the number of new horizontal wells in Barnett Shale counties has fallen to a much lower level than its mid-2008 peak. The number of new wells in Haynesville counties in Texas and Louisiana also has slipped into a slight decline following a two-year increase up to the second quarter of 2010.
Like its Texas counterparts, Eagle Ford drilling activity is now mostly development drilling, which suggests that Eagle Ford production may overtake Barnett and Haynesville production sooner rather than later, Evaluate noted.
EIA Shale Gas Estimate Jumps 134 Percent
Oil and gas producers have increasingly switched their focus from drilling shale gas plays to oil shale plays after the U.S. shale gas drilling boom significantly increased U.S. gas supply and depressed U.S. gas prices.
The supply increase has prompted the U.S. Energy Information Administration (EIA) to raise its estimate of technically recoverable shale gas resources by 134 percent. In its Annual Energy Outlook 2010, technically recoverable shale gas resources were estimated at 368 Tcf. For its Annual Energy Outlook 2011, EIA's estimate rose to 862 Tcf, bringing total U.S. recoverable gas resources to 2,629 Tcf.
EIA attributed the increase in gas resources to technological advances in horizontal drilling and hydraulic fracturing. "This is a welcome change because as little as 10 years ago, analysts and politicians said that the United States could not drill its way out of a natural gas shortage," EIA said.
U.S. shale gas produced 2.3 Tcf of natural gas in 2008, or 11 percent of the U.S. gas market share, and is expected to produce 12.3 Tcf by 2035, a 47 percent share of the gas market. U.S. shale gas resources are the second largest in the world behind China, according to a study EIA commissioned with ARI International.
Generated by readers, the comments included herein do not reflect the views and opinions of Rigzone. All comments are subject to editorial review. Off-topic, inappropriate or insulting comments will be removed.