Musings: Rig Count Climbs; Rig Orders Up; Overbuilding Coming?
by G. Allen Brooks
|
Parks Paton Hopfl & Brown
|
Wednesday, May 11, 2011
If you've been watching the weekly rig count announcements, you've seen the count climbing sharply in recent weeks. In fact, since the start of 2011 the U.S. active rig count has climbed by 142 with a net of 124 rigs added just during the past eight weeks. Since the end of March, the offshore rig count has experienced a net two-rig addition, so the rig count growth has been virtually entirely on land. In fact, the offshore fleet accounts for only 1.6% of the total U.S. active rig count.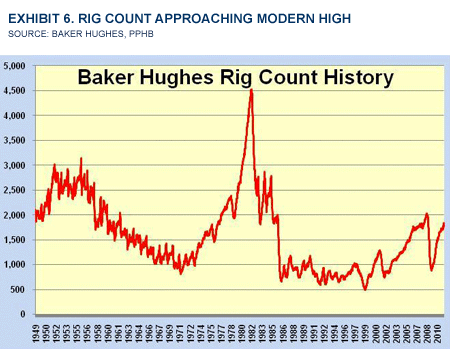 With oil prices comfortably over $100 a barrel throughout April and into the first week of May, drilling has actively shifted in favor of crude oil and natural gas formations containing high liquid content. But E&P companies continue drilling gas shale leases in order to hold them by production. As a result, the active rig count is nearing its 2008 peak when crude oil prices approached $147 a barrel.
When one looks at the history of the U.S. rig count as reported by Baker Hughes (BHI-NYSE) since 1949, he can see that if the current pace of increase continues for several more months, we will reach the highest rig count since 1985, some 26 years ago. In response to increasing drilling activity, drilling contractors are being challenged since the types of rigs required to exploit the targeted resources – oil and gas shales – must be larger, more powerful and technologically more sophisticated. A dichotomy has developed in the rig market – new, larger, more powerful rigs are in great demand while older, smaller, less powerful rigs are being shunned. For the rig count to reach that new peak we are suggesting, drilling contractors must expand their fleets, something currently underway. The question bothering some in the industry is: Will we overbuild the rig fleet as we have in virtually every past drilling boom?
If we look at the offshore drilling market, the recent spate of new deepwater drilling rig orders and the emergence of numerous start-up drilling companies are reminiscent of the boom days seen in the late '70s and early '80s. Most of those start-ups succumbed during the industry downturn of 1983-1986. Their rigs, however, didn't go away, and in fact many are still operating in the fleets of some of the largest offshore drilling contractors today. As of April 25, according to data from investment bank UBS, there will be 57 new offshore drilling rigs delivered in 2011, 34 in 2012 and 44 in 2013 and beyond.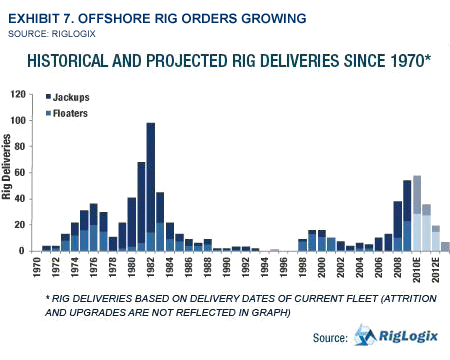 The chart in Exhibit 7 is slightly dated but the visual is still valid. Based on the projected rig fleet additions for 2011-2013+, two of those years will rank right behind the record offshore rig delivery years of 1981 and 1982 at the end of the last great offshore drilling boom. Those record delivery years came as a result of the historic years of 1980 and 1981 when roughly 255 offshore rigs were ordered.
The split between new jackups and floating (semisubmersibles and drillships) drilling rigs is particularly interesting as their shares are about equal. There are 69 jackups to be delivered while 66 floaters are scheduled to arrive. The number of jackups is less concerning as a large number of older rigs (those built in the late '70s and early '80s) are due to be retired. The same cannot be said for the floating rig fleet where it looks like all the new rigs will be additive. That fleet segment expansion is being driven by the belief that deepwater drilling worldwide, especially in Brazil and West Africa, will grow rapidly. We always worry about all the drilling contractors acting on market growth projections assuming they are the only ones reacting to that information. Historically, large newbuilding programs are a sign of potential rig fleet overbuilding.
Could the same thing be happening in the land rig market? No one knows the answer based on our research and questioning of industry participants. We believe, however, the readers of the Musings will correct our suggested rig fleet additions if we are wrong. Based on reports from Wall Street analysts who supposedly have done bottoms-up counts of the field-by-field rig needs of producers, there may be a need for an additional 250 land rigs in each of the next two years. This means the land drilling industry will be in a "rig-short" environment soon, suggesting rig day rates should jump sharply in the second half of this year.
At the same time, based on reports by a handful of large land drilling contractors and guessing about the behavior of the smaller ones, we estimate contractors may only be adding about 125 new rigs this year. As natural gas prices start rising in response to a faster than anticipated shrinking of gas inventories, we anticipate a possible panic soon by producers to contract rigs as perceived rig availability disappears. That panic may be put on hold, however, if the data released last week signals a meaningful slowdown in the economic recovery and less future energy demand.
Until the profitability of gas shale drilling rises, the Black Swan for the domestic drilling industry will be a large natural gas producer running out of available cash and having to shut down drilling operations. We aren't putting odds on that Black Swan, but suggest preparing for that eventuality.