Study More Than Doubles B.C. Gas Resources Estimate
B.C. Ministry of Energy & Mines; NEB
|
Monday, May 09, 2011
A new joint report on the shale-gas potential of Northeastern B.C.'s Horn River Basin more than doubles a previous assessment of gas resources within the province.
The report released by the National Energy Board (NEB) and British Columbia Ministry of Energy and Mines (BC MEM) titled "Ultimate Potential for Unconventional Natural Gas in Northeastern British Columbia's Horn River Basin" is the first publicly released probability-based resource assessment of a Canadian shale basin.
The report says the ultimate potential for marketable unconventional shale gas in the Horn River Basin is 78 trillion cubic feet (Tcf), including three Tcf of discovered resources and 75 Tcf of undiscovered resources. The Horn River Basin is part of the larger Western Canada Sedimentary Basin.
"This innovative report on shale-gas resources provides Canadians with valuable information about our energy future, particularly as it relates to the Western Canada Sedimentary Basin," said Gaetan Caron, chair of the National Energy Board.
Energy and Mines Minister Rich Coleman said, "This report should provide residents of our province with a sense of optimism about the future. B.C. is recognized for its significant shale gas reservoirs as well as for having world-class regulations."
Placing the Horn River numbers in context, the NEB currently estimates that there is 197 Tcf of conventional and unconventional natural gas remaining in the WCSB -- although this number does not take into account known but as-yet-unassessed unconventional gas resources.
The estimate of total remaining conventional and unconventional natural gas in Northeast B.C available for future demand is 109 Tcf. That includes 78 Tcf of shale gas as well as 31 Tcf of remaining natural gas resources identified in a joint assessment of conventional natural gas resources in Northeast B.C. The conventional gas assessment was released by the NEB and B.C. Ministry of Energy and Mines in 2006.
According to the new report on unconventional gas resources, the medium-case estimate of 78 Tcf for Horn River shale gas is the most realistic scenario. However, the study produced a range of numbers for shale gas potential in the Horn River Basin with the low estimate being 61 Tcf and the high being 96 Tcf.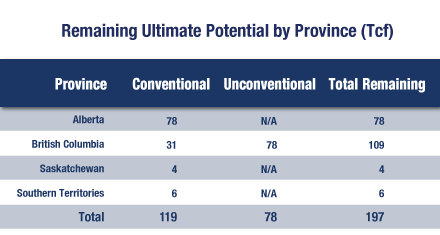 The NEB is an independent federal agency that regulates several parts of Canada's energy industry. Its purpose is to promote safety and security, environmental protection, and efficient energy infrastructure and markets in the Canadian public interest, within the mandate set by Parliament in the regulation of pipelines, energy development and trade.
The B.C. Ministry of Energy and Mines manages the responsible exploration and development of British Columbia's energy sector.