How a Small Independent Aims to Make it Big
by Jaime Kammerzell
|
Rigzone Staff
|
Friday, May 06, 2011
While the odds of a small independent player making it to our billionaire list may be one in a million, not all small independent operators aspire to be the next Harold Hamm.
Meet Adam Standiford, a small independent based in North Central Montana. His company, Brainstorm Energy, is not one you've heard of.
Standiford, 34, holds 14 total wells -- 12 gas and two oil -- spread over 20,000 acres on the Sweet Grass Arch where commercial hydrocarbons have been discovered in Mississippian carbonates and in Jurassic and Cretaceous sands.
Life as a small independent has its obvious advantages, like freedom and no clock punching. However, Standiford works 60 hours per week, 7 days a week and money is a constant concern.
He also wears a lot of hats. In a single week, not only is Standiford the CEO, but he's also the bookkeeper, office manager, land man, geologist, engineer and roughneck. It takes dedication and hard work to keep his small company running.
"There's satisfaction that the dirtier I get my hands, the more it pays off for me," Standiford explains. "The harder I work, the more I study, the more I read, the more I know. Long-term that translates into higher profits."
However, the high profits Standiford speaks of are difficult to obtain, especially in the last few years.
"I had plans to expand through acquisitions or drilling in late 2008 and 2009. But acquiring existing production was very expensive at the time, Standiford explained. "In January 2009, we were getting $18/bbl. I had a meeting with my bankers and the first thing I had to do was lay off my staff. That was the time I wasn't sure if we were going to make it."
To add to the struggle to expand, Standiford explains that small independents have a tough time gaining financing. Oil and gas loans call for quick pay offs for small independents. Banks want five-year pay-outs, which means small independents have aggressive monthly payments to make.
"If I had a longer-term loan, I'd have a lot more flexibility," Standiford said. "I found a bank willing to do a seven-year term, which helped a lot. A 15-year loan would be perfect. It would allow me to expand."
Though the financial crisis has started to improve, Standiford still has no money to drill. He is trying to expand through small acquisitions; anything he can do to increase his portfolio.
"I'm still not really out of that tailspin. I've kept my head above water, but it's been a tough couple of years. The key is it to take advantage of what I have at fixed cost in place, which is my Rudyard natural gas compressor. If I can help production there or do it on someone else's nickel, I can increase revenues," Standiford said. "I'm proud to still be in the game."
Taking Risks
The Rudyard natural gas compressor Standiford referred to is on the Sweet Grass Arch, which is separated by the Sweet Grass Hills. On the West Flank, where the Alberta Bakken Basin lies, Standiford holds about 7,000 acres. But the majority of his acreage is on the East Flank, where his Rudyard field is currently producing 27 boepd. However, Standiford "dreams of growing [the] company to a net production of 200 boepd."
Standiford purchased his initial 10,000 acres, which included his Rudyard field, from his father in 2006. Ray Standiford had been a farmer, but sold his land and bought the Rudyard field in 1991. Adam worked the field throughout high school in the summers. He helped maintain well sites, painted equipment, and "basically handed my dad tools," Standiford said.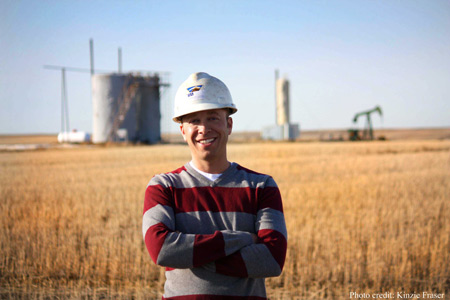 Standiford had no intention of following in his father's footsteps. When Standiford, who grew up in Chester, Mont., set off for the University of Montana in Missoula, he wanted to be a stock broker; but after several classes, he realized he did not want to be an investment counselor.
"I didn't believe in advising people to invest conservatively," Standiford said. "I wanted to take large risks. I believe in high risk, high return." So, he switched his focus to finance with an emphasis in management.
Out of college, Standiford spent some time at Boeing as an industrial engineer, but soon started his own marketing company, which he ran for four years before returning to Chester and the oilfields.
"My dad called and said he received an offer from a Canadian company to buy his Rudyard field. He asked me if I wanted to buy it. I returned to Chester to work for my dad in 2006 and bought majority control of the company in February 2008.
With Standiford in more a leadership role this time around, he started actively working over wells. He studied everything he could get his hands on — logs, completion reports, shut-in pressures and drill stem tests. He even called a few Texaco people and made his way through Chevron trying to learn anything that could help him squeeze more production out of his wells.
"In our Eagle formation, we have water production," Standiford explained. "Often times we perforated multiple sands in the Eagle. I found out through studying sands A-D that we perforated, the C sand was always wet. It showed up great on logs and we always perforated it, but it ended up being a very wet sand that would curtail production. We put bridge plugs in a few wells to shut off lower sands, and had minimal water production and nice flowing Eagle gas wells."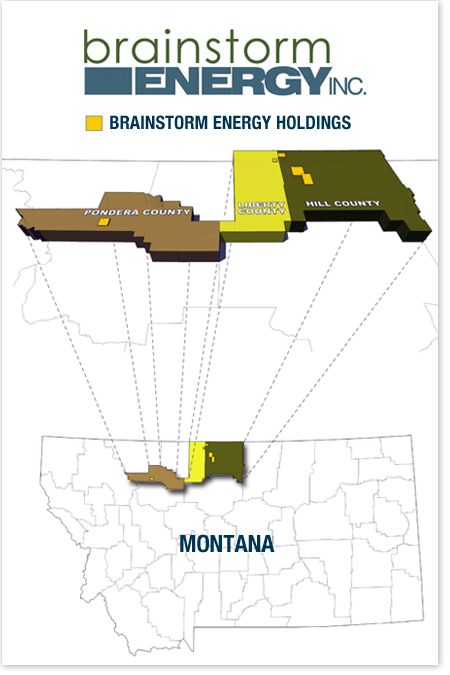 Standiford also tried acidizing to stimulate the Sawtooth formation, which worked well on one of his five wells.
"It was not super successful," Standiford admitted. "That was just the beginning of Adam throwing money down the hole," he said good-naturedly.
Game Plan
Though Standiford admits he has not done well with his drilling, he loves geology and has worked with geologists to help him find his well locations. However, as wells become tougher to find, he is looking toward seismic and gravity in the future.
"Seismic is expensive," Standiford said. "If you aren't using seismic, gravity and magnetics, you aren't going to do very well. 3D seismic on land up here is about $30,000 per square mile, which is a lot of money for me, and I need more than a mile to get accurate show."
In the future, Standiford plans to use more 2D and 3D seismic, and expand more into the West Flank Alberta Bakken play. He just acquired some acreage in that promising area with partner Faith Drilling who has a 15% interest in Standiford's Rudyard field in return for 15% of Faith Drilling's Alberta Bakken land. The partners are willing to give up 70% to allow investors, and Standiford is hard at work putting together a joint venture proposal to attract investors.
He's also planning to drill his first horizontal oil well on the Alberta Bakken land in 2011.
"We plan to begin drilling in July, Standiford said. "We'll have enough money to do a couple of wells, but we're shooting to do six. We are working on farm-out JV agreements right now. This is my first one. JVs are not nearly as simple as running my own mom and pop oil and gas company. There's a lot of formality to it. I have to impress a lot of people, so I have to put together a report to convince them that I have a play that's worth putting their money into."
With the JV presentation on the horizon, Standiford said he's working harder than ever.
"This is my favorite time of the game. And this time around, I'll have investor money to share the risk," Standiford said.
Though the Alberta Bakken area is known for its shale plays, Standiford is not involved in shale.
"It is something for players with more money and more experience," Standiford explained. "Shale wells are $4 million wells. The wells we are drilling are about $175,000. We don't have the resources for shale."
In fact, Standiford said, "I hate shale because it has changed the price structure of natural gas for years. And I'm predominantly natural gas. I bought the company assuming a natural gas floor price of $4.00, and at one point in 2009 it was 30% below that. I was counting on higher prices to help me expand."
Generated by readers, the comments included herein do not reflect the views and opinions of Rigzone. All comments are subject to editorial review. Off-topic, inappropriate or insulting comments will be removed.