RigOutlook Projects Strengthening Near-Term Rig Demand
by Trey Cowan
|
Rigzone Staff
|
Monday, May 02, 2011
The initial buzz stemming from the Offshore Technology Conference (being held this week at the Reliant Park in Houston, Texas) is overwhelmingly optimistic. Here at Rigzone we echo this sentiment regarding offshore energy production and activity levels going higher and point to our proprietary forecasts prepared by our RigOutlook modeling team. Specifically, the team is projecting a favorable demand outlook over the remainder of the year for both jackups and floaters. Additionally, RigOutlook's 3-year forecast during the mid-years looks particularly strong. On a combined basis, jackup and floater demand is anticipated to rise 10% during 2012 versus the prior year's average.
As illustrated in the table of regional floater markets, Brazil continues to shine in terms of overall rig demand and utilization. From a pricing perspective, the most lucrative floater market is found off the coastline of West Africa.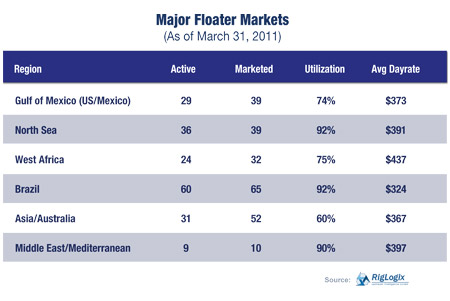 Drawn from our most recent edition of RigOutlook's Offshore Demand report, the chart below of the West African floater demand shows a flattening trend over the next two years. The implication of flat demand is not necessarily that we will see a decline in activity in the West African region. Rather, in the coming years, we expect lower future average dayrates in West Africa due primarily to rigs rolling off higher priced contracts that were set back in the upcycle of 2007-2008.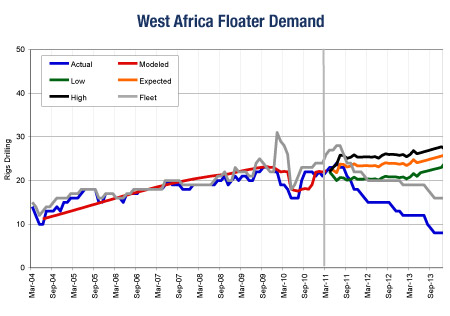 RigOutlook's forecasting model uses non-linear differential equations and adheres to a phenomenon known as system dynamics when predicting future rig demand. We are quite proud of our track record given our accuracy in projecting rig demand both by rig types and regions. RigOutlook's projection accuracy has been within +/-3% for floating rig demand over the past 11 quarters. The most recently published Offshore Demand Forecasts are available for purchase by following this link, released May 2, 2011.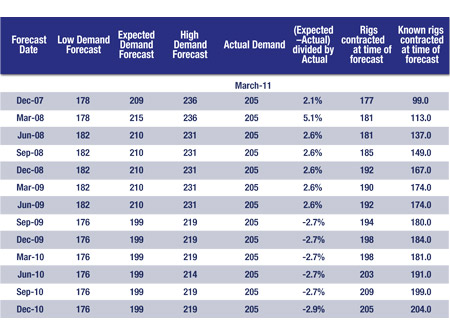 While in jackup venues the hottest markets are in the Asia Pacific, North Sea, and Brazilian markets, recent commentary by drilling contractors suggests the Gulf of Mexico (particularly in Mexican waters) will firm up during the coming months.
On a contracted basis, overall jackup demand hit a trough-point in early 2011 (in January worldwide jackup demand average 305 rigs, the lowest levels since June 2002). The prognosis for a continued recovery is supported by the recent trends which have improved for the past three successive months. From a utilization perspective, the mending of the Middle East and Gulf of Mexico markets (both U.S. and Mexico,) will add 25 rigs or more of average annual demand, accounting for over 80% of the 2012 annual jackup growth.
If you would like to purchase our most recent report or subscribe to RigOutlook Offshore Demand, please click on the following link or email us at info@rigzone.com.