Playing 'Mother, May I' with BOEMRE
by Trey Cowan
|
Rigzone Staff
|
Wednesday, April 20, 2011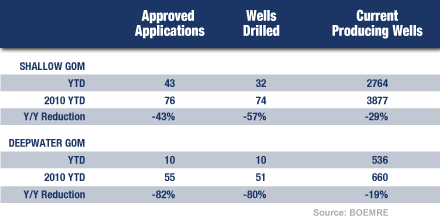 Besides looking at the total number of rigs operating in the Gulf of Mexico, which we do later in this article, another gauge of activity for both shallow and deepwater drilling is permit approvals. In order to see how much more the industry needs to advance to resume previous normal levels, the table above compares year-to-date permitting and drilling results versus the same time-frame last year.
Activities in waters less than 500' are currently progressing at one-half the pace of last year. There have been 43 approved applications for shallow water drilling year-to-date versus 76 approvals a year ago.
This slow down in permit approvals has impacted the number of jackups working in the region, especially the more commoditized rigs that operate at depths of 250' or less. Prior to the oil spill, these rigs were averaging over 70% utilization monthly. Subsequently, utilization rates have dipped as low as 53% (January 2011) but have since risen to an average of nearly 68% during March.
Dayrates for 250' or less jackups have held steady in the high $30k/day range over the past 12 months. This is not a great feat considering rates at these levels are just slightly above break-even relative to operating costs. Seahawk Drilling, whose rigs were primarily of this type and whose operations were solely in the GOM, could not adjust to this environment and filed for bankruptcy mid-February.
For 300' jackups, there are actually more operating today compared to last year at this time. However, just a handful of 300' jackups operate in the region. So, having three working as we do now, instead of the two rigs that were working last year, while positive, is not that significant. We should note though that dayrates have increased over the past twelve months by approximately $9k to $63k/day, a promising sign for continued strengthening demand.
Premium jackups (capable of drilling 350' or greater), as would be expected, have fared the best among the various classes of shallow water rigs. There are thirteen rigs contracted in the region representing 100% utilization, up from 10 premium rigs, again with 100% utilization a year ago. The count should continue to rise for premium rigs considering Rowan has two under construction with delivery scheduled for this year and next.
The permitting and activity slow down in the Gulf of Mexico for deepwater drilling on a year-over-year basis is much starker than shallow water operations. With permit approvals for deepwater drilling not resuming until February 28, 2011 (when the BOEMRE approved Noble Energy's application for its lease in Mississippi Canyon Block 519), the number of deepwater wells drilled this year is far off pace. Specifically, there have only been 10 deepwater wells permitted in 2011 year-to-date. This is one-fifth of last year's activity relative to the same period in 2010, when 55 deepwater wells were approved.
With respect to deepwater operators, 17 were actively drilling prior to the oil spill using 34 contracted rigs. Today, there are only 12 operators currently leasing 27 rigs.
The first rigs to be impacted by the governments decision to impose a moratorium were the two semi-submersibles: the Noble Paul Romano and Diamond Offshore's Ocean Voyager. Both rolled off their respective contracts early in the summer of 2010 and both have been stacked since then.
Most operators took a wait-and-see attitude towards the government mandated suspension of deepwater drilling. Overtime, these operators negotiated stand-by rates for the rigs they had under contract that typically did not impact their original contractual terms. These standby rates were generally commensurate with the operating costs of the rigs under contract.
Some operators decided to move or sublet their time on deepwater rigs. The Ocean Endeavor (Egypt), Transocean Marianas (W. Africa), Noble Clyde Boudreaux (Brazil), ENSCO 8503 (S America), Ocean Confidence (W. Africa), and Discoverer Americas (Egypt) all left the Gulf of Mexico due to the moratorium. Additionally, BP retained its contract for the Deep Ocean Ascension, a newbuild, with the intention of re-deploying the drillship to Libya. Their intentions were disrupted by the recent political turmoil in the region.
Several deepwater operators invoked force majeure claims in the wake of the oil spill and moratorium. However, some later decided to renegotiate their contracts. Companies that stuck with their decisions to invoke the force majeure clauses were Anadarko, Nexen, Marathon, and Devon.
To summarize there were 34 floaters and 41 jackups under contract around the time of the Macondo oil spill. Today, there are 27 floaters and 35 jackups under contract. The following table highlights the type and number of rigs held under contract by operators: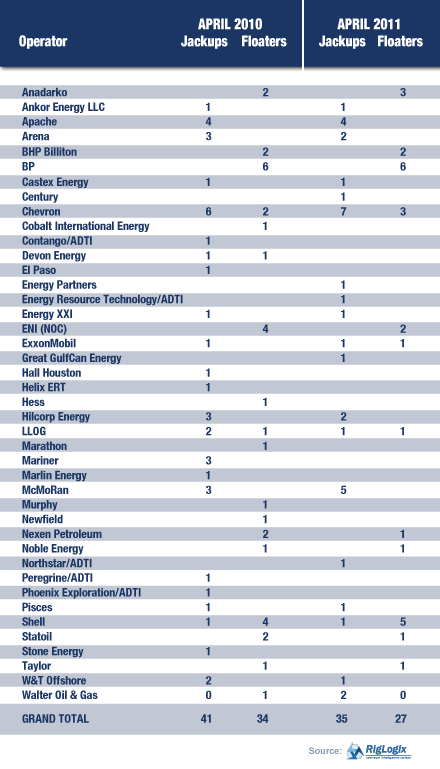 For More Information on the Offshore Rig Fleet:
RigLogix can provide the information that you need about the offshore rig fleet, whether you need utilization and industry trends or detailed reports on future rig contracts. Subscribing to RigLogix will allow you to access dozens of prebuilt reports and build your own custom reports using hundreds of available data columns. For more information about a RigLogix subscription, visit
www.riglogix.com
.