Analysis: Number of Floating Production Systems in Service Set for Growth
by Karen Boman
|
Rigzone Staff
|
Wednesday, March 30, 2011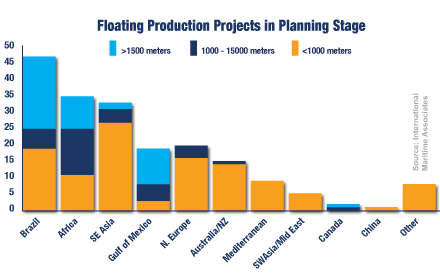 The number of floating production systems (FPSs) in service continues to grow, with more than double the number of FPSs available now versus 10 years ago, according to a recent report from the International Maritimes Associates (IMA). The organization reports there are 250 FPSs in service versus 120 units in 2011, and the current order backlog of 47 units means that inventory will increase by another 20 percent over the next several years.
IMA has identified 194 projects in the planning stage that are likely to require a FPS for development. Forty-seven of these projects in the planning stage will take place in Brazil, with 35 in Africa and 33 in Southeast Asia. The majority of FPS projects in Brazil and Africa will take place in deepwater and ultra-deepwater, or water depths greater than 1,000 meters. The majority of FPS projects being planned for Southeast Asia are for water depths less than 1,000 meters.
Fifty-five of these projects are at the bidding/final design stage, with equipment orders likely over the next 12 to 18 months. Another 139 projects are in the planning/study stage, with orders likely in the 2013 to 2019 timeframe.
Overall, IMA expects orders for production floaters to average 24 and 35 units annually over the next five years, or between 120 to 175 FPS systems in total. Around 80 percent of the units will be floating production storage and offloading (FPSOs). Capital expenditures thrown off by floater orders are expected to total $80 billion to $115 billion between 2011 and 2016. The forecast range reflects three potential crude pricing scenarios. The base scenario assumes oil stays in the $90-$110 range, a price range IMA sees most likely over the foreseeable future.
IMA does not anticipate any future slowdown in the FPS sector, as a number of deepwater fields worldwide that have yet to be found or developed presents huge potential for future FPS projects. In Brazil alone, deepwater pre-salt resources are estimated at 70 billion BOE, a figure that is likely to grow as more finds are confirmed. Such estimates see deepwater resources offshore Brazil, West Africa and elsewhere providing, nearly 14 million BOE/d by 2030, more than double the current contribution to global supply.
Jim McCaul, head of IMA, said, "Future growth indicators in the floating production sector are hugely positive. Global demand for oil continues to grow, the market is again threatened by MENA [Middle East North Africa] supply disruptions, oil prices have pierced $100 and virtually every major field operator has announced plans to increase offshore E&D [exploration and development] expenditures. Deepwater drilling rigs now being built will add 38 percent to available drilling capacity, removing constraints on deepwater exploration."
Petrobras Leading FPS Project Roster
Last November, IMA reported that the top ten operators pursuing FPS projects included Petrobras, the lead player with 27 projects in the planning stage. Other operators pursuing FPS projects included Chevron, ExxonMobil, Total, Anadarko, OGX, ENI, BP and Petronas. IMA reported then that these 10 field operators were planning 101 FPS projects, or 52 percent of FPS projects in the planning cycle.
Brazilian national energy company Petrobras currently account for about 95 percent of Brazil's national oil and gas production, according to a report by Ernst & Young. The company's production is expected to keep rising steady in the next few years, with most of the production growth over the short term to come from the planned addition of new production modules in the Campos Basin that are already in production, as well as from more recent discoveries in the basin.
Longer term growth will come from the pre-salt cluster in the Santos Basin. Under its five year investment plan for 2010-2014, Petrobras expects to spend more than US $224 billion (an average of almost $45 billion per year) with more than half of its total investment dedicated to upstream. Conventional long-term forecasts of oil supply and demand see new production from Brazil as the single largest source of new oil supply outside of the OPEC countries over the next 20 to 25 years.