Australia Players Still Pursuing Cooper Basin Shale Gas Potential
by Karen Boman
|
Rigzone Staff
|
Tuesday, March 29, 2011
Despite once-in-a-generation rainfall and flooding that disrupted exploration and production activity last year, Australia-based oil and gas producers are forging ahead this year with plans this year to drill for and develop the Cooper Basin's conventional and unconventional oil and gas resources.
Santos Ltd., noted that reports of the death of Australia's onshore Cooper Basin, which stretches across the northeast corner of South Australia into southwestern Queensland, are "greatly exaggerated" as the basin contains unconventional gas resource potential of more than 39,000 petajoules (PJ) and booked contingent resources of about 5,000 pj. Santos reports that undeveloped unconventional shale gas resources lay beneath the developed conventional resource Moomba basin, while tight gas and deep coal exist below shale gas. Gross gas thickness in the Cooper is approximately 1,600 feet.
Another Australia-based oil and gas company, Beach Energy, reports it has an aggressive exploration and development program planned for this year in its Cooper Basin holdings, and better land access for these activities following the Cooper Basin floods of last year, which washed out roads and prevented companies from accessing work sites.
The company currently operates 19 oil fields in the Cooper-Eromanga with five gas discoveries awaiting development and owns an approximate 21% interest in the Cooper Basin project operated by Santos. Since late 2006, Beach has participated in more than 100 oil wells operated by Santos, delivering net reserves of 4 million barrels. Beach Energy is in discussions with Santos, to supply its Gladstone liquefied natural gas (LNG) project.
Cooper Basin
Beach said its Cooper Basin position will allow it to tap the growing eastern Australian gas markets while also feeding the growing LNG demand in Asia. Beach noted that current Australian gas demand is approximately 700 pj per year, with around 100 pj to come from the Cooper Basin. Demand for more Cooper Basin gas is anticipated as domestic gas demand for use in power generation is expected to grow to around 1,100 pj by 2025.
The company estimates the Nappamerri Trough, which runs beneath its PEL 218 license, holds potential gas in place of more 200 Tcf, and holds properties similar to the best U.S. shale plays. Beach has drilled off-structure to determine the trough's deep basin gas potential, and found the target section thicker than anticipated at 1,289 feet and the target section gas saturated and over-pressured. Beach noted that no water bearing permeable sections were intersected in the target zone and immediately above and below target; the lack of water in these zones will assist in fracture stimulation.
The company has drilled two wells in PEL 218, which contains the Nappamerri Trough. The shale and sandstone target area for Beach's Encounter-1 well was 30 percent thicker than expected; Beach also spudded the Holdfast-1 well in January of this year.
Beach notes it has had encouraging results to date and expects material resource booking to take place this year. Results will assist in the design of future activities, including fracture stimulation in this year's second quarter and a pilot well program in the third or fourth quarter.
The company also sees near-term growth opportunities for oil in the Western Flank of the Cooper Basin. Beach began an operated 16-well development program here last month to accelerate production and will drill 12 exploration/appraisal wells with prospects ranging from .5 million barrels to 5.5 million barrel (gross).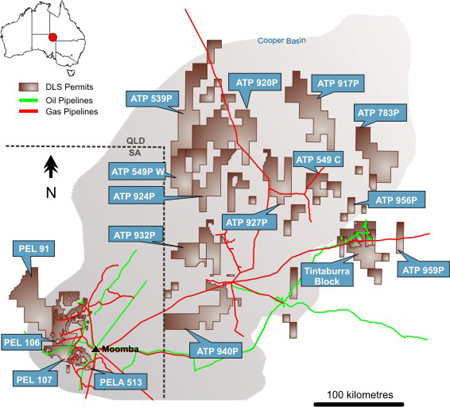 The Cooper/Eromanga Basin
Drillsearch, which holds significant interests in the Cooper Basin, will began a five-well drilling program next month at its PEL91 license in Cooper's Basin's Western Flank. The five prospects, whose primary targets are the Namur and Birkhead channel, have estimated recoverable mean barrels of between 430,000 and 1.1 million. These prospects were defined using 3D seismic analysis; historically, Drillsearch has had 50 percent success rates using 3D seismic. Multiple commercial discoveries have been made on adjacent permits, and Drillsearch anticipates a short development cycle for the wells.
The company anticipates a formal award at mid-year for nine blocks in southwest Queensland, which will expand its Cooper Basin holdings. Drillsearch expects potential farm-outs of select areas starting in this year's second quarter.
Drillsearch is planning a significant drilling program for its estimated wet gas resources of 11.5 million BOE in the Cooper Basin. The company has made 10 gas/condensate discoveries in the area, including four declared commercial, and will pursue potential pilot development of the Middleton, Brownlow and Canunda discoveries. In the near term, the company plans a five well appraisal, development and near-field exploration program in PEL106B and PEL107.
Bengal Energy reports it has defined numerous leads and prospects on the Tookoonooka exploration permit ATP 732P, which the Queensland government announced a final grant of title to for Bengal effective April 1. Bengal will begin gather seismic data on the block and plans to drill between five and eight wells over the next 18 months. The company said the large block is offset by producing oil and gas fields, and features seven different play types, including four conventional light oil plays, two conventional gas and gas liquid plays, and one unconventional gas play.
The company also reports finding new potential fairway for oil-bearing Cretaceous Murta sandstones in its Cuisinier 1 discovery well, which began production in May 2010. Three wells are awaiting completion and testing either this month or in April, with the Cuisinier 3 cased as a potential oil well.
Generated by readers, the comments included herein do not reflect the views and opinions of Rigzone. All comments are subject to editorial review. Off-topic, inappropriate or insulting comments will be removed.