Study: Illinois Leading Recipient of Shallow Water Expenditures
by Karen Boman
|
Rigzone Staff
|
Monday, March 21, 2011
A study commissioned by the Shallow Water Energy Security Coalition found that spending by the vendors and subcontractors supporting shallow water energy exploration accounted for $1.8 billion over the last three years, excluding expenditures in Louisiana and Texas.
President Obama's home state of Illinois was the leading recipient of shallow water vendor expenditures outside of the Gulf of Mexico, with $376.2 million in vendor expenditures. The Chicago district of Rep. Danny Davis was the single-largest destination by congressional district, with $242.2 million in expenditures by shallow water vendors.
"If President Obama doesn't care about jobs in the Gulf, he should at least care about jobs in his own hometown," said Jim Noe, Executive Director of the Shallow Water Energy Security Coalition. "Shallow water exploration provides affordable energy for all Americans and supports jobs in every corner of America.
"Bureaucratic inaction has already forced a federal judge to find the Obama administration in contempt of court for not approving drilling permits. If President Obama, Secretary Salazar, and BOEM Director Bromwich will let shallow water drillers do our jobs, it will help the rest of the nation get back to work."
The study, "Domestic Vendor Spending Outside the Gulf" found that approximately $1.3 billion of the $1.8 billion in shallow water vendor spending was concentrated in 7 states:
Illinois: $376.2 million
Pennsylvania: $245.0 million
Wisconsin: $176.5 million
New York: 139.6 million
California: $138.0 million
Oklahoma: 125.8 million
Alabama: $104.5 million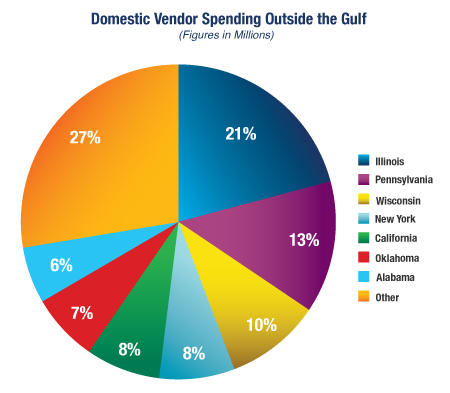 The leading congressional districts by shallow water vendor expenditures were as follows:
Rep. Danny Davis (D-IL): $242.2 million
Rep. Chaka Fattah (D-PA): $159.3 million
Rep. Peter Roskam (R-IL): $91.0 million
Rep. Reid Ribble (R-WI): $89.3 million
Rep. John Sullivan (R-OK): $87.2 million
Rep. Thomas Petri (R-WI): $83.6 million
Rep. Jerrold Nadler (D-NY): $78.2 million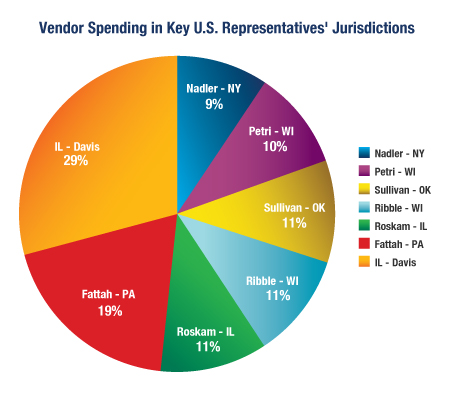 Additionally, the survey found a nationwide economic impact. Shallow water expenditures were made in 219 congressional districts -- including 102 congressional districts with expenditures of $1 million or more, 32 congressional districts with expenditures of $10 million or more and 7 congressional districts with expenditures of $75 million or more.
The Shallow Water Energy Security Coalition comprises a group of companies -- Apache Corporation, Arena Offshore, Chevron, Delta Towing, Dynamic Offshore Resources, Energy XXI, Ensco, Hall-Houston Exploration, Hercules Offshore, Phoenix Exploration, Rowan Companies, Seahawk Drilling, W&T Offshore, and Walter Oil & Gas -- that explore, develop and drill for natural gas and oil in the shallow waters of the Gulf of Mexico. The coalition was established to enhance the understanding of shallow-water operations as policymakers develop legislative and regulatory responses to recent events.
With the assistance of Deutsche Bank, the 14 member companies of the Shallow Water Energy Security Coalition submitted and aggregated their domestic expenditures for vendors and subcontractors during the years 2008-2010. These expenditures were then distributed by state and Congressional district of the vendors' principal place of business. To illustrate the nationwide economic impact of shallow water drilling, expenditures in Texas and Louisiana were not included in the survey.
Generated by readers, the comments included herein do not reflect the views and opinions of Rigzone. All comments are subject to editorial review. Off-topic, inappropriate or insulting comments will be removed.