Tullow Bets Big
by Jaime Kammerzell
|
Friday, March 18, 2011
Tullow Oil got its start in 1985 in a small town fittingly called Tullow, about 35 miles south of Dublin, Ireland. Tullow Oil's founder, Aidan Heavey, heard that small oil fields in Africa, which had been left behind by the majors, had no one to work them. With no previous oil and gas industry experience, Heavey launched Tullow Oil to rework those old fields.
Tullow signed its first licence in Senegal in 1986 and became active in South Asia in 1990 and the UK in 2000. The company doubled in size in 2004 when it acquired Energy Africa and it grew even larger in 2006 with the acquisition of Hardman Resources. In 2007 Tullow and its partners made its largest discovery to date - the Jubilee field offshore Ghana, which came online in November 2010.
Today, Tullow is one of the largest independent exploration and production companies in Europe. Its major focus is Africa, where Tullow is proving to be a major player. In 2010, the company spent 90% of its $1,500 million capital expenditure budget on Africa operations, specifically projects in Ghana and Uganda.
In March, Aidan Heavey, Chief Executive, said, "With first oil in Ghana and an excellent exploration and appraisal success rate, 2010 was undoubtedly a transformational year for Tullow."
West Africa
Tullow reported 39,000 boe/d total production off Africa in 2010. Its total reserves and resources add up to 1,326 MMboe and sales revenue was $850 million. In addition, Tullow's 2010 investment was about $2,520 million.
Tullow's most notable achievement is the Jubilee field offshore Ghana. Jubilee is estimated to have recoverable resources of up to 1 Bbbl.
In March, Tullow announced that it had achieved gross production of over 69,000 b/d from five Jubilee wells. The operator expects to reach full production capacity of 120,000 b/d in Q3 2011 as the remaining four production wells come online. In addition, first lifting of Jubilee crude oil - a 650,000 bbl - was achieved on January 5; two additional liftings followed.
Future Jubilee development includes five to eight additional wells. These wells will ensure maximum field production as well as help develop further reserves. The operator has already identified new well locations and has contracted a rig to start drilling in early 2012.
The Southeast Jubilee field, which is now known as Mahogany East, is a possible development for Tullow. The Mahogany East reservoirs are extensive, the company says, but thinner than the main Jubilee reservoirs. If the Government of Ghana approves Tullow's development plan, four to six wells will tie-back to the existing Jubilee subsea infrastructure.
Nearby, Tullow continued drilling appraisal wells on both the Enyernra (formerly Owo) and Tweneboa fields last year. Tweneboa-3, which Tullow drilled in December, confirmed producible gas-condensate. In early March, Tullow announced that the Enyenra-2A appraisal well encountered oil in excellent quality sandstone, which confirmed that Enyenra is a major light oil field. Pressure data from the Upper Channel demonstrated that the oil is in communication with the Owo-1 well. Oil pressures in the Lower Channel suggest it may also be in communication with the deeper pools encountered in Owo-1 and its sidetrack.
Transocean's Deepwater Millennium drillship drilled Enyenra-2A to 4,234 m TD in 1,674 m of water.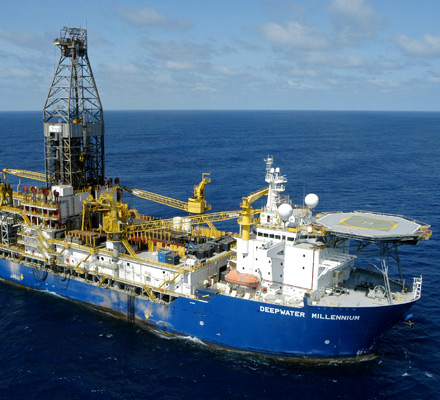 Deepwater Millennium
"This represents a major step forward in the appraisal of the Enyenra-Tweneboa area and is highly encouraging for our target to declare commerciality later this year," Angus McCoss, exploration director, said. "We are now looking forward to leveraging our expertise in the Jubilee play across the Atlantic through drilling the high-risk, high-impact, Zaedyus prospect in French Guiana in March."
Tullow made another important discovery off Ghana in February 2011. The Teak-1 well in the West Cape Three Points license found hydrocarbons in all five prospective horizons. Tullow is continuing a multi-well exploration campaign in the license before the exploration period expires in mid-2011.
The Atwood Hunter rig drilled Teak-1 to 3,170 mTD in 868 m of water.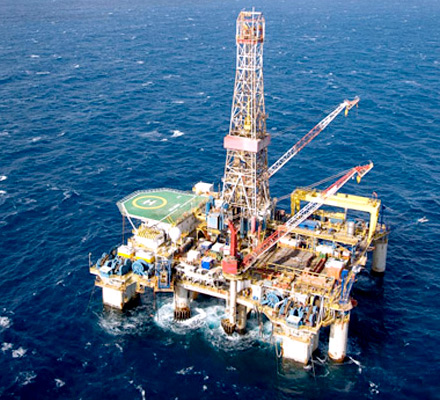 Atwood Hunter
Off Uganda, Tullow was busy accelerating the development of the Albert Rift Basin in 2010. The company bought Heritage Oil and Gas' interests in the EA 1 and EA 3A blocks in July and has been trying to farm-down interests to CNOOC and Total, with each partner taking a one-third interest in Blocks 1, 2, and 3A. However, the Government of Uganda had to settle a dispute with Heritage over Capital Gains Tax before the farm-down can be completed. Just this week Tullow announced that it has signed a Memorandum of Understanding with the Government of Uganda that satisfies the GoU's taxation concerns and enables Tullow, CNOOC, and Total to proceed with the basin-wide development with the full support and commitment of the GoU.
According to the announcement, the MoU provides a process which the GoU and Tullow expect will result in the following:
resolution of the impasse created by the Heritage and Tullow tax situations
the development of the Kingfisher field
the grant of extension in respect of Exploration Area 1 and parts of 3A, in recognition of the fact that time has been lost
GoU consent being granted for Tullow's purchase of Heritage's interests in the Lake Albert Basin and the subsequent farmdowns to CNOOC and Total.
The MoU is conditional upon the signing of Sale and Purchase Agreements (SPAs) between Tullow, CNOOC and Total within 10 working days of signature of the MoU. Tullow expects that the SPAs will be signed within the specified period.
Tullow acquired interest in the Lake Albert Rift basin in 2004 from Energy Africa. According to the company, since then, it has drilled about 40 wells with all but one encountering hydrocarbons.
Tullow is hoping to find at least 1.5 billion additional barrels in the Lake Albert Rift Basin.
Africa Rigs
Currently, Tullow has two rigs under contract working off West Africa. Ocean Rig's Eirik Raude semisubmersible is drilling off Ghana. The semi is under contract with Tullow through mid-October 2011 at a rate in the mid-$600s.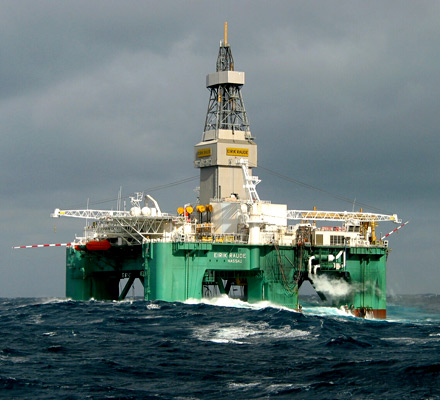 Atwood Hunter
As noted earlier, Transocean's Deepwater Millennium is also drilling off Ghana at the Enyenra-2A well through March 20. The Deepwater Millennium will continue to drill off Ghana for Tullow through mid-July at a rate in the mid-to-high $500s.
Gambling off South America
As McCoss noted above, Tullow is planning to cross the Atlantic to test a high-risk hunch that there is a huge oil and gas deposit off the coast of South America where nearly 100 million years ago, the continent was joined with Africa, known as Pangaea.
Tullow, with partners Shell and Total, will start drilling a deepwater test well off French Guiana at the end of March. This $100 million gamble is based on scientific evidence that the Zaedyus field, which lies 21,000 ft under water, has similar geology to that of the Jubilee field.
Tullow has contracted the ENSCO 8503 semisubmersible to drill the Zaedyus field through early June at a rate in the mid $400s.
Ensco 8503
As quoted in Bloomberg, McCoss says "Zaedyus is the most exciting well of the year, as bold as it gets. It's remarkable to try to open up a new basin in 2011. There aren't many opportunities left in the world."
2011 and Beyond
Not only does Tullow operate in West Africa and South America, but also Europe and South Asia. Thus far in 2011, the company has made six discoveries off West Africa and hit one dry well, for a success rate of 86%. In 2010, the company made 24 discoveries out of 29 wells for a rate of 83%, compared to 13 discoveries from 15 wells for a success rate of 87% in 2009.
Look for Tullow to drill at least 40 total wells in 2011, as well as finalize a farm-down in Uganda, and move forward with its drilling program off Ghana. According to its most recent financial report, Tullow expects to spend about $1.5 billion on high-impact exploration, further appraisal and development off Ghana and Uganda, and other business areas.
Generated by readers, the comments included herein do not reflect the views and opinions of Rigzone. All comments are subject to editorial review. Off-topic, inappropriate or insulting comments will be removed.