Operators Eye Eagle Ford for Growth in 2011
Trey Cowan
|
Wednesday, March 16, 2011
Last year, U.S. operators expressed their intentions to step up drilling programs in the Eagle Ford Shale formation. Strong oil prices and favorable well economics, due to greater concentrations of natural gas liquids, made drilling in this part of Texas appealing. True to their word, the rig count in the Eagle Ford has nearly doubled to 154 rigs, versus 82 reported in March 2010. Recent commentary by operators suggests the growth will continue in 2011.
Of the seventeen counties that cover the Eagle Ford, two-thirds of the drilling is currently undertaken in the five counties. Counties with the most active rigs are: Dimmit (24 rigs), Webb (23 rigs), Karnes (22 rigs), La Salle (18 rigs) and McMullen (17 rigs). Reservoirs in both Karnes and McMullen counties have typically been characterized as oilier than the others in the top-five. Other counties in the Eagle Ford known for their oil production are Atascosa, Dewitt, Gonzales, Live Oak, and Wilson. Counties known more for their natural gas and NGL production are Frio, Duval, Bee, Bexar, Zavala, Maverick, and Zapata.
EOG is the largest oil producer in the Eagle Ford at 23MM bopd and currently controls 595,000 net acres across the region. After drilling 96 net wells in 2010, EOG has plans for 250 net wells in 2011. Chesapeake Energy currently has the most active rigs in the region at 17 rigs where it holds 445,000 net acres through a partnership with CNOOC. In terms of concentration of resources, ConocoPhillips, with 14 rigs drilling across 254,000 acres held, has approximately half of its currently active U.S. rig fleet operating in the region.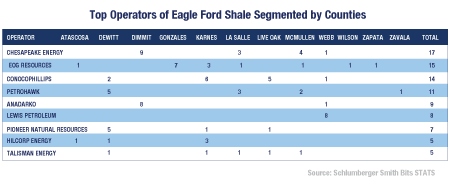 The five largest drilling fleets in the Eagle Ford control 68% of the market and are all owned by publicly-traded firms. Helmerich & Payne tops the list with 38 active rigs followed by Nabors Industries (24), Patterson-UTI (17), Precision Drilling (14), and Pioneer Drilling (11).
The mixed shift occurring between drilling for natural gas or oil continues to move away from the natural gas. A year ago, the split was 91% gas and 9% oil rigs in the Eagle Ford. Today, the mix is 60% gas and 40% oil.
Chesapeake's CEO Aubrey McClendon spoke on the transition during the 4Q10 conference call: "I'd like to remind you that Chesapeake, along with virtually every other natural gas producer both big and small, in both public and private, is responding to the huge return on investment gap that exists between drilling oil wells today versus drilling natural gas wells and we are responding by transitioning our drilling programs as rapidly as we can from gas to oil. To remind you the obvious, we can drill a natural gas well and receive around $4 per unit of production or we can drill an oil well and receive around $15 per unit of production."
EOG Resources commented that the Eagle Ford would be the firm's largest component of year over year oil growth during 2011. EOG also noted that its well costs in the region were anticipated to fall from current levels of $6 million per well to approximately $5 million in 2012 due to frac optimization techniques.
When discussing drilling in the lower 48 states, ConocoPhillips highlighted the Eagle Ford as an area of emphasis for the firm's resources in 2011. Specifically, Jeffery Sheets, the company's CFO, responded to a question on their recent 4Q10 conference call regarding organic growth by saying, "We have very aggressive development programs going on in the Eagle Ford in particular…We'll look to drill probably 140 to 150 wells in the Eagle Ford this year."
These comments along with recent activity all point to a banner year for the region in terms of both wells drilled and production during 2011.
Generated by readers, the comments included herein do not reflect the views and opinions of Rigzone. All comments are subject to editorial review. Off-topic, inappropriate or insulting comments will be removed.