Kenneth Vareide is Passionate for DNV
Rigzone Staff
|
Friday, February 25, 2011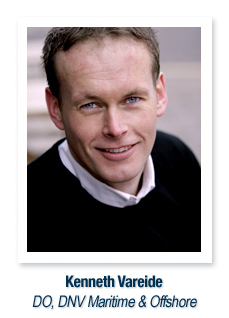 Kenneth Vareide, Director of Operations, DNV Maritime & Offshore in North America, is passionate about his work. It's what drives him to succeed in every position he's held at DNV over the last 15 years. "If you don't have passion, work is going to be hard," Vareide says.
Born and raised in small town of Mo i Rana, just south of the Arctic Circle in Norway, Vareide chose to pursue a career in the oil and gas industry after his grandfather, a farmer, advised him that the future of Norway was in oil and gas. Thus, he studied Navel Architecture at the Norwegian University of Science and Technology and earned his Master's degree in just 4 ½ years. He also has a Master's degree in Technology Management from MIT Sloan/NHH that he earned in 2006.
Two years prior to earning his undergraduate degree, Vareide attended a DNV presentation on campus. He knew then that he wanted to work for DNV after graduation. Out of 100 students interviewing for positions with DNV, 20 were chosen and five of them were picked for the trainee program. "That's where my focus on oil and gas started," Vareide said. "I studied hydrodynamic and offshore structure. I wanted to pursue oil and gas, and that's how I eventually ended up in Houston. I also have".
Vareide launched his career with DNV as a technical trainee at the head office in Oslo. He spent about 18 months learning about structural FEM analysis and fatigue analysis of offshore structures and ships, and plan approval of offshore structures and ship structures.
From there, Vareide had the opportunity to travel abroad to learn more about the offshore industry. His options were either Aberdeen or Houston. "Houston sounded more exciting," Vareide said. He was the first trainee to be sent to Houston. In his new position, Vareide conducted offshore inspections and surveys of mobile offshore units in operation, and conducted Gulf of Mexico and yard site surveys of conversions of mobile offshore units at KFELS' AMFELS yard in Brownsville. "After that experience, I was sold on the offshore industry. I went back to Oslo after two years with practical experience from working in the field."
Vareide's 10 different positions with DNV over the last 15 years have taken him all over the world. "Half of my career I've been out of Norway," Vareide said. "I really appreciate the opportunity to travel in this business." Aside from Oslo and Houston, Vareide has worked in London and Busan and Ulsan, South Korea.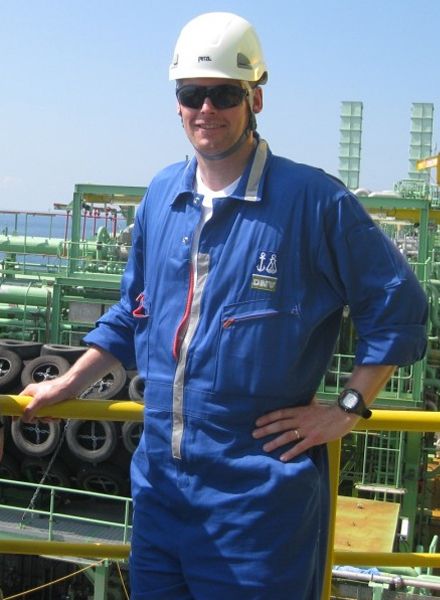 Kenneth Vareide out in the field at DNV
"I really enjoy staying abroad," Vareide said. "I've loved all the cities I've lived in, but from a business perspective, they are all different. I appreciate Houston because of its business culture. If you have a great idea and you are passionate about what you do, it is easy to build business relationships here."
DNV has taken Vareide out of his comfort zone a number of times throughout his career, and he's thrived. But the acquisition of four different companies in 2006 and integrating them into DNV is one he's most proud.
Two major IT companies DNV acquired were Cibit, a Knowledge Management and IT Consulting Company, and Q-Labs, an IT and Management Consulting Company. The two smaller companies DNV acquired were Tireno, an IT-network consultant company, and Echelon, an IT security consultant company.
Vareide took development competences of each company and integrated them with DNVs core business - energy and maritime. According to Vareide, the oil and gas industry today needs to catch up with automation and complex systems onboard vessels.
"I don't think the industry in general wholly understands how these systems work," Vareide said. "However, there are individuals and companies out there familiar with these systems. We created a recommended practice and a technical standard for software and control systems. The RP and Offshore Standard provides the industry a common platform/framework to ensure better quality at all stages in the development, commissioning, and operation of complex software based control and monitoring systems. After all the team effort to pull this together, it is very satisfactory to see that this is now getting the recognition in the market and may soon be the industry standard."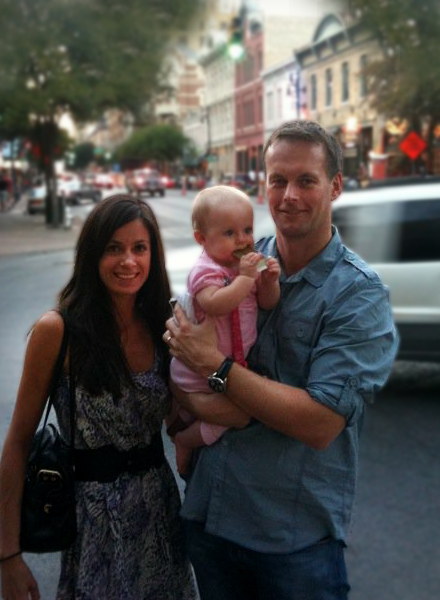 Kenneth Vareide & his family
Though Vareide has had many successes throughout his career, he's had to make some hard decisions along the way. One of the hardest decisions he's made, without being too specific, was killing a business idea that people in the organization were passionate about, but never materialized. "It is part of management to encourage ideas. It's a hard decision to kill ideas because it involves people who put their whole heart into it. I hate to kill the passion and tell them 'sorry, we're not going to go ahead with this' and terminate that part of business and let people go."
Based on Vareide's own experience, he encourages students to enter the oil and gas business because it is a world-wide business, which is exciting. He advises, "Take the opportunity to travel the world within the business you are in and learn how to appreciate the different business cultures. You'll view your business from different perspectives. Traveling the world in the oil and gas industry enhances your network. It's incredible to see how you meet people later in your career and how this network will benefit you. You will get experience within design, construction and operation, which is rare. It also enables you to work with several discipline/subjects within your profession."
Generated by readers, the comments included herein do not reflect the views and opinions of Rigzone. All comments are subject to editorial review. Off-topic, inappropriate or insulting comments will be removed.
RELATED COMPANIES