Compelling Fit: Drilling Down on ENSCO's Merger With Pride
Rigzone Staff
|
Friday, February 11, 2011
Ensco's recent announcement to buy Pride International will move the company into the position of second largest offshore drilling contractor in the world behind Transocean. Recall that Transocean jumped into the top spot back in 2007 when it merged with GlobalSantaFe.
The price tag for Pride is approximately $7.3 billion with the transaction set to close in Q2 2011. Once combined, the merged company will have an enterprise value of $16 billion (based on share prices just prior to the announcement and approximately $2 billion of debt financing secured to fund the cash component of the transaction). More importantly, the company's revenue backlog based on existing signed contracts held by the two firms will approach $10 billion and extend out until 2016.
Strategically, the merger is a great fit for Ensco because it increases its presence in Brazil and provides an entrance into West Africa. Both are lucrative deepwater markets where a recent spate of discoveries suggests that future sustained growth in these regions is likely a foregone conclusion.
Currently the combined fleet of Ensco and Pride is most active in the GOM with 16 rigs working there. Ensco/Pride also has 12 rigs in both Southeast Asia and the Persian Gulf, nine in Brazil, and eight in the North Sea. The remaining rigs are working in West Africa, Far East Asia, Australia, the Mediterranean, and Mexico.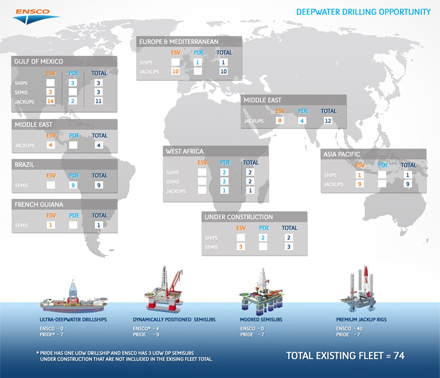 View Large
Deepwater Fleet
Through this merger between the third and sixth largest drillers in the world, the dynamics of the world-wide ultra-deepwater (UDW) drilling rig fleet have changed. Between the recent newbuild campaigns that both firms have undertaken (UDW Semis for Ensco and UDW Drillships for Pride), the collective firm will host the youngest UDW fleet in the industry.
Specifically, Ensco/Pride will have seven ultra-deepwater drillships and 20 semisubmersibles. In comparison, Transocean has 23 drillships and 50 semisubmersibles. Noble has 12 drillships and 14 semisubmersibles. Diamond has three drillships and 32 semisubmersibles. Seadrill has six drillships and 12 semisubmersibles. Rowan at present is solely focus on the jackup marketplace.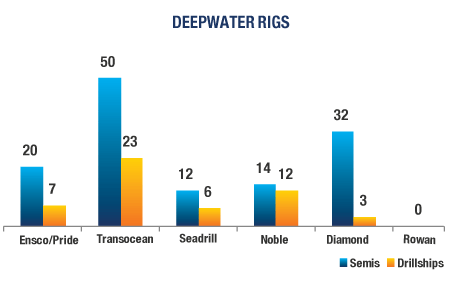 Included in the above numbers are newbuilds that are set to hit the waters in the next few years. Ensco embarked on a $3 billion, seven-rig ultra-deepwater fleet expansion program in 2005. Together, Ensco and Pride have added nine semisubmersibles and drillships to the worldwide fleet since 2004, and plan to add five more by the end of 2013. The remaining top five drillers have a total of 12 deepwater rigs under construction. Noble has six drillships, Seadrill has two semisubmersibles and two drillships, and Diamond has two drillships under construction that are set for delivery during this time frame.
Ensco and Pride's 19 active deepwater rigs are currently averaging around $280,000/day, compared to the worldwide average of $379,000/day. At $466,000/day, the Pride Angola drillship is commanding the highest dayrate of the combined drillship fleet. The rig is currently under contract with Total through June 2010. The Pride Angola is capable of drilling down to 31,500 ft in up to 10,000 ft water.
Looking at the new company's semisubmersible fleet, the Pride Portland and the Pride Rio de Janeiro are both currently contracted at $305,000/day. Petrobras has contracted both rigs to work off Brazil. The Pride Portland will be available in mid-October 2016 and the Pride Rio de Janeiro will be available in mid-January 2017. The nearly identical rigs are both capable of drilling in up to 5,577 ft of water and down to 25,000 ft.
Of Ensco/Pride's 27 deepwater rigs, four rigs were built in the 1970s, three in the 1980s, and two in the 1990s. The remaining 18 were added to the fleet over the past ten years. Combined, the average age of its deepwater fleet is about 11.5 years, nearly half the average age of its peers (Transocean, Rowan, Seadrill, Diamond and Noble). The peer-average deepwater fleet age is approximately 20 years.
Breaking it down, Transocean's deepwater fleet is about 21 years old, Noble's fleet is about 22 years old, Seadrill's fleet is about 5 years old, and Diamond's average deepwater fleet age is about 30 years old.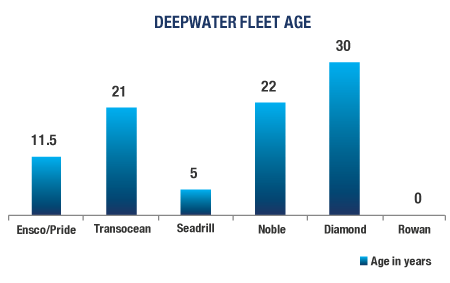 Jackup Fleet
Looking now at the jackup fleet, Ensco/Pride will field 47 jackups, second only to Transocean, which has 66 jackups. Noble comes in a close third with 45 jackups, followed by Rowan with 31, Seadrill with 21, and Diamond with 13 jackups. Ensco fleet continues to grow as it recently placed an order with Keppel for two Super A class jackups.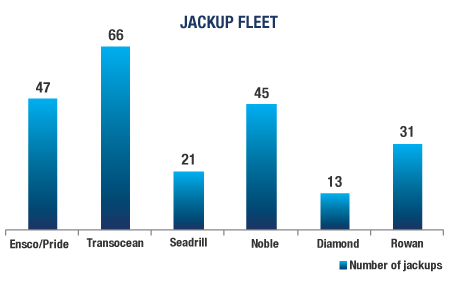 The Ensco/Pride jackup that is commanding the highest dayrate is the ENSCO 102. ConocoPhillips has contracted the rig through May 2011 at $195,000/day. It is currently engaged in workover activities. Subsequently, the date rate will increase to $200,000/day in June and remain at this level for the rest of the year. Currently, Seadrill's West Epsilon jackup is receiving the highest dayrate in the jackup market at $270,000/day. We would note that this rig is working in the harsh environment of the Norwegian waters; where although dayrate are typically at a premium to the industry, operating expenses in this region are also higher, too.
Seadrill has the youngest jackup fleet with an average age of four years old. Coming in a distant second is Rowan with an average jackup fleet age of 16 years old. Ensco/Pride falls in the middle of the pack with an average fleet age of 25 years old. Transocean's jackup fleet is about 28 years old, followed closely by Noble's fleet at 29 years old and Diamond's average of 30 years old.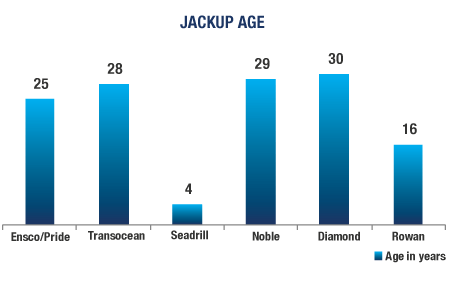 Ensco/Pride's jackups primarily work in the Persian Gulf with 12 of its 47 jackups contracted to work in the region. Additionally, 11 rigs are working in the GOM, and there are eight each in the North Sea and Southeast Asia. The remainder of the jackup fleet is dispersed across West Africa, Australia, the Mediterranean Sea, and Mexico.
Sealing the Deal
Of course, the numbers above are all dependent on approvals and closing. Once completed, the combined company will retain the name Ensco plc and keep its headquarters in the UK. Ensco's senior management team of Dan Rabun (Chairman, President and CEO) and James W. Swent (Senior Vice President and CFO) will continue serving in these capacities. The remaining executive management team for the combined company will be named later. Ensco's eight board members will continue to serve as directors of the combined company and two Pride directors will be appointed to an expanded board effective at closing.
Generated by readers, the comments included herein do not reflect the views and opinions of Rigzone. All comments are subject to editorial review. Off-topic, inappropriate or insulting comments will be removed.
For More Information on the Offshore Rig Fleet:
RigLogix can provide the information that you need about the offshore rig fleet, whether you need utilization and industry trends or detailed reports on future rig contracts. Subscribing to RigLogix will allow you to access dozens of prebuilt reports and build your own custom reports using hundreds of available data columns. For more information about a RigLogix subscription, visit
www.riglogix.com
.