Africa Thrives as GOM Dives
Rigzone Staff
|
Wednesday, February 09, 2011
Although the Gulf of Mexico (GOM) drilling moratorium ended in October, only two deepwater permits have been issued since then, compared with nearly six per month issued before the spill. While operators in the GOM waited for the U.S. government to lift the moratorium and iron out the wrinkles in its new drilling requirements, significant discoveries were made off West Africa in 2010.
Anadarko Petroleum Corp. announced three gas discoveries in 2010 off Mozambique in Offshore Area 1. The operator first announced the Windjammer discovery in March. The Belford Dolphin drillship drilled the well in 4,800 ft of water to 14,000 ft TD [total depth] and encountered 480 ft net ft of natural gas pay. Additional drilling to 16,930 ft encountered 76 net ft of natural gas pay, which brought the total to more than 555 ft.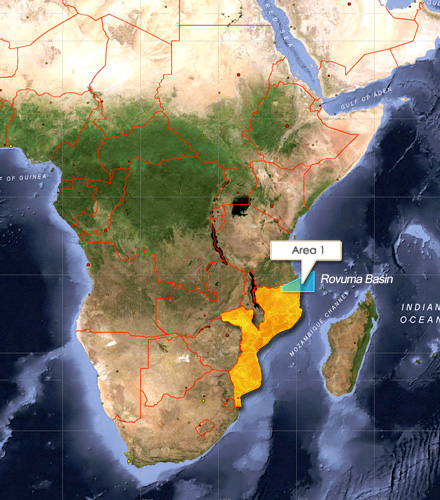 Anadarko operates Windjammer with a 43% interest. Co-owners include BPRL Ventures Mozambique B.V. with 11.75%, Cove Energy Mozambique Rovuma Offshore Ltd. with 10%, Mitsui E&P Mozambique Area 1, Ltd with 23.5%, and Videocon Mozambique Rovuma 1 Ltd with 11.75%.
Anadarko announced a second discovery in October. The Barquentine exploration well encountered more than 416 net ft of natural gas pay in multiple high-quality sands. The operator also found an additional 108 net ft of gas pay in the Paleocene sands, which appear to be connected to the 75 net ft of pay encountered at the Windjammer discovery, 2 mi southwest.
The Belford Dolphin drilled the well to 16,880 ft TD in 5,200 ft of water.
In November, Anadarko announced yet another discovery at the Lagosta well, 16 mi south of Barquentine. The Belford Dolphin drillship drilled the discovery well to 13,850 ft in 5,080 ft of water. The well is estimated to hold more than 550 net ft of natural gas pay in multiple high-quality Oligocene and Eocene sands.
Together with the Barquentine and Windjammer discoveries, Anadarko is looking into commercialization options for a liquefied natural gas development.
Anadarko announced an unrelated discovery in November, as well. Transocean's Deepwater Millennium drillship drilled the Mercury-1 exploration well offshore Sierra Leone to 15,950 ft TD in about 5,250 ft of water.
In the primary objective, Anadarko encountered approximately 114 net ft of light sweet crude oil with a gravity of 34 to 42 degrees API. The operator encountered an additional 21 net ft of 24-degree gravity crude in a shallower secondary objective.
Anadarko operates block SL-07B-10 with a 65% working interest with co-owners Repsol Exploracion Sierra Leone, S.L., which holds 25%, and Tullow Sierra Leone B.V. which owns 10%.
As all eyes focused on the disaster in the GOM in April, Total made a discovery off Angola on Block 17/06 named Begonia. The operator's subsidiary, TEPA Ltd, and Sonangol drilled in the northeastern area of the same block where it discovered Gardenia. Diamond Offshore's Ocean Valiant semisubmersible drilled the well in 1,486 ft of water where it discovered hydrocarbons of more than 6,000 b/d of 36 degree API oil.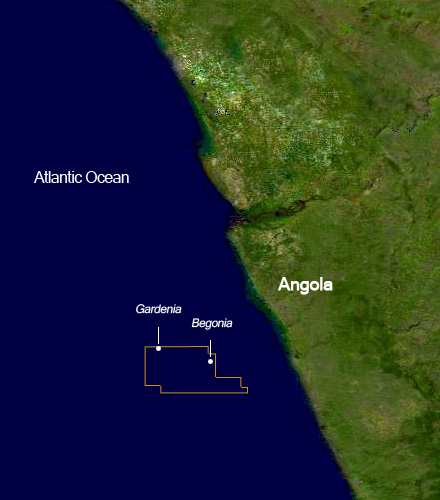 Sonangol is the concessionaire of Block 17/06 and TEPA is the operator with a 30% stake. Total's partners include Sonangol Pesquisa e Producao S.A. with 30%, Sonangol Sinopec Intl. Seventeen Ltd with 27.5%, ACREP Bloco 17 S.A. with 5%, Falcon Oil Holding Angola S.A. with 5%, and PARTEX Oil and Gas (Holdings) Corp. with 2.5%.
Sonangol made another discovery in April, but this time with partner Eni. The partners confirmed two oil discoveries on Block 15/06 off Angola. Nzanza-1 and Cinguva-1 are under about 4,593 ft of water. The Scarabeo 7 semisubmersible drilled the discovery wells.
During production tests, Nzanza-1 well produced oil at rates above 1,600 b/d. At Cinguvu-1 the production test reached a maximum flow of 6,400 b/d of oil.
The Nzanza-1 and Cinguvu-1 discoveries follow the success of Cabaca Norte-1 in 2009, and Sangos and N'Goma in 2008.
Eni had further success with Cabaca South East-1 off Angola in July. During production tests, the well flowed at rates of about 7,000 b/d. The well produced results beyond initial expectations and confirmed the potential for a second productive hub in the North East area of the block. Eni said the East Hub would double the production in Block 15/06.
In October, Eni announced the Mpungi-1 discovery well. During the production test, the well flowed at a rate of about 6,000 b/d. Mpungi-1 is the eighth exploration well drilled by the JV and the seventh discovery.
Eni has a 35% working interest and is the operator in Block 15/06, while Sonangol E&P is the concessionaire. The other partners are Sonangol Pesquisa e Producao with 15%, SSI Fifteen Ltd with 20%, Total with 15%, Falcon Oil Holding Angola SA with 5%, Petrobras International Braspetro B.V. with 5%, and Statoil Angola Block 15/06 Award AS with 5%.
In June, VAALCO discovered oil offshore Gabon. The Sapphire Driller jackup drilled the Southeast Etame No. 1 exploration well to 9,045 ft. The well is about three miles southeast of the Etame field. The well encountered Gamba sandstone, which is the same reservoir that produces in the Etame, Avouma, South Tchibala, and Ebouri fields.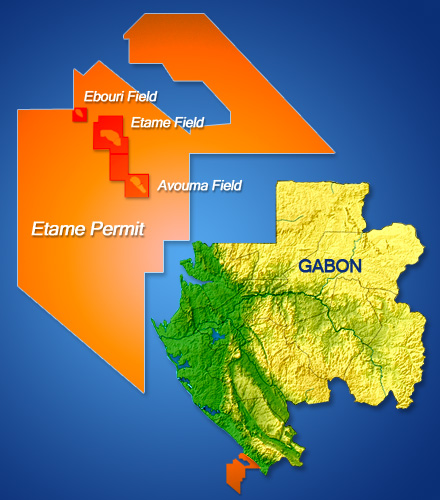 If the Southeast Etame prospect proves to be commercial, it is expected the new field will be developed and tied back to the company's existing floating production storage and offloading (FPSO) facilities.
VAALCO Gabon Etame, Inc. operates the Etame Marin Permit in which it holds a 28.07% net interest in the Etame Field. Other participants in the permit are Addax Petroleum Etame Inc. with 31.36%, Sasol Petroleum Etame Ltd with 27.75%, Sojitz Etame Ltd with 2.98%, PetroEnergy Resources Corp. with 2.34% and Tullow Oil Gabon SA with 7.5%.
In September, Tullow announced that the Owo-1 well in the Deepwater Tano license offshore Ghana is a major discovery. The Owo-1 well encountered 173 ft of net oil pay and the sidetrack encountered an additional 52 ft of net oil pay. Beneath the Owo oil field, 42 ft of net condensate pay was also discovered, with an additional 19 ft of net gas pay logged in the deepest sand encountered. The well has been suspended for future use in appraisal and development.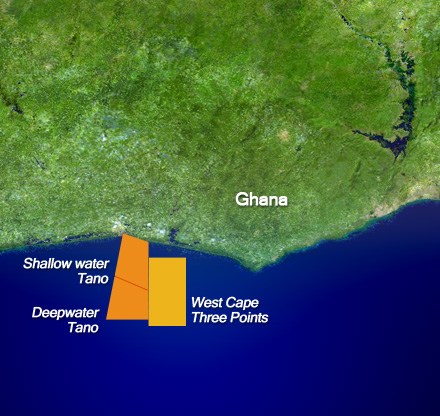 The Sedco 702 semisubmersible drilled the Owo-1 sidetrack to 13,116 ft in 4,685 ft of water.
Tullow operates the Deepwater Tano license with 49.95%. Partners include Kosmos Energy Ghana with 18%, Anadarko Petroleum with 18%, Sabre Oil & Gas with 4.05%, and the Ghana National Petroleum Corp with 10%.
Drilling Success Continues
The successful drilling streak offshore West Africa in 2010 has continued into 2011, with Total reporting discoveries from Bilondo Marine 2 and 3 wells off the Republic of Congo. The wells are in 2,624 ft of water in the Moho-Bilondo license.
Bilondo Marine 2 and 3 were drilled to 5,905 ft TD in the Tertiary series and flowed successfully. The Bilondo Marine 2 and 3 wells encountered a gross reservoir of 252 ft and 144 ft respectively. Neither well encountered water.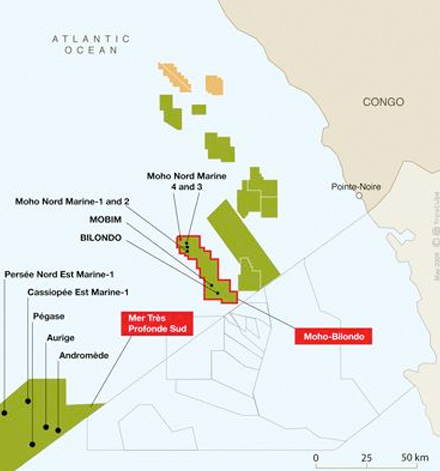 The latest discoveries support Total's plans to add a development hub as a direct extension of phase 1, which is already producing in the southern part of the Moho-Bilondo license. This first phase, brought on stream in 2008, was the first ultra-deepwater field to be developed in the Republic of the Congo.
Total E&P Congo operates Moho-Bilondo with a 53.5% interest, with Chevron Overseas Congo Ltd. Holding 31.5% and Societe Nationale des Petroles du Congo owning 15%.
Production Celebration
Tullow achieved a milestone when it brought the Jubilee field online on Dec. 15 of last year. The field is one of West Africa's largest find, with estimated recoverable reserves near 1.2 Bboe.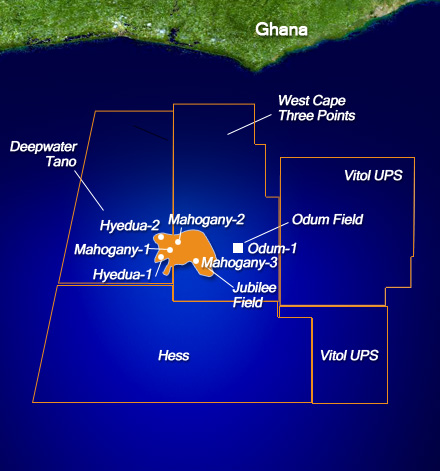 Discovered in 2007 on the Tano License off Ghana, the Mahogany-1 well encountered a gross hydrocarbon column of 886 ft. The second well, Hyedua-1 encountered 354 ft of stacked reservoir sands. Situated in water depths from 4,300 ft to 5,000 ft, the wells were drilled to about 13,000 ft TD.
Tullow then explored the West Cape Three Points License in 2009. The Eirik Raude semisubmersible drilled the Mahogany-3 well in 4,055 ft of water to 13,215 ft TD and found 52 ft of high quality stacked oil-bearing sands. And on the Tano license, the Blackford Dolphin semisubmersible drilled the Hyedua-2 well to 12,018 ft TD in 4,088 ft of water and encountered 180 ft of high quality oil bearing reservoir sandstones. These findings confirmed that Jubilee is a continuous stratigraphic trap with hydrocarbon columns near 2,000 ft.
Jubilee will be developed in several phases. Phase 1 included 17 subsea wells tied back to the Kwame Nkrumah MV21 FPSO. The FPSO is moored in 3,609 ft of water and will process more than 120,000 b/d and 160 MMcf/d.
Generated by readers, the comments included herein do not reflect the views and opinions of Rigzone. All comments are subject to editorial review. Off-topic, inappropriate or insulting comments will be removed.
For More Information on the Offshore Rig Fleet:
RigLogix can provide the information that you need about the offshore rig fleet, whether you need utilization and industry trends or detailed reports on future rig contracts. Subscribing to RigLogix will allow you to access dozens of prebuilt reports and build your own custom reports using hundreds of available data columns. For more information about a RigLogix subscription, visit
www.riglogix.com
.