Purestream Utilizes Space Technology for Marcellus Wastewater Treatment
Rigzone Staff
|
Thursday, February 03, 2011
Purestream Technology, a private Salt Lake City-based technology company that specializes in wastewater and air emissions treatment solutions, is utilizing technology developed in conjunction with space industry researchers to treat waste and flowback water associated with hydraulic fracturing.
Created from a waste water disposal company formed in 2005, Purestream in 2007 partnered with the Utah State University Research Foundation's (USURF)'s Energy and Space Dynamics labs to research and develop water solutions, including evaporative and vapor recompression technologies and other thermal processes to address air and water challenges. "We wanted to find a way to treat water that would cut out transportation needs and need for disposal while still being affordable for producers," said Purestream CEO Neil Richardson.
Many researchers who had worked in space industry research since the late 1950s ended up working on energy after funding cuts. Richardson used connections he had within USURF when searching for ways to research water solutions. "They were looking to monetize some of the technologies they had and we had hit some stumbling blocks in our research for water solutions," Richardson said.
From this research effort, Purestream's Trilogy System was created to alleviate the environmental impact of hydraulic fracturing by evaporating produced and flowback water at the well site. Millions of gallons of water are typically used in the hydraulic fracturing process, a substantial amount of which returns to the surface as waste water which then must be transported to off-site disposal facilities. Decreasing the volume of water requiring disposal greatly reduces the cost of transportation and disposal as well as associated environmental impact -- mainly from trucking.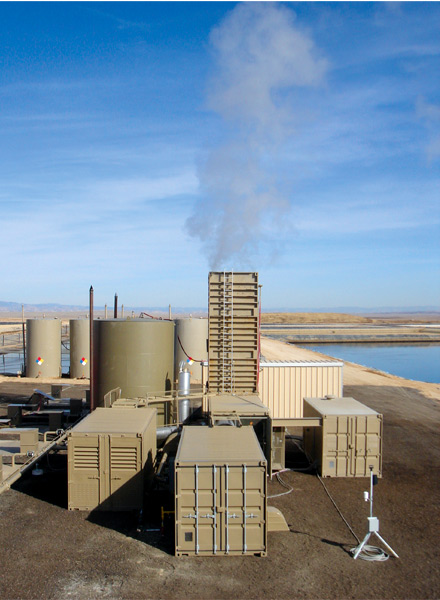 The Trilogy System successfully scrubs air emissions, cleans and evaporates waste water and also provides remote water, oil and condensate data-tracking technology. Placed at the well site, one standard Trilogy unit can process up to 63,000 gallons per day, effectively removing harmful contaminants from waste water and rendering it cleaner than drinking water.
Through the process, produced wastewater is piped from the storage tank to the adjacent underground vaults where partial oil/water flotation separation takes place. These vaults are capped to keep the volatile organic compounds (VOCs) trapped. The VOCs then travel through the pipeline into the Trilogy thermal oxidizer, where 99% of the VOCs are destroyed. From there, a turbine generated heat stream is utilized to feed the evaporation of the scrubbing unit which destroys the remaining particulate matter.
The units are also designed to generate re-claimed power, which can be loaded onto a nearby power grid for sale on the wholesale market or can be utilized to power various environmentally conscious initiatives or activities. Units deployed in Pennsylvania and West Virginia are only being used for water disposal, demonstrating the wellhead system's ability to be engineered and deployed to address specific issues facing any region or producer, said Richardson.
Purestream initially launched their first Marcellus shale gas initiative with West Virginia-based PDC Mountaineer LLC in August 2010, when Purestream installed key components of The Trilogy System at PDC's operation in Taylor County, W.Va. The Purestream system will evaporate flow back water at the Taylor County site. Purestream also announced late last year that it has contracted with SM Energy to deploy their second Marcellus Shale installation, in McKean County, Pennsylvania.
Partnering with experts on space has proven valuable to Purestream. "In space, you don't get a real second chance in space; everything has to work every time. Our systems are built to that standard and every system has a redundant system….the are robust enough to work in snowy, minus 20 and minus 30 degree weather. In space, you're working in an environment where the temperature in minus 280 degrees," said Richardson.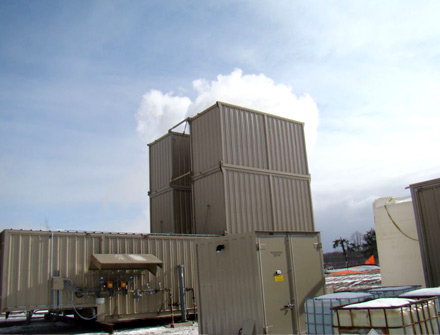 The company will continue to ensure its systems meet future air emissions standards, which are anticipated to become more stringent. The company also has begun marketing the sixth version of its waste and flowback water treatment systems nationally and worldwide this year; the first version was deployed in 2007. The company's technology is being marketed to producers in the Bakken and Haynesville shale plays, as well as customers in the western U.S. and internationally to customers in Kazakhstan and Kuwait.
Generated by readers, the comments included herein do not reflect the views and opinions of Rigzone. All comments are subject to editorial review. Off-topic, inappropriate or insulting comments will be removed.