Industry Compensation: Top Pay for Top Pros
Rigzone Staff
|
Friday, January 28, 2011
Want to make the big bucks in the oil & gas industry? Starting your own business is a great option but climbing the corporate ladder can be just as rewarding. Check out how some of the top CEOs in the industry worked their way to the top and what that meant for their 2010 compensation.
AUBREY McCLENDON
2010 Compensation: $114.29MM

Company: Chesapeake Energy
Age: 52
Education: Duke University
Nationality: American
Road to CEO: As the top earning CEO on our list, Mr. McClendon worked as an independent oil and gas producer from 1982 to 1989. Today he is the chairman of the board and CEO of Chesapeake Energy - a company he co-founded in 1989 with former company president Tom Ward with an initial investment of $50,000. In 2005 Forbes Magazine named McClendon one of America's top performing executives.
McClendon made headlines in October 2008, when he sold about 32 million shares of stock for $16.52 per share (about $569 million) to meet margin calls. Three months prior, the shares would have been worth about $2.2 billion.
According to the Wall Street Journal, later that year the board of directors awarded McClendon a compensation package that included a one-time $75 million bonus. Shareholders challenged the package and filed a number of lawsuits.
Outside of the office, McClendon is a minority investor in the Professional Basketball Club LLC, which owns the Oklahoma City Thunder (formerly the Seattle Supersonics).
DR. RAY IRANI
2010 Compensation: $103.07MM

Company: Occidental Petroleum
Age: 76
Education: American University of Beirut (BS), University of Southern California (PhD)
Nationality: Lebanese
Road to CEO: Mr. Irani moved from Beirut to California when he was 18 years old and studied physical chemistry at USC. After graduation in 1957, he worked for Monsanto Company as a researcher for 10 years, and then joined the Shamrock Corporation. He later served as president and COO of a chemicals and metals company called Olin Corporation. Occidental Petroleum hired him in 1983 to help its chemical division. In 1984 he was promoted to chairman and COO of Occidental Chemical Corporation. In 1990 he was made chairman and CEO of Occidental Petroleum. Irani also serves as a director of the American Petroleum Institute.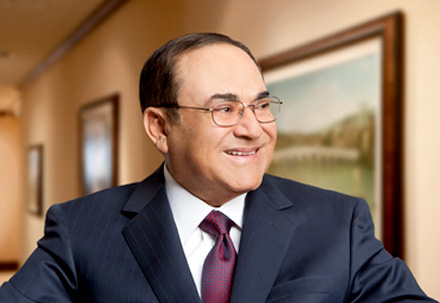 JAMES T. HACKETT
2010 Compensation: $20.9MM

Company: Anadarko
Age: 58
Education: University of Illinois (BS), Harvard Business School (MBA)
Nationality: American
Road to CEO: Mr. Hackett was named the CEO of Anadarko Petroleum in December 2003 and has served as chairman of the board since January 2006. Prior to his career at Anadarko, Hackett served as CEO and president of Seagull Energy Corp. from September 1998 through March 1999. He then served as chairman of the board at Seagull from January 1999 to March 1999. Seagull then merged with Ocean Energy where he was chairman, president, and CEO from March 1999 to April 2003 and chairman of the board from January 2000 to April 2003. Ocean Energy then merged with Devon Energy where he served as president and COO from April 2003 through December 2003.
J LARRY NICHOLS
2010 Compensation: $18.42MM

Company: Devon Energy Corp.
Age: 69
Education: Princeton University (BA Geology); University of Michigan Law (JD)
Nationality: American
Road to CEO: J Larry Nichols is the chairman and CEO of Devon Energy Corp., which he founded with his father, John Nichols, in 1971. After graduation, Nichols served as law clerk to Chief Justice Earl Warren and Justice Tom Clark. He then was made special assistant to then Assistant Attorney General William Rehnquist in the US Department of Justice. Nichols has served as Devon's CEO since 1980 and was president from 1976 to 2003. He has been the company's chairman since 2000.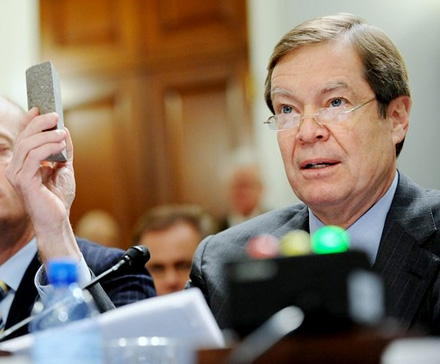 G STEVEN FERRIS
2010 Compensation: $14.79MM

Company: Apache Corp.
Age: 63
Education: Oklahoma State University (BA)
Nationality: American
Road to CEO: Mr. Ferris is chairman and CEO of Apache Corp. He's served in many positions at Apache since joining the company in June 1988 as vice president of Domestic Exploration and Production. His list of titles includes senior vice president from 1991 to 1994 and president and COO from 1994 to 2002. He assumed the position of chairman of the board in January 2009 and appointed CEO in May 2002. Prior to joining Apache, Ferris was vice president of Finance and Business Development and Treasurer of Terra Resources from 1983 to 1988.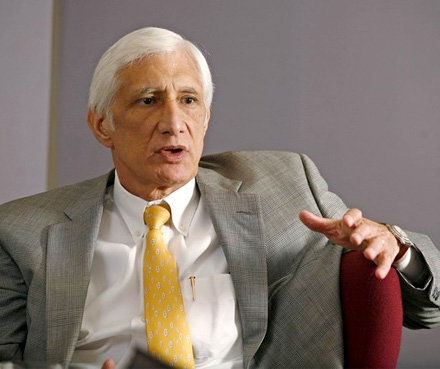 DAVID
LESAR
2010 Compensation: $13.69MM

Company: Halliburton Energy Services
Age: 58
Education: University of Wisconsin-Madison (BS, MBA)
Nationality: American, but resides in Dubai
Road to CEO: Mr. Lesar is chairman, president and CEO of Halliburton Energy Services. He started his career at Arthur Anderson as a certified public accountant where he worked on Halliburton's account. He spent 16 years at Anderson before joining Halliburton as a vice president in 1993. In 1996, Lesar was named the CEO of Kellogg, Brown and Root in addition to being the CFO of Halliburton. In May 1997 Lesar became the COO, and in 2000 he became the CEO.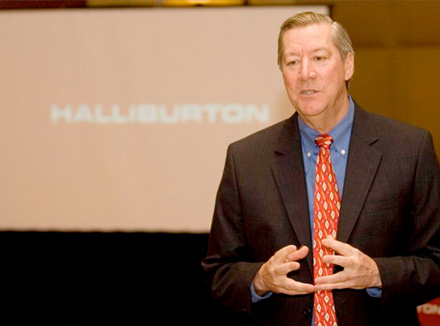 JAMES J MULVA
2010 Compensation: $11.26MM

Company: ConocoPhillips
Age: 65
Education: University of Texas El Paso (BBA, MBA)
Nationality: American
Road to CEO: Mr. Mulva is the CEO and chairman of ConocoPhillips. After graduation in 1969, Mulva served in the US Navy until he joined Phillips Petroleum Co. in 1973. In 1990 Mulva joined the company's management committee as CFO and in 1993 he was named senior vice president. In January 1994, he became executive vice president and later that year was named president and COO of Phillips. From 1999 to 2002 Mulva served as the chairman and CEO of Phillips. Phillips then merged with Conoco and Mulva was named president and CEO of ConocoPhillips.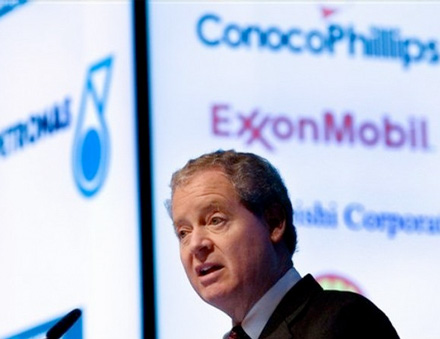 JOHN B
HESS
2010 Compensation: $10.60MM

Company: Hess Corp
Age: 57
Education: Harvard College (BA), Harvard University (MBA)
Nationality: American
Road to CEO: John Hess is the chairman and CEO of Hess Corporation, a family business his father started in 1933. Hess started pumping gas at Hess stations at a young age. When he was 7 years old he joined his father on the company's foreign oil fields. In 1976, John started his first official job with the company as a graduate trainee. In 1984 he moved to senior vice president, managing exploration and production operations and contributing to the development of fields in Canada and the Gulf of Mexico. In 1986, John was appointed to senior executive vice president. Nine years later, he became the chairman and CEO.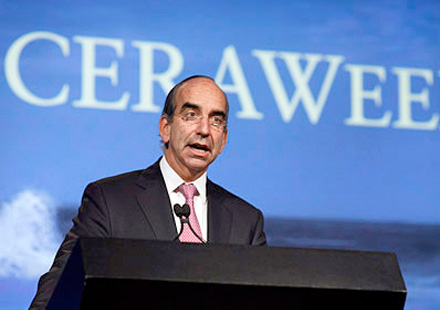 REX TILLERSON
2010 Compensation: $10.53MM

Company: ExxonMobil
Age: 59
Education: University of Texas (BS)
Nationality: American
Road to CEO: Mr. Tillerson is CEO and chairman of ExxonMobil. After graduating from the University of Texas, Tillerson joined Exxon in 1975 as a production engineer. Tillerson has held many positions over the last 35 years, including general manager of EUSA's Central Production Division, production advisor, president of Exxon Yemen, vice president of Exxon Ventures, president of Exxon Neftgas Ltd., executive vice president of ExxonMobil Development Co., senior vice president of Exxon Mobil Corp., and president of ExxonMobil. On January 1, 2006 Tillerson was elected chairman and CEO, following the retirement of Lee Raymond.
Under Tillerson's leadership, ExxonMobil acquired XTO Energy in 2009 for $31 billion in stock.
Mr. Tillerson is the National President of the Boy Scouts of America.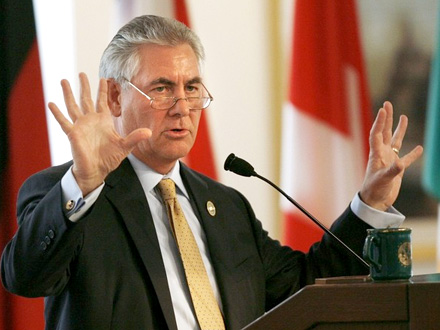 JACK B MOORE
2010 Compensation: $8.31MM

Company: Cameron International
Age: 57
Education: University of Houston (BBA); Harvard Business School
Nationality: American
Road to CEO: Mr. Moore has been the CEO and a member of Cameron's board of directors since 2008. He spent 23 years with Baker Hughes in marketing, manufacturing, and human resources before joining Cameron in July 1999 as vice president and general manager of the Western Hemisphere. In 2002, Moore was named president of Cameron's drilling and production systems organization, and in 2007, he was elected president and COO.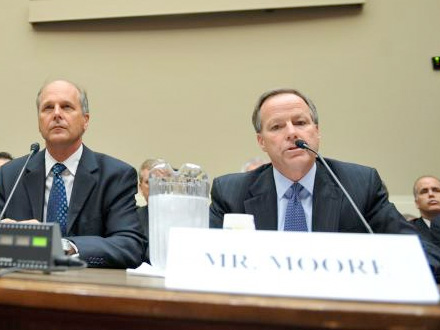 Generated by readers, the comments included herein do not reflect the views and opinions of Rigzone. All comments are subject to editorial review. Off-topic, inappropriate or insulting comments will be removed.