Musings: 2011 Another Year of Robust Industry Capital Spending
by G. Allen Brooks
|
Parks Paton Hoepfl & Brown
|
Friday, January 07, 2011
The annual Barclays Capital survey of global exploration and production spending plans of oil and gas companies was recently released and its results signal a further healthy increase in expenditures, which should boost the revenues and earnings of oilfield service companies. The survey calls for a 10.8% increase in total global E&P spending to a record $490 billion, which follows on the estimated 10% increase in spending experienced in 2010. Growing optimism about a strengthening of the nascent economic recovery in the developed world, primarily the United States and Europe, combined with continuing rapid economic growth in developing economies underlies the strength in E&P spending.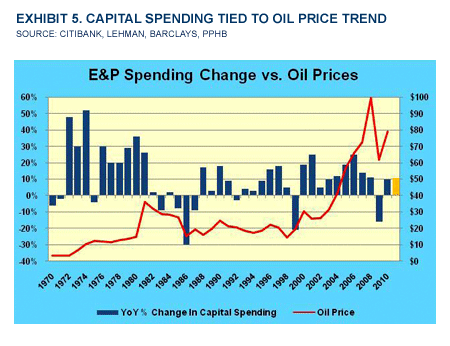 The most interesting observation about the E&P spending survey results is that the period 2010-2011 mark only the third time since 1970 that the annual spending increase is flat with the prior year. The other two times were in 1977-1978 (20% both years) and 1993-1994 (4% and 3%). A characteristic of the two earlier periods is that each was marked by essentially flat crude oil prices. This time the industry is expecting crude oil prices to rise, but offset by weak natural gas prices. That could mean one of two conclusions – the spending increase either will be higher in 2011 than currently forecast or crude oil prices are headed lower. One outcome is positive for the industry while the other is negative. Food for thought!
Oil and gas executives around the world continue to see healthy crude oil prices on the horizon. According to the survey, respondents expect the crude oil price (measured by the wellhead price for West Texas Intermediate) to average $77.32 per barrel in 2011, up from the $73.46 per barrel price indicated in the June 2010 survey and the $70.16 per barrel price in last December's survey. In response to a survey question, the most frequently cited price of crude oil that would trigger further increases in E&P budgets was $90 per barrel – a barrier that has already been pierced.
If we are to believe the forecasts of prominent commodity traders and the comments from several oil ministers attending the recent OPEC meeting, a $100 per barrel oil price cannot be ruled out for 2011. The difference seems only to be the question of when and for how long crude oil prices will remain at or above the century mark in 2011. Will $100 per barrel represent an average price for all of 2011, suggesting a much higher prices at some point in the year as we are currently below the target, or will crude oil prices merely march slowly and steadily higher throughout the year to reach the target level, but resulting in a lower average price?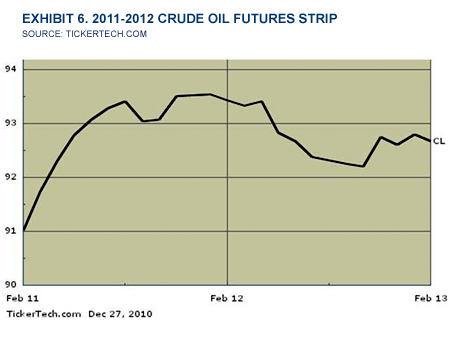 The debate over the future direction of crude oil prices has raged for much of this year. The debate has centered on identifying the primary impetus behind the steady rise in crude oil prices throughout 2010 in the face of continued weak economic activity and high unemployment throughout the developed world and a well-supplied oil market. This supposed economic disconnect has led to a debate over whether the rising crude oil price has been driven by the declining value of the U.S. dollar in global currency markets, or whether the price rise reflects fears about future oil supplies being insufficient to meet future demand despite a continued above-ground oil supply surplus. At times, the debate has focused on the role of commodity speculators, a topic hotly debated in 2008 prior to the collapse of crude oil prices in the wake of the global financial crisis. Then again, speculators are always a convenient scapegoat whenever commodity price movements can't be explained by conventional economic analysis.
Last week in his column in The New York Times, Nobel prize-winner and Princeton University economics professor Paul Krugman wrote that the recent rise in crude oil prices had nothing to do with commodity speculators or U.S. Federal Reserve monetary policy but had everything to do with accelerating economic growth globally. Mr. Krugman surprisingly failed to mention any contribution from the cold and snowy weather in the Eastern and Southern portions of the U.S. and across Northern Europe. He also failed to point out that a partial explanation for the fall in crude oil and refined product inventories in the United States is the annual tax planning strategies of oil companies designed to minimize the amount of inventory they hold at year-end when local governments levy inventory taxes. Falling inventories are normally experienced in December unless there is an unusual circumstance such as anticipated supply disruptions expected early in the new year.

The Barclays survey shows that the 2011 E&P spending increase globally will be driven by a 12.1% expected international spending hike. The strength of international spending dwarfs the 4.8% boost in Canadian E&P spending and is considerably stronger than the 8.1% increase in U.S. spending. It is important to note, however, the nearly $40 billion increase in international spending expected in 2011 is considerably more than all of Canadian spending, and represents about 45% of total U.S. anticipated spending next year. In other words, the importance of what happens in international markets cannot be overemphasized.
We know Canadian and U.S. E&P activity over the past several years has been driven primarily by drilling related to the exploding shale gas plays throughout the continent, although the emerging oil shales have also begun to impact drilling activity over the course of the past year. However, weak natural gas prices are forcing many operators to forego drilling beyond the minimum activity levels needed to hold recently acquired leases. Despite weak natural gas economics, North American E&P spending is up as operators are finding many ways of securing capital to continue to play the "land grab" game. Operators, however, are actively switching their E&P focus to crude oil and liquids-rich natural gas drilling targets and away from dry natural gas prospects. Still, current economics makes it difficult to make money anywhere but in the Marcellus and possibly the Eagle Ford gas shales. The problem with this liquids-rich drilling strategy shift is that it ignores the associated natural gas produced with the crude oil and natural gas liquids. So while the amount of natural gas produced per well may be lower than from dry gas wells, the volume has not yet been sufficiently lower to materially reduce the existing gas surplus, which would lead to higher natural gas prices.
The current natural gas price outlook, as depicted by the forward curve of gas futures prices, suggests it will not be before 2013 that we see prices at or above $5 per thousand cubic feet (Mcf) on a sustained basis. That assumption rests on two considerations – first that gas production doesn't fall off more rapidly than expected as drilling slows, and secondly that gas consumption doesn't pick up materially along with the recovering economy. Another troubling consideration on the supply side is that producers are building a backlog of drilled-yet-uncompleted wells that can be rapidly brought into production as gas prices rise (the question being the price level that triggers accelerated completion activity). Producers may also open the flow of wells that have been choked back in an effort to help reduce the gas surplus.
We feel safe in predicting that whatever producers suggest they will do to counteract low gas prices will not happen as everyone will assume that conventional wisdom doesn't apply to them. Therefore, producers will begin turning the valves and completing previously drilled wells before natural gas prices reach the threshold price everyone acknowledges is the trigger point for increased activity and production. The only true discipline is capital restraint, meaning that unless and until Wall Street is no longer willing to provide money for shale gas exploitation, producers will be hard-pressed to slow their activity despite acknowledging the poor economics associated with their decisions.
We chuckle at the comments from natural gas E&P company executives, stock analysts and investors long natural gas-oriented stocks that the long-term outlook for natural gas is healthy. That may truly be the case, however, we are reminded that the long-term is made up of many short-terms, and if those are not healthy, then stringing together a number of bad periods before arriving at a good period seems to be a recipe for failure. We jokingly refer to it as "over the horizon forecasting." By that we mean, things are going to be bad for as far as one can realistically see (to the horizon), but on the other side, everything is wonderful. This is usually a delusional forecasting model!
So what are the implications for producer actions relative to the Barclays E&P spending survey results? One question Barclays almost always asks is the willingness to increase or cut spending based on the changing level of commodity prices. What one gets is a central tendency for spending adjustments based on price sensitivities to higher or lower commodity prices. As we noted earlier, the budgets are being based on an average crude oil price for 2011 of $77.32 a barrel. Since February 2011 crude oil futures prices (as of December 27th) are nearly $91 a barrel and the average 12-month futures price curve is about $92.50, it would seem there is a strong likelihood of an upward bias to E&P spending next year. That is unless producers anticipate crude oil prices dropping next year due to economic, political or currency issues. What we know about oil and gas company spending patterns, seldom are budgets increased during the first part of the year. Mid-year budget adjustments are generally the rule, so one should expect little additional spending until summer, at the earliest.
What we found interesting in the producer responses to the questions about reducing spending based on lower crude oil and natural gas prices was just how wide the central tendencies were. As shown for crude oil, a significant number of companies would reduce their E&P spending if prices were to fall to $60 a barrel, and even more if they fell to $50. But what is often missed in a chart such as the one below (Exhibit 9) is the percentage of companies that would have cut their spending when crude oil prices fell to $70 a barrel or $65.
Another way to look at the spending reduction vulnerability is to find the point at which the cumulative percentage reductions are equal to 50%. In the latest survey, we could expect meaningful reductions in industry E&P spending by the time crude oil prices had fallen to about $60 a barrel, or some $30 a barrel below the current futures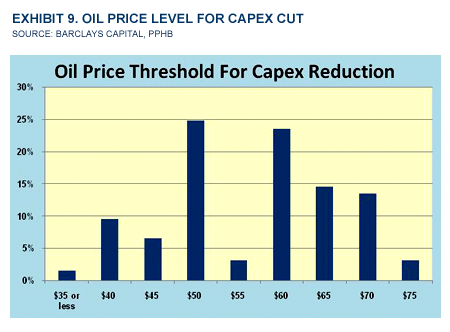 price. Another measure is to look at the 25% cumulative reduction percentage, which is somewhere between $70 and $65 a barrel. The point of this chart (Exhibit 10) is to show that it appears there is considerable room for a downside move in crude oil prices before the industry significantly reigns in spending. This should provide some comfort for oilfield service companies who are being pressured to add capacity to their businesses. Often times the maximum amount of pressure for capacity additions occurs at peaks in activity and just prior to industry activity downturns. The timing of capacity additions can make or break industry pricing and in turn, oilfield service company financial returns.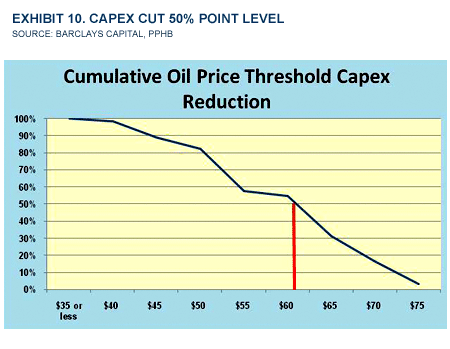 Another way of visualizing this relationship is to look at the longer term record of industry price assumptions when planning their budgets and then examining the actual average price for that particular year and the percentage increase in E&P spending plans. Following the recession of 2002, there was a small increase in E&P spending that reflected the general assumption of a relatively flat future crude oil pricing trend. As actual prices started rising faster than company's expectations, spending increases also grew. Interestingly, the increase peaked in 2006 and the rate of increase in 2007 was less than half the prior year gain. Spending growth declined again in 2008, especially when the financial crisis hit. The impact of the 2008 credit crisis and the impact on the economy and the lack of industry access to capital markets translated into cut in E&P spending in 2009. With crude oil prices today moving higher amid expectations for further increases, it is not surprising that E&P spending is rising at a moderate pace.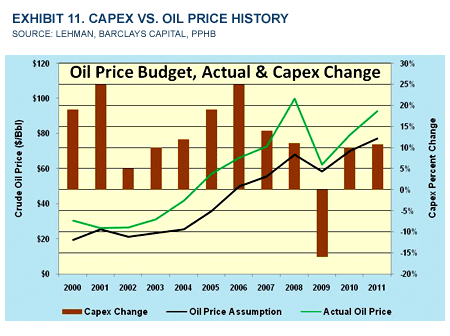 When we examine spending and its sensitivity to lower natural gas prices, we see a similar pattern as displayed for natural gas prices. Interestingly, the greatest percentage of budget cuts will come when natural gas prices fall under $4.00/Mcf. There are also large percentage cuts anticipated when gas prices fall by another $0.50 to $3.50/Mcf, and then again by an additional $0.50/Mcf drop.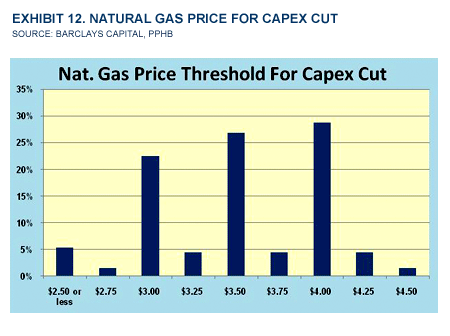 Due to the large percentage reduction at the $4.00/Mcf point, what we find is that somewhere between $3.50 and $3.75/Mcf is the point at which 50% of the producers suggest they would cut their budgets. Because current futures prices for natural gas are slightly over $4.00/Mcf, it would appear that E&P spending on natural gas projects would be vulnerable to reductions now and that they will only get worse if prices fall by another $0.25/Mcf. Is it any wonder producers are looking for E&P natural gas projects that involve substantial volumes of liquids that enhance the price realizations they receive from their production?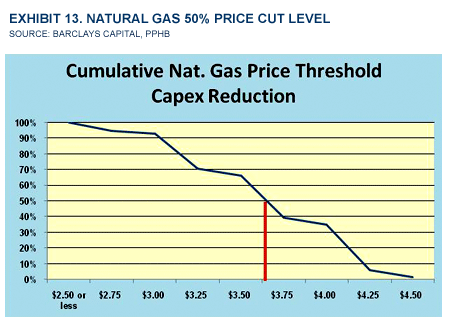 Once again, when we look at capital spending versus budgeted and actual natural gas prices over the past decade, they seem to match quite well until we get to 2010 and the estimate for 2011. While we know the spending increase is not just for natural gas, the projected increase given the outlook for gas prices suggests other considerations are behind spending decisions such as the need to drill and complete wells in order to protect the investment already made in prospective gas shale acreage. The blanket nature of gas shale formations means that acreage acquired in the basins is highly prospective – the issue is just how economic the acreage may be. And that often will not be known until wells are drilled and production histories established.
There were two other answers to survey questions we found quite interesting. One had to do with the key determinants for E&P spending and the other with the most important technologies. Each of these questions and their responses suggest interesting industry trends that should be important, especially for investors. With respect to the first question, 2011 marks only the third time since 2000 that cash flow was ranked at the most important determinant for E&P spending. The other times were in 2000 when it was tied with natural gas prices, and in 2005.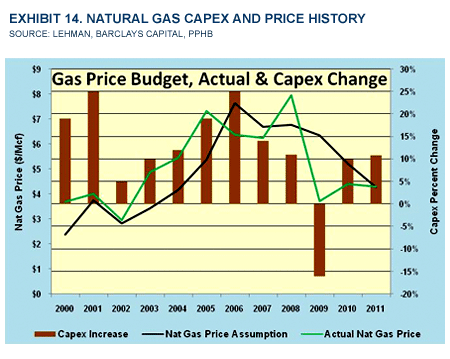 The concern about cash flow in 2000 was easy to understand as the global economic boom was slowing due to the 1997-1999 currency-driven financial crises in Asia. Additionally, the stock market was overheating due to the dot.com craze and Y2K concerns. Given these concerns, producers were worried about how strong their cash flows might be. The interesting fact is that 2000 marked a year with significant increases in both crude oil and natural gas prices after nearly 15 years of commodity prices trading in a relatively narrow range. The concern in 2005 is a little more difficult to fathom as we were in the midst of what became a strong upswing in commodity prices. The concern about cash flows may have been the result of a relatively long history of relatively stable commodity prices so it is likely that producers were concerned about the sustainability of the forces driving crude oil and natural gas prices higher.

The concern today about cash flows may signal a greater concern about spending due to weak natural gas pricing that is spreading globally. It may also reflect producer concerns at the time of budget preparations for the potential of a double-dip recession that would undercut energy demand and likely commodity prices. As the double-dip fears have faded from the forefront of economic forecasting, the caution reflects either weak natural gas prices or concerns about the lack of adequate oilfield service industry capacity and the pricing power that is being transferred to those companies, which will be used and will squeeze producer profit margins.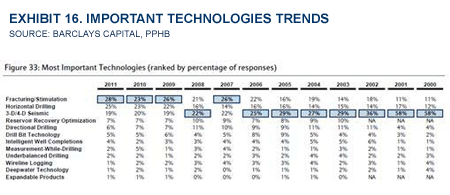 In the case of the most important technologies, fracturing/stimulation was ranked first in the 2011 survey. This means that fracturing/stimulation has been considered the most important technology in four of the past five annual surveys. All the other surveys back to 2000 picked 3-D and 4-D seismic as the most important technology. From 2000 through 2006 when seismic was considered the most important technology, the oil and gas industry was extremely concerned about the difficulty in developing more prospects and losing access to prospective acreage around the world. As gas shales emerged as the industry's new "silver bullet," the key for E&P success was no longer finding the shales, but rather figuring how to maximize the flow rates from them at the least cost. Fracturing/stimulation technology, coupled with horizontal drilling, which has been around for a long time, have been key to the successful commercialization of gas shale extraction and that success seems to have blossomed beginning in the 2005-2006 period. Thus, producers identifying fracturing/stimulation as the most important technology beginning in 2007 therefore should not be a surprise. The idea that seismic was the most important technology in 2008 probably has more to do with the introduction of several of the new wireless recording systems that are revolutionizing the seismic data gathering business at that time. While those wireless recording systems represent significant improvement in that sector's technology, the importance of the contribution of fracturing/stimulation for improving the economics of gas shale developments should continue to make it the most important E&P industry technology for the next several years.
After reading the results of the Barclays E&P spending survey for 2011, one is left with the impression that the industry wants to step up its activity. Uncertainty over Gulf of Mexico deepwater permitting and its effect on drilling and development activity in 2011, coupled with continued low natural gas prices will impact the amount of money available and spent. As a result, unless the U.S. offshore regulatory process improves or crude oil and natural gas prices strengthen further from current levels, it is likely that U.S. spending may not reach the planned levels suggested by the survey results. Even with these challenges, which should only impact a few industry subsectors, 2011 should be another year with higher industry activity as international spending will carry the day.