Analysis: Onshore Conventional O&G Dominate 4Q 2010 M&A Deals
Rigzone Staff
|
Wednesday, January 05, 2011
Oil and gas merger and acquisition (M&A) deals involving conventional onshore resources comprised 49 percent, or approximately $35.5 billion, of oil and gas deals in the exploration and production (E&P) sector during the fourth quarter of 2010, according to an analysis of data from London-based analysis firm Evaluate Energy.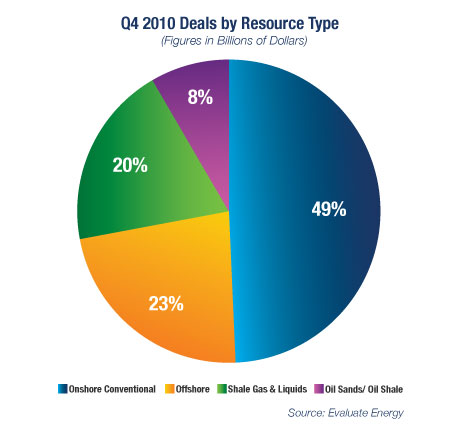 Evaluate reported that oil and gas deals in the E&P sector reached $73 billion in the fourth quarter of 2010 with deals for the year totaling $238 billion, compared with $151 billion in 2009. Evaluate noted that total deal value in the last quarter of this year is second only to third quarter of 2010 in recent years, even outscoring the fourth quarter of 2009, a quarter that included ExxonMobil's $41 billion acquisition of XTO Energy.
"Although the year was again dominated by Chinese companies acquiring assets, this actually suited many IOCs [international oil companies] who were looking to divest or reshape their asset portfolios," said Eoin Coyne, Evaluate's M&A expert.
Offshore oil and gas deals comprised 23 percent, or approximately $16.4 billion of fourth quarter deals, while deals involving shale gas and liquids resources comprised 20 percent, or approximately $14 billion of fourth quarter 2010 deals. The remaining eight percent, or approximately $6 billion, of fourth quarter deals involved oil sands and oil shale resources.
Despite the growing prominence of shale oil among shale-focused deals during 2010, shale gas deals still comprised the majority of value among shale deals during fourth quarter 2010, with $7.4 billion worth of deals, according to an analysis by Evaluate. The value of fourth quarter shale gas deals was boosted considerably by the $4.3 billion acquisition by Chevron of Atlas Energy, a company with holdings in the Marcellus and Utica shale plays.
Producers began switching their focus from gas-bearing shale to liquids rich shale due to realizations from oil and gas in the U.S., Coyne said. The company noted that the Eagle Ford shale oil play in particular attracted great interest during the fourth quarter, with 10 deals during the quarter involving the liquids rich portion of the Eagle Ford shale play, with a total value of $4.5 billion.
Coyne noted that Talisman Energy took another route to realizing value from one its shale properties with the $1 billion farm-in from South Africa's Sasol in Talisman's Montney shale play in Canada. Talisman and Sasol, a leader in gas-to-liquids technology, will conduct a feasibility study for the construction of a gas-to-liquids plant and the case for the construction will gain strength should gas prices remain low relative to liquids prices.
Other notable trends emerging in oil and gas deals in 2010 included BP's ongoing asset divestiture program with $10 billion of asset sales in various countries during the fourth quarter. Since the Macondo oil spill in the Gulf of Mexico in April of last year, BP has made $21 billion out of $30 billion in planned divestitures; the divestitures, coupled with the company's dividend freeze, will aim to fully satisfy the oil spill costs.
The most significant asset sales by BP include the $7 billion sale of the company's 60 percent stake in Pan American Energy to Bridas Corp., the $1.8 billion sale of the company's Venezuelan and Vietnamese assets to TNK-BP, the $775 million sale of the company's Pakistan assets to United Energy Group and the $650 million sale of certain Gulf of Mexico assets to Marubeni.
With North American gas prices hovering around the $4/Mcf mark for much of the fourth quarter, EXCO CEO Douglas Miller launched a bid to capitalize on the company's relatively low valuation by launching a $5 billion bid to take EXCO private. Another U.S. gas producer, Quicksilver Resources, also received an offer from an investor group that includes current CEO Glenn Darden to become a private company, although an official offer.
"While gas prices in the U.S. remain low, the owners of EXCO and Quicksilver will find it easier to cut back their capital spending and production away from the scrutiny of public shareholders until trading conditions improve," Coyne noted.
Generated by readers, the comments included herein do not reflect the views and opinions of Rigzone. All comments are subject to editorial review. Off-topic, inappropriate or insulting comments will be removed.