Operators Expand Global O&G Reserves with 2010 Discoveries
Rigzone Staff
|
Monday, January 03, 2011
GOM
Shell in March made a significant discovery in the deepwater GOM at the Appomattox prospect in 7,217 feet of water in Mississippi Canyon Blocks 391 and 392. Transocean's Deepwater Nautilus drilled the well to 25,075 feet and encountered 351 feet of oil pay. Shell then drilled an appraisal sidetrack to 25,951 feet and encountered 380 feet of oil pay.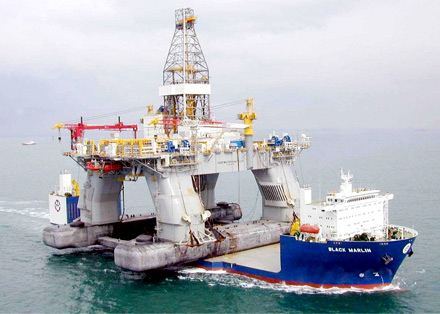 Deepwater Nautilus
Shell operates and holds an 80% working interest in the discovery, with partner Nexen holding the remaining 20%.
Brazil
OGX, through its subsidiary OGX Maranhao, made a series of gas discoveries in 2010 in the onshore Parnaiba basin in block PN-T-68. According to a company representative, the discoveries open a new exploratory frontier, holding as much as 15 Tcf or 15 MMcf/d.
OGX Maranhao (66.6%) and MPX Energia S.A. (33.3%) is the operator and hold a 70% stake in this block, while Petra Energia S.A. holds the remaining 30%.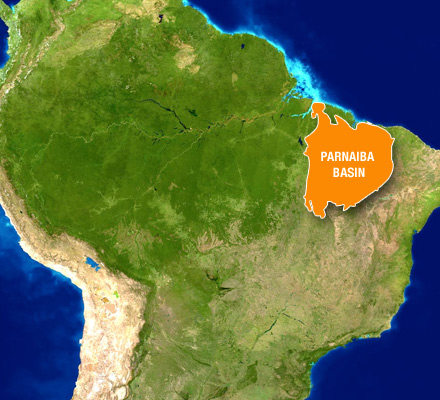 Parnaiba Basin
Offshore Brazil, Petrobras made a significant discovery in the Campos Basin. Well 4-PM-53 is in shallow water in the post-salt area. The well is estimated to hold 25 MMbbl of recoverable oil and the flow is estimated to be about 3,000 b/d. According to Petrobras, the discovery opens an important exploratory front to the east of the Pampo and Bicudo concessions.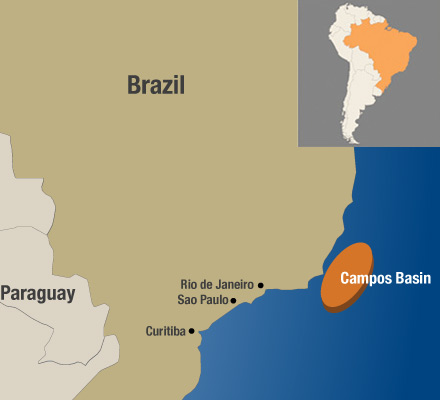 Campos Basin
Angola
In July, Eni and Sonangol announced a major oil discovery in Block 15/06 off Angola. The Cabaca South East-1 well, drilled by Saipem semisubmersible Scarabeo 7, is 1,541 feet deep and 62 miles from shore. According to Eni, the well reached its multi-targeted objective in the deepest levels of Miocene age, where oil-bearing reservoirs, with a total of 1,476 feet of gross thickness, were proven. Initial evaluations indicate that the discovery holds material volumes of oil in place of high quality. The well has produced results beyond Eni's initial expectations and confirms the potential for a second productive hub in the North East area of the block.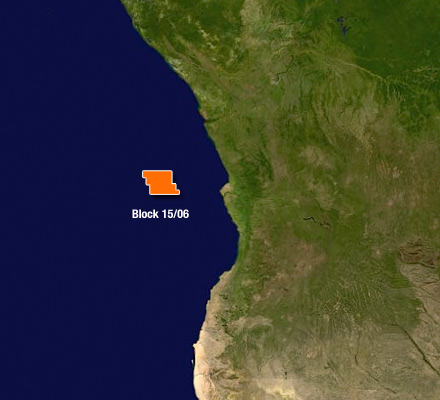 Block 15/06 off Angola
Eni operates the discovery with a 35% working interest, while Sonangol E&P is the Concessionaire. The other partners in the JV are Sonangol Pesquisa e Producao 15%, SSI Fifteen Ltd 20%, Total 15%, Falcon Oil Holding Angola SA 5%, Petrobras International Braspetro B.V. 5%, and Statoil Angola Block 15/06 Award AS 5%.
Argentina
YPF SA (YPF), the Argentine unit of Spain's Repsol YPF SA, made a major onshore unconventional gas find in Q4 2010. YPF found an estimated 4.5 Tcf of unconventional gas after drilling four exploratory wells at its Loma La Lata Field in Neuquen Province. Initial gas output is expected to be 2 MMcm/d and eventually reach between 4 MMcm/d and 5 MMcm/d.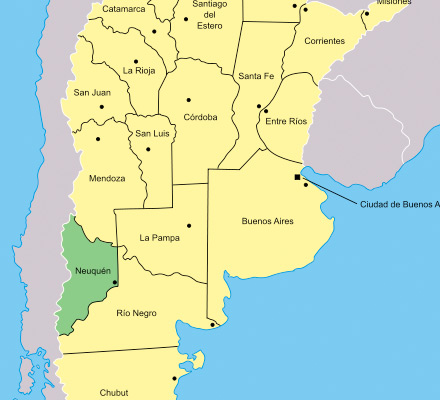 Neuquen Province
Australia
In August, Chevron announced drilling success in the Carnarvon Basin offshore Western Australia. Chevron drilled the Acme-1 exploration discovery well in the WA-205-P permit area in 2,880 feet of water to 15,469 feet, where the well encountered 896 feet of net gas pay. According to RigLogix, the well was drilled by Atwood Oceanics semisubmersible Atwood Eagle.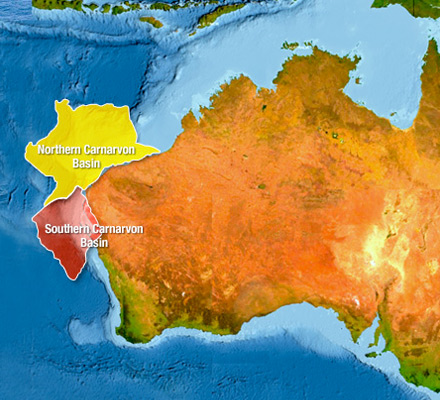 Carnarvon Basin
George Kirkland, vice chairman, Chevron, said, "In terms of net gas pay, Acme-1 is one of our most significant natural gas discoveries in Australia."
Chevron's Australian subsidiary is the operator of WA-205-P and holds a combined 67% interest, while Shell Development (Australia) holds the remaining 33% interest.
Brunei
Total affiliate TOTAL E&P Borneo made a significant new gas and condensate discovery in Block B offshore Brunei in October.
The Ensco 108 jackup drilled the ML-5 well to a depth of 18,582 feet in 213 feet of water. It discovered gas with condensate in high pressure/high temperature formations (HP/HT).
Ensco 108 Jackup
About 10 MMcf/d and 220 b/d were produced during the test from a limited zone situated at 17,552 feet deep. According to Total, this is the deepest successful test in Southeast Asia. The gross thickness of the hydrocarbon bearing formation exceeds 2,624 feet.
East Africa
Anadarko hit it big with Offshore Area 1 off Mozambique, where the operator drilled three discoveries with the Dolphin A/S drillship Belford Dolphin. In February, Anadarko announced that the Windjammer exploration well in the frontier Rovuma Basin encountered more than 480 net feet of natural gas pay in high-quality reservoir sands, with a gross column of more than 1,200 feet. The operator then drilled the Barquentine exploration well, two miles from the Windjammer well, in October. The discovery well encountered more than 308 net feet of pay in two Oligocene sands that are separate and distinct geologic features.
The Lagosta discovery well, drilled in November, encountered more than 550 net feet of natural gas pay in multiple high-quality Oligocene and Eocene sands. Lagosta is 16 miles south of Barquentine and 14 miles southeast of Windjammer.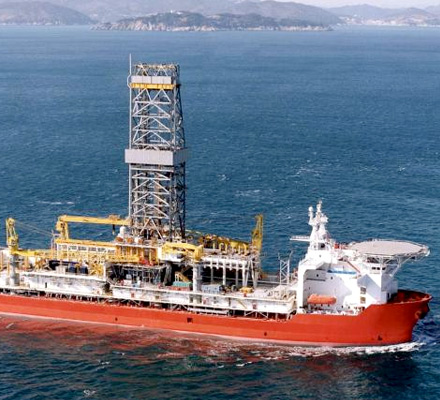 Belford Dolphin
Anadarko operates Offshore Area 1 with a 36.5% working interest. Co-owners include Mitsui E&P Mozambique Area 1, Ltd with 20%, BPRL Ventures Mozambique B.V. with 10%, Videocon Mozambique Rovuma 1 Ltd with 10%, and Cove Energy Mozambique Rovuma Offshore, Ltd. with 8.5%. Empresa Nacional de Hidrocarbonetos, ep's 15% interest is carried through the exploration phase.
North Sea
EnCore made a significant discovery in June at the Catcher Field in the UK Central North Sea Block 28/9.
The 28/9-1 well was drilled to a 5,219 ft measured depth (MD) and the 28/9-1Z well was drilled to 5,931 MD. Initial pressure data indicated a common pressure regime between Catcher and Catcher East, thus an oil column of 267 ft has been proven. Transocean jackup GSF Galaxy II was used for drilling at the Catcher field, according to RigLogix.
Alan Booth, EnCore's Chief Executive Officer, said, "Initial analysis of the seismic data suggests that block 28/9 could possibly contain a series of discoveries that would form one of the larger North Sea oil accumulations of recent years. EnCore's initial scoping analysis indicates that the Catcher feature may contain oil-in-place of up to 300 MMbbl. The surrounding prospects in the block could add very significantly to this number.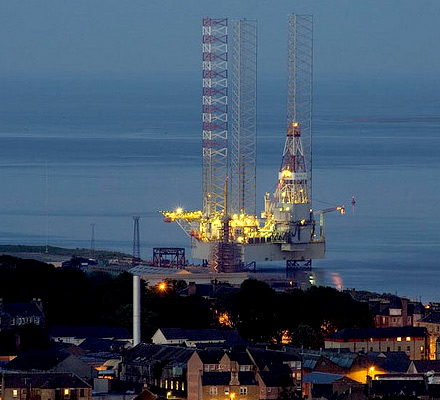 GSF Galaxy II
EnCore operates the well with a 15% interest. Partners include Premier Oil 35%, Wintershall (UK North Sea) Ltd 20%, Nautical Petroleum 15%, and Agora Oil & Gas 15%.