A Closer Look At Who Is Holding More Cash
Rigzone Staff
|
Friday, December 10, 2010
Since the market meltdown and credit freeze of 2008, the growth of cash on firm balance sheets across the overall markets has been widely discussed. We took a look at the current composition of the S&P 500 to see if the energy sector has taken part in this trend. To a large degree energy firms had taken measures to beef up their cash positions. Specifically, over the last twelve months 24 of 39 energy firms have grown their cash positions.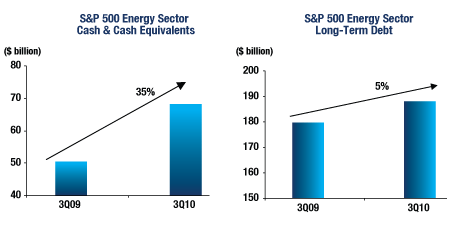 * Please click here for detailed company information (PDF)
Fast Facts
Average Long-term Debt/Equity ratio is 29% for the S&P 500 Energy Sector.


Cash totaled $68.2 billion for the members of the S&P 500 Energy Sector growing 35% from 3Q09 level of $50.6 billion.


Long-term Debt totaled $187.9 billion for the members of the S&P 500 Energy Sector growing 5% from year ago level of $179.6 billion.


Slightly over half the Energy Sector components (21 out of 39 firms) strengthened their balance sheets by either growing their cash positions, paying down their debt positions, or a combination of the two during the last twelve months. Overall, the energy sector's debt load decreased by $9.3 billion or 7%.


Only three members S&P 500 Energy Sector constituents had positive net cash (cash less long-term debt) positions at the end of the 2010 third quarter: National Oilwell Varco, Chevron, and Cameron International.


National Oilwell Varco holds the distinction of currently having the most net cash on its balance sheet at $2.6 billion. A year ago, Exxon Mobil was the leader with $5.3 billion.


ConocoPhillips had the largest favorable swing (+$11.8 billion) in net cash. However, the firm is still the largest borrower with $23.2 billion long-term debt currently on its books.


The S&P 500 today announced that it would soon add Newfield Exploration Co. (NFX) to the index. This will bring the membership of energy companies represented in the index to an even forty when the changes are instituted at the close of trading on December 17, 2010.