Pipelines - A Route to Playing Growth in Emerging Markets
Rigzone Staff
|
Thursday, December 09, 2010
The theme for the Deloitte Oil and Gas Conference held on November 18th in Houston, Texas was The Road Ahead for Energy. From a macroeconomic perspective, Adam Sieminski, Deutsche Bank's Chief Energy Economist, spoke about his firm's views on the energy complex for 2011 and beyond. Sieminski pointed to a greater demand for raw materials and stated that investors would likely be rewarded in the near-term by investing in "anything that would hurt if you dropped it on your foot."
Pointing to a strengthening relationship between the correlation of the broader markets and many asset classes; base metals such as copper appeared to benefit from a projected sustained improvement in the overall markets coupled with increased demand from emerging market players. Since making his comments, all base metals prices have improved (Copper +11%, Aluminum 6%, Nickel 13%, Zinc 8%, Lead 8%) faster than the S&P 500, which gained 4%; putting Deutsche Bank and Sieminski's projections off to a very good start.
This was very gutsy call, in our opinion, considering that the Shanghai Composite had a one-day fall of 4% earlier in the week prior to Sieminski's comments. Furthermore, copper prices had fallen after setting a record high in November. December's positive manufacturing reports from China, Europe and the U.K. (that all point towards healthier industrial demand/output in 2011) are providing additional support to the base metal markets.
The derivative call off of increased base metal demand in emerging nations is a longer-term view that oil and natural gas prices will move higher in the coming years. Specifically, at the time of Sieminski's comments, his firm was looking for $80 crude in 2011 rising to $100 on average in 2015 or a 25% increase in price over the next five years on average. Recently, citing a stronger global demand recovery and a dip in OECD inventories, the banked upped its 2011 average WTI crude oil price forecast to $87.50 next year while holding its 2015 outlook to $100 a barrel. With crude now hovering around $90 a barrel, a level not seen since October 2008, getting to $100+ in the long run is becoming less and less a stretch.
Another key focal point of conference discussions was China. Commentary by Deloitte's John Abbott boiled down the growth in the Chinese economy to its finer points. Specifically, he pointed to the massive continued migration of Chinese citizens from rural to urban settings. Here, forecasters are calling for another 300 million individuals to move away from rural locations over the next 20 years. Planning structured around how to supply China's growing appetite for energy is evident in new Chinese-owned investments in energy resources around the world.
Looking to ensure a long-term secure supply of energy, Mr. Abbot highlighted China's investments in the Canadian oil sands and other facilitating players. Two pipeline projects by Enbridge and Kinder Morgan at completion will supply 525 thousand bbl/day (expandable to 800kbbl/day) and 400 thousand bbl/day, respectively. Both are tributaries from the Canadian oil sands that are in their early phases of construction and planning. Kinder Morgan has an existing pipeline, the TransMountain, that currently transports 300 kbbl/day from Edmonton to Vancouver. A staged expansion of the TransMountain could increase its capacity to 700 kbbl/day. Once completed, all of these pipelines will greatly expand capacity and access for large crude carriers looking to export Canadian production to the eastern coast of China.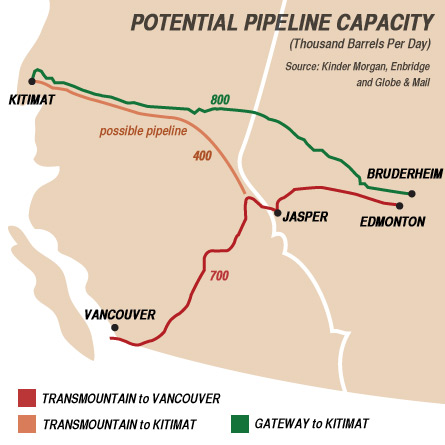 Sunoco Chairman & CEO, Lynn Elsenhans, pointed out that refining margins are on the mend but that the industry's opportunities would be found abroad. Highlighting that 87% of the industry's growth is coming from non-OECD countries, refining markets domestically and in Western Europe still face numerous challenges. Overcapacity remains one of the larger hurdles considering that even though plants processing 2.3 million bbl/day of crude were closed over the last two years, there remains 2.4 million bbl/day excess capacity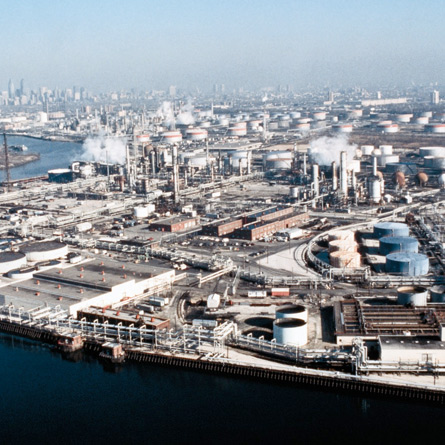 For refiners one of the game changers in the upcoming years will be handling crude coming from West Africa and Brazil. The less than ideal acid content will strain the existing infrastructure and require upgrades to existing facilities. On the flip side, Sunoco continues to see strength in its logistics business (i.e. pipelines) with several projects on the horizon where the returns are significantly greater than the cost of capital.