Industry Profile: Devon's Dave Hager
by Rigzone Staff
|
Wednesday, December 08, 2010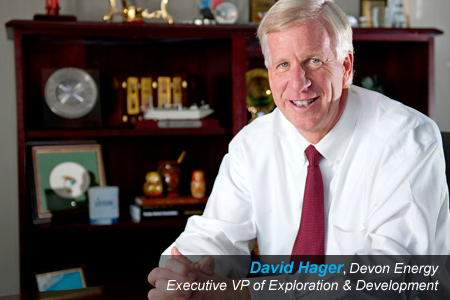 David Hager, Devon Energy Executive Vice President of Exploration and Development, is a proud family man who has supported his wife and three children for the past 30 years doing what he loves – exploring for oil.
Born in Indianapolis, IN, Hager attended Purdue University with the intention of studying math and becoming an actuary. However, he was much more interested in the geology class he was taking. A guidance counselor advised him to combine his love for both math and geology and study geophysics.
"I read that geophysicists are often employed in interesting and remote parts of the world. I thought that sounded great. I found out soon after that most geophysicists are employed by the oil and gas business."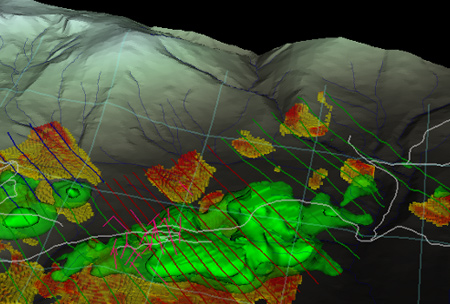 Computer Render of a Geophysical Landscape
When Amoco awarded Hager an internship over two summers, he fell in love with the oil gas business. After graduation, he went to work for Mobil Corp., which has a respected geophysics training program. Hager moved up the ladder quickly to a supervisor position in seismic processing. However, he wasn't interested in making seismic processing his lifetime goal. "I was going too quickly and not in the right direction," Hager said.
He started with Sun Oil in 1981 and through spin offs and mergers didn't change jobs for 25 years. Sun Oil spun off its domestic E&P assets in 1989, and Hagar went with that business unit to Oryx. In 1999 Oryx merged with Kerr-McGee and Hager stayed with them as Chief Operating Officer until Anadarko acquired Kerr-McGee on Aug 10, 2006.
"At that point I went into semi-retirement mode," Dave said. "That was a wonderful time. My kids were all still in school. My oldest was about to leave for college during that time, so I was able to travel with him to the different schools he was considering."
The Hager family lives in Oklahoma City and couldn't be happier calling it "home". David describes it as a dynamic city with lots of spirit. He had no plans on relocating during his short retirement. Looking back, he says he unknowingly spent his "extended sabbatical" recharging and re-energizing for his future with Devon.
In 2007 Devon invited Hager to join the Board of Directors. In early 2009, his current position of vice president of E&P opened up. "The more I got to know Devon from being on the board, the more impressed I was with the company. I have a love for the business and the people in the business and it was the perfect fit for me to come back to work at Devon," Hager said. "I am appreciative to have the opportunity to be here."
Hager noted that his career path has taken some unexpected turns and advises those just starting off to be open to lateral career moves. He said, "Particularly early on in your career be open-minded to those opportunities because they can give you the breadth of experience that is really valuable to your career. That may involve moving from city to city or to another country." He also points out that "this is an incredibly exciting business. (New graduates) are going to work for a long time, enjoy what you do every day. If you are passionate about your job, it'll show up in the outstanding results you produce."
Hager speaks from experience. After his first 10 years working he got out of managing people in his true area of expertise of exploration and geophysics. Hager was fortunate to take on positions where he had some knowledge but was not the subject matter expert. For example, he helped achieve a number of deepwater development "firsts" in the Gulf of Mexico with Oryx and Kerr-McGee. Hager offered his work in the Gulf of Mexico with Oryx and later Kerr-McGee, where he helped achieve a number of deepwater development "firsts," as an example.
"I was not the technical expert," Hager is quick to point out. "We had outstanding technical experts responsible for achieving the world's first production spar, truss spar, and cell spar. We won industry awards for innovation and how quickly we developed these technologies in the Gulf of Mexico fields. I was fortunate that I had overall responsibility for being in charge of the GOM group, but I had world class people working in the group who developed and implemented the technology. It is a highlight to be associated with those guys who did such good work."
Hager also worked internationally. In the early 90s he headed up a project in Aktau, Kazakhstan where he and his co-workers were the only westerners in the whole town. He also managed Kerr McGee's international activities in the UK, Indonesia, Australia, Gabon, and Ecuador.
"I've traveled a lot and overseen international projects as well. I've had a fairly diversified career. The success I've had is because I've been fortunate to surround myself with experts in the field and given them the freedom to do what they do best. I try to help out where I can. I try to do more listening than talking."