Powerwave Technology Enhances Oil Field Recovery
Rigzone Staff
|
Tuesday, November 09, 2010
Edmonton-based Wavefront Technology Solutions Inc., which designs solutions for oil well stimulation and secondary oil recovery, reports that its Powerwave technology has improved recovery from existing oil fields by up to 20 percent and increased the lifetimes of existing wells by over 10 years.
Powerwave has been employed in five injection wells for approximately 10 months to improve oil recovery at a field in the Permian Basin in West Texas. Over that period, starting from November 2009, oil production from five patterns, or 25 production wells, has increased by 55 b/d over the established base production, an overall production increase of nearly 50 percent.
Powerwave has significantly affected the production decline, which was 2.7 percent a month, according to an executive summary of the project, and production is still increasing. During the tenth month, an additional 1,600 barrels of oil per month has been attributed to Powerwave, with the cumulative benefit standing at more than 6,500 barrels.
Additionally, the average oil cut after 10 months of Powerwave has increased to 9.8 percent compared to 8.0 percent based on the previously established trend with overall average oil cut increase of around 23 percent.
No significant changes to injection, wellwork or other work that could impact the outcome of the Powerwave trial took place during the project. The incremental revenue attributed to the Powerwave installations was over $120,000 in month 10, with incremental profit for the same month estimated at approximately $72,000. Payback for the project had an assumed oil price of $75 per barrel and company netback of $45 per barrel was within three months.
With more onshore exploration and production operators switching their focus from gas production to oil, enhancing oil recovery will become critical for future operations. The Permian Basin, where oil production began in 1920, is still one of the largest petroleum-producing basins in the U.S. In 2002, it accounted for 17 percent of the total U.S. oil production, and it contains an estimated 22 percent of the U.S. proved oil reserves. The Permian has the biggest potential for additional oil production in the U.S., containing 29 percent of estimated future oil reserve growth, Wavefront reports.
The Powerwave technology, invented after further study at the University of Waterloo in Ontario, Canada, into why oil production rates spike following earthquakes, optimizes fluid injection into reservoirs by creating powerful bursts of fluid, including existing water produced from oil production, to push stranded oil from underground formations so it can be pumped to the surface.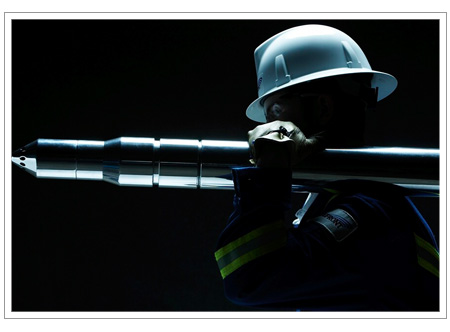 Wavefront President, CEO and Director Brett Davidson compares Powerwave's technology to someone bending a garden hose, then releasing it to allow a sudden burst of water to shoot out. This technology can be applied to carbon dioxide, water, surfactant or any fluid the operator uses in their production strategy. Powerwave allows better distribution of water injection and better contact with oil.
"If you can pump the oil at any viscosity, we can enhance the recovery," Davidson said. Powerwave can enhance recovery from a field, allow the asset's value to change. Powerwave also has projects in Alberta, Michigan and is in final negotiations for projects in Argentina, Oman, the United Arab Emirates, Colombia and Brazil.
Early development of Powerwave technology was conducted at the University of Waterloo, by Davidson, who managed the university's Geomechanics Research Group (GMR); Davidson's mentor, GMR founder Dr. Maurice Dusseault, and Dr. Tim Spanos, the theoretician behind Powerwave. Spanos, whose background was in general relativity, began initial theoretical developments of Powerwave in 1982. Dr. Spanos was on sabbatical at the University of Waterloo from the University of Alberta, where he was a Professor of Physics (Spanos is now retired), when he and Davidson met.
Davidson's role in the Powerwave research was to take Dr. Spanos theory and prove it could work on a laboratory scale, then on a field scale; at the time, Davidson was no longer working with the GMR but had struck out on his own as a consultant in the area of subsurface storage in salt formations. Davidson commenced laboratory development of Powerwave in January 1997, with the first ever field-scale trial of Powerwave commencing in October 1998.
"Obviously this has worked well over the long term but suffice to say there were bumps along the road. Introducing new technology to the oil industry is not for the faint of heart. One is met with constant scepticism as it is easier to continue using past practices rather than embrace a new technology that does not have a long track record of implementation," Davidson said.
RELATED COMPANIES