Oil Explorers Lift Rig Count to 800 First Time Since 2015
by Bloomberg
|
Bailey Schulz
|
Friday, March 02, 2018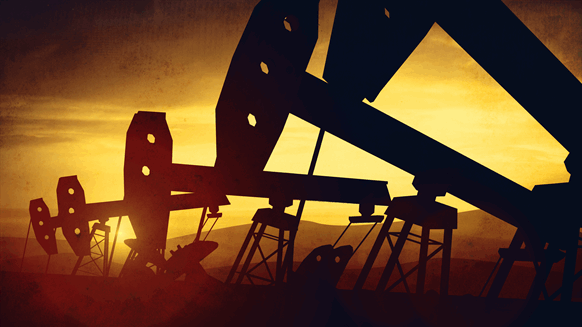 US oil explorers raised the rig count to 800 for the first time in almost three years.
(Bloomberg) -- U.S. oil explorers raised the rig count to 800 for the first time in almost three years amid booming domestic and overseas demand for crude and petroleum-based fuels.
Drillers have been accelerating exploration in an almost-unbroken streak since the beginning of November, vaulting American crude output to a record of more than 10 million barrels a day. The unrelenting pace of expansion signals even bigger production jumps yet to come, even as concerns about excess supplies recently weighed on oil prices.
Explorers boosted the number of rigs drilling for crude in U.S. fields by 1 this week, bringing the total to 800, according to Baker Hughes data released on Friday. American explorers already have put the nation on par with Saudi Arabia as a crude producer and may eclipse Russia as the world's largest before the year is out.
"It seems like shale producers are really getting a lot of efficiency for their capital investment and seem to be making money at these levels" Rob Haworth, who helps oversee $151 billion in assets at U.S. Bank Wealth Management in Seattle, said by telephone.
More than 70 percent of the rigs are concentrated in just four major shale regions, the Baker Hughes data showed. The Permian Basin of Texas and New Mexico is by far the dominant exploration theater with 434 rigs searching for crude.
American oil exports have doubled in the past year, providing domestic drillers with access to markets that were mostly off-limits as recently as 2015, according to Energy Information Administration figures. During the same 12-month period, U.S. consumption of gasoline and other oil-derived fuels has risen almost 2 percent.
To contact the reporter on this story: Bailey Schulz in New York at bschulz17@bloomberg.net. To contact the editors responsible for this story: Reg Gale at rgale5@bloomberg.net Joe Carroll, Carlos Caminada.
Generated by readers, the comments included herein do not reflect the views and opinions of Rigzone. All comments are subject to editorial review. Off-topic, inappropriate or insulting comments will be removed.