Offshore Texas Oil Terminal Could Load Asia-, Europe-bound VLCCs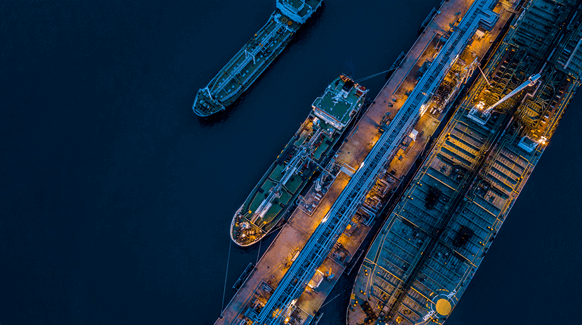 One VLCC can hold the equivalent of nearly one-fifth of daily US oil production.
Enterprise Products Partners L.P. (EPD) on Tuesday unveiled plans to develop an offshore crude oil export terminal approximately 80 miles off the Texas Gulf Coast.
"On the heels of our second successful loading of a VLCC at the Texas City terminal, we are now planning to expand our capabilities to load crude oil faster and more cost efficiently without the need for lightering vessels," A.J. "Jim" Teague, chief executive officer of Enterprise's general partner, said in a written statement.
The VLCC, or "very large crude carrier," to the which Teague was referring is the Eagle Victoria, which on Tuesday reportedly was loading approximately 1.1 million barrels of crude oil at the Seaway marine terminal in Texas City, Texas, that EPD partially owns. According to EPD, the new terminal could load VLCC ships and facilitate crude exports to Asia and Europe.
As the Strauss Center at the University of Texas at Austin points out, a VLCC can hold approximately 2 million barrels of crude oil. That equates to nearly one-fifth of current daily U.S. oil production.
EPD stated that it has begun front-end engineering design (FEED) as well as preparing regulatory permit applications. At this early stage, the project design could include approximately 80 miles of 42-inch diameter pipeline to an offshore terminal capable of loading and exporting roughly 85,000 barrels of crude oil per hour, the company added. Also, EPD spokesman Rick Rainey told Rigzone that the study should help the company determine a specific project site along the Lone Star State's extensive coastline.
"Given the long-term outlook for growing supplies of U.S. crude oil production, increasing global demand require super tankers and the future limitations of Gulf Coast port and lightering capabilities, we are confident this project will be embraced and supported by both domestic and international customers," stated Teague. "Enterprise's crude oil supply aggregation capabilities of over 4 million barrels per day, including from the Permian, Cushing, Eagle Ford and numerous third party connections, provide unmatched diversification, supply and quality optionality for international markets."
EPD did not provide estimated final investment decision and in-service dates, citing the need to obtain state and federal permits and to gauge customer demand. However, Rainey told Rigzone that securing the permits could take up to a year.
"Capital and infrastructure to support our project would be solely provided by private capital and would not be reliant nor contingent upon state or federal agency financial support or infrastructure development," concluded Teague. "We believe this would enable us to deliver this project in a timely manner once permits are granted and the project is underwritten."
Currently, the Louisiana Offshore Oil Port (LOOP) 18 miles offshore Port Fourchon, La., is the only U.S. port that can fully load a VLCC
Generated by readers, the comments included herein do not reflect the views and opinions of Rigzone. All comments are subject to editorial review. Off-topic, inappropriate or insulting comments will be removed.
RELATED COMPANIES
Company: Enterprise Products Partners LP
more info