Offshore Saudi Mega-Contracts Go to McDermott
by Matthew V. Veazey
|
Rigzone Staff
|
Wednesday, July 10, 2019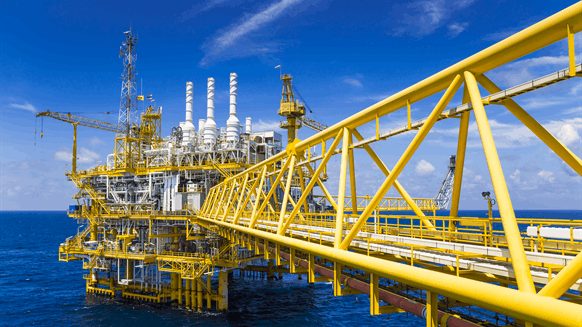 Saudi Aramco has awarded McDermott two Marjan contract packages.
McDermott International, Inc. reported Wednesday that it has won two contracts worth more than $4.5 billion tied to Saudi Aramco's Marjan Increment Development Project.
Under its "Package 1" contract, worth more than $3 billion, McDermott will provide engineering, procurement, construction and installation (EPCI) of the Marjan offshore field's new gas-oil separation plant (GOSP) in a consortium with China Offshore Oil Engineering Co. (COOEC). The Marjan project will boost oil production from the Arabian Gulf field from 500,000 to 800,000 barrels per day (bpd). According to McDermott, Package 1 represents the largest EPCI contract Saudi Aramco has awarded and the GOSP facilities comprise the core of the development.
"This award signifies Aramco's confidence in McDermott's project management expertise and ability to meet the interface, logistics and coordination challenges that an EPCI project of this vast scale represents," Linh Austin, McDermott's senior vice president for the Middle East and North Africa, said in a written statement.
McDermott stated that it will lead the consortium to execute Package 1, which calls for fabricating more than 165,000 tons (150,000 metric tons) and includes:
Six major topside platforms and jackets
12 bridge and six bridge support platforms and jackets
More than 40 miles (70 kilometers) of 36-inch oil export trunk lines
More than 55 miles (90 kilometers) of 230-kilovolt composite subsea cables
McDermott's Kuala Lumpur, Malaysia-based project management and engineering teams will oversee work on Package 1. The company noted that engineering work should start during the third quarter of this year, with fabrication set to begin in the first quarter of 2020. It expects Package 1 to reach overall completion in the fourth quarter of 2022.
In a separate written statement, McDermott reported that it also won a $1.5 billion-plus EPCI contract for Package 4 of the Marjan development. Under that contract, the company will provide EPCI of offshore gas facilities and pipelines. Specific Package 4 components include:
Fabricating three tie-in platforms and seven wellhead platforms with a total weight exceeding 61,400 tons (55,700 metric tons)
Installing more than 330 miles (540 kilometers) of subsea trunk lines and in-field pipelines
Laying more than 55 miles (90 kilometers) of subsea cables
"The award of Marjan Package 4, in addition to Marjan Package 1, is further evidence of Aramco's confidence in McDermott's confidence in McDermott's ability to deliver on a project of this scale," commented Austin.
Package 4 represents the second-largest EPCI offshore contract Saudi Aramco awarded for the Marjan development, stated McDermott. The contract recipient will rely on a Dubai-based project management team and engineering support out its offices in Al Khobar, Saudi Arabia and Chennai, India. McDermott's Batam, Jebel Ali and Dammam yards will handle fabrication. The company noted that engineering will start during the third quarter of this year and fabrication the first quarter of 2020. It expects to achieve overall completion in the fourth quarter of 2022.
As Rigzone reported Tuesday, Saudi Aramco's Marjan field development is part of a broader $18 billion plan to boost output from the Marjan and Berri fields. In the case of Marjan, the national oil company is building a new offshore GOSP and 24 offshore injection platforms, expanding onshore oil facilities, building a new gas plant and developing new cogeneration, desalination and pipeline facilities.
Generated by readers, the comments included herein do not reflect the views and opinions of Rigzone. All comments are subject to editorial review. Off-topic, inappropriate or insulting comments will be removed.
MORE FROM THIS AUTHOR
Matthew V. Veazey
Senior Editor | Rigzone